'I Love The '90s' show with Salt-N-Pepa coming to Las Vegas Strip
Updated July 21, 2018 - 3:10 pm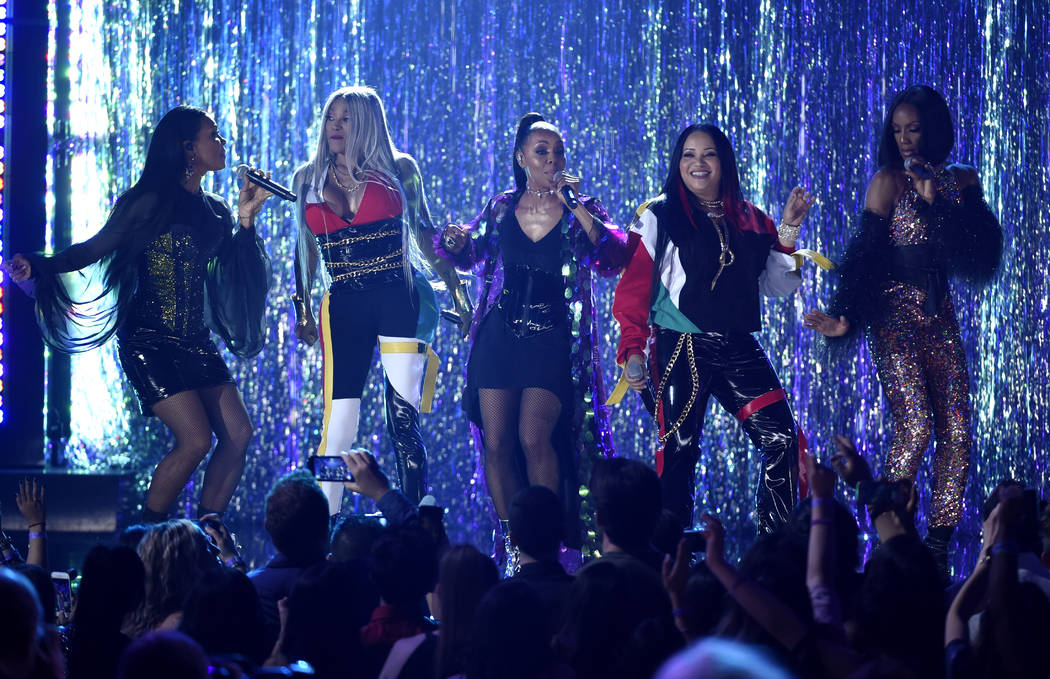 The venue that was once the stage for "The Producers" more than a decade ago has seen a multitude of productions come and go.
And new show is on the way into the star-struck Paris Theater, while another has been … well, snuffed out.
A dance party designed for a showroom, "I Love The 90s — The Vegas Show" opens in the theater Oct. 12. Meantime, the fiery stage show "Inferno" fired an ember alert to its crew on Friday that it would not return to the stage.
"Inferno" had been on a two-week break and expected to return Aug. 1. Instead, the break is permanent, with the show's final performance staged last Saturday.
"To have done six months in Las Vegas is great," Joe Labero, star of "Inferno," said Saturday. "I have always had a dream to perform on the Strip, ever since I saw Siegfried & Roy many years ago. I am grateful to Caesars (Entertainment) for making it possible." Labero is due to tour Scandinavia beginning January.
Sweeping away the ashes of "Inferno," the "I Love The '90s" residency is assembling a collection of rotating headliners from that era. Salt-N-Pepa, Rob Base (best-known for the dance hit "It Takes Two" with the late DJ EZ Rock) and All-4-One are headliners over the first month. The show will perform select dates at 9 p.m. (ticket prices start at $69.99, minus fees, and can be purchased at Ticketmaster.com starting Friday).
Mark McGrath of Sugar Ray, Kid 'n Play and Dru Hill are also is booked to perform during the show after its first monthlong run. The production is a spin-off of the "I Love the '90s Tour," produced by Universal Attractions Agency, UD Factory of Las Vegas and Salt-N-Pepa.
The tour most recently stopped in Las Vegas at Downtown Las Vegas Events Center in September, and the concert's touring lineup has included such stars of the era as Vanilla Ice, Coolio, Tone Loc, TLC, Naughty By Nature, C+C Music Factory and Color Me Badd.
UD Factory Chief Executive Officer Seth Yudof has performed on-the-ground market research to gain confidence in the '90s show.
"For the past year, I've been asking Uber drivers and random strangers of all ages for their opinions on the idea of a '90s show in Vegas, and I've never before gotten such an overwhelmingly positive response to a show concept," he said Saturday. "People's eyes light up when they talk about these artists."
Yudof and McGrath (who has performed in Vegas with Sugar Ray many times over the years) agreed that a '90s show could work on the Strip. "No one is more '90s than Mark," Yudof said, accurately.
During an appearance in May on the syndicated talk show "The Real," Cheryl "Salt" James and Sandra "Pepa" Denton of Salt-N-Pepa announced they would perform in residency on the Strip. The duo specified Labor Day Weekend as the launch, and later appeared with En Vogue at the Billboard Music Awards show, performing a thunderous set of "Push It," "Shoop" and "Let's Talk About Sex."
That performance further fueled speculation an announcement of the "I Love The '90s" show was forthcoming. The production was originally in planning to open at Tropicana Theater before negotiation between UD Factory reps and officials from Red Mercury Entertainment, which operates the theater for the Trop, broke off in June (Tropicana is still reportedly seeking a production for this fall at the theater).
Paris Theater is still selling tickets to the latent "Marilyn — A New Musical," which is still planning a Sept. 4 return after its abrupt closing announced June 9. But it is highly unlikely that show will be back at Paris; producer Tegan Summer and Caesars Entertainment officials are reviewing alternate venues in the Caesars family.
A pop-up show promoting the '90s show is happening at 6 p.m. at Le Cabaret lounge at Paris Las Vegas. The venue usually hops with its regular lineup of top-40 and dance bands. But Sunday, the music, and the star performers will be all '90s.
Contact John Katsilometes at jkatsilometes@reviewjournal.com. Follow @johnnykats on Twitter, @JohnnyKats1 on Instagram.