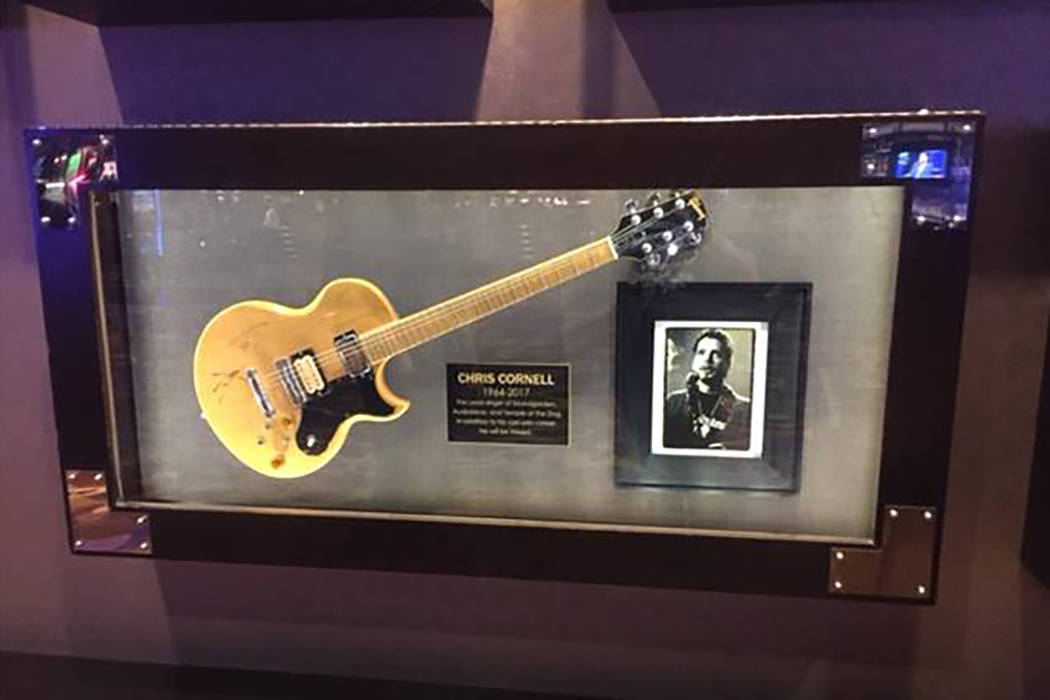 One of the pioneers of grunge music and an inspiration to a generation of rock artists is being honored by two Las Vegas music institutions.
Chris Cornell, the front man for Soundgarden and Audioslave, died May 17 after a show at MGM Grand in Detroit. Published reports indicated that Cornell commited suicide by hanging himself in a hotel room.
Cornell, who was 52, is being remembered in among the memorabilia displays at Hard Rock Hotel, and will also be honored by Imagine Dragons at Sunday's Billboard Music Awards show at T-Mobile Arena.
On Thursday, Hard Rock memorabilia collection curator Beau Dobney placed one of Cornell's Gibson guitars on display. The guitar is from the now-closed Hard Rock Cafe collection in 1992, where band members donated and signed the instrument. The case hangs near the entrance of Magic Mike Theater, next to a display of Billy Joel memorabilia.
Cornell and Soundgarden sold out the the Joint in July 2011, and both stormed out of the Seattle grunge scene to international fame and acclaim.
"(Cornell) was one of the true greats who helped pioneer a musical format that not many people understood at first, but learned to love simply because he gave so much to it," says Hard Rock Hotel Vice President of Entertainment Chas Smith, who books shows at the Joint and also the adjacent Vinyl music club.
Imagine Dragons are scheduled to perform "Believer" from the upcoming release "Evolve" during the ABC telecast.
"Just before we play our song, take a minute to talk about how big of an impact Chris has had on artists from around the world," Imagine Dragons front man Dan Reynolds said. "He's one of the best voices of this generation … He is anything any singer would want to be, an incredible performer who had so much passion in his performance, and had passion about the world – that's inspiring to me."
Speaking to Cornell's wide impact, Reynolds said, "Every artist, especially in rock and alternative world, has been influenced by Soundgarden."
Dice rolls anew
We've been following Andrew Dice Clay throughout the taping of his Showtime series "Dice" at Tropicana Las Vegas, which ended Friday. The Trop hotel was an effective hotel-casino setting for the show's second season.
Clay is back for live shows at the hotel as well. His next dates at Laugh Factory, just announced, will lead into the August airing of the autobiographical TV show. Dice is returning to Laugh Factory on June 23, 24 and 25; and again July 21, 22, 23 and July 28, 29, 30. Clay performed a single show during the taping last Saturday, where he performed a couple of nifty impressions of Sylvester Stallone and John Travolta. The context? Can't repeat it here.
He be thinkin'
For the first time in three years, former Flamingo headliner George Wallace is back in action in Las Vegas. Toting the catchphrase, "I be thinkin'" and riffing on the day's current events, Wallace is scheduled to play South Point Showroom on May 26-28.
Wallace has dropped in on shows at clubs around town since leaving Flamingo in April 2014, but this is his first formal performance since ending his 10-year run in what is now the Donny & Marie Showroom. Wallace ended his Vegas stage show shortly after he was awarded $1.3 million in damages for a 2007 fall at Bellagio during a corporate performance. As he famously said the day the judge ruled in his favor, "I'm going to eat at Bellagio tonight. It's a beautiful place."
Wallace also says he has no idea about ticket prices. The man who was a forerunner of the "four wall" strategy, where entertainers lease the room from the hotel, says, "I'm getting a salary. They are paying me." Novel concept, that.
Fogerty's horns
Familiar VegasVille musicians are performing again once more with John Fogerty at Encore Theater. Rob Stone is on sax, Jason Levi on trumpet, Randy Crawford on trombone, and Steve Flora on … tuba! Yessir, Fogerty is bringing the rockin' tuba into the "Fortunate Run" performances, which run through May 28. We ask now for a tuba solo, maybe during "Susie Q."
Flamingo takes flight
On the topic of Flamingo, the hotel announced it is renovating 1,270 guest rooms at a cost of $90 million. The work begins in August and should be completed mid-2018. Expect more work on the old property, too. I asked a company spokeswoman if we might see upgrades to Donny & Marie Showroom, Bugsy's Cabaret or any of the restaurants. I was told, "We're only talking about room renovations right now."
John Katsilometes' column runs daily in the A section. Contact him at jkatsilometes@reviewjournal.com. Follow @johnnykats on Twitter, @JohnnyKats1 on Instagram.