Imagine Dragons host a million-dollar night at Caesars Palace
August 26, 2017 - 5:59 pm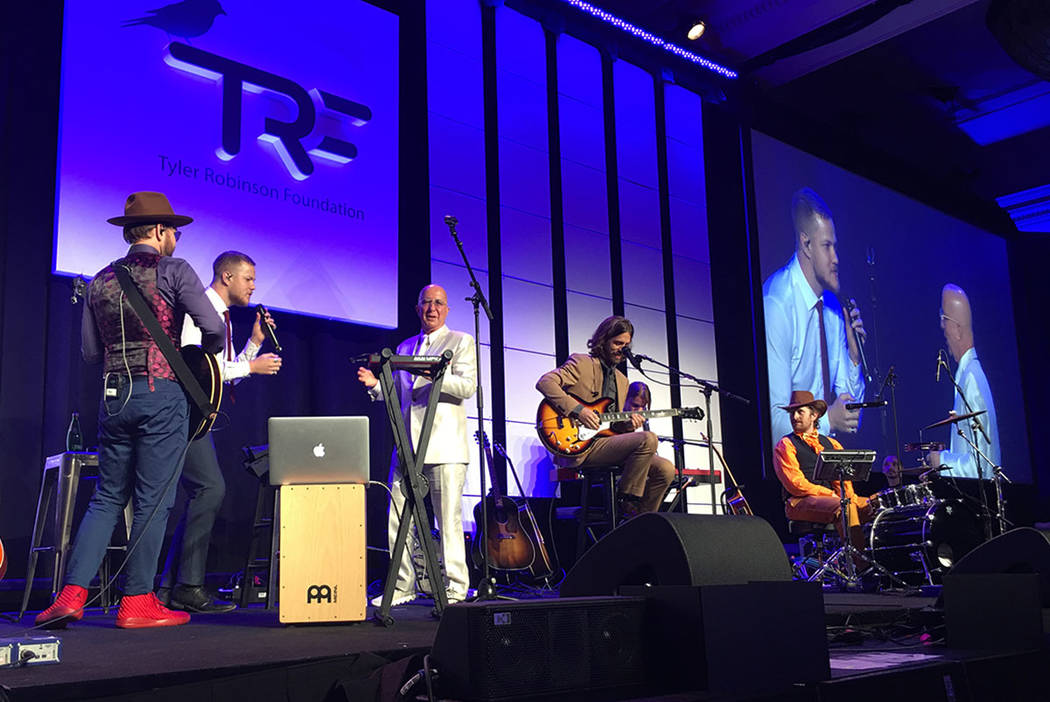 VegasVille was in full flourish at Caesars Palace on Friday night, as the Imagine Dragons jammed with Paul Shaffer (and raised a million dollars), comic actor Joel McHale made a joke of a moment of silence and Martin Short (with Shaffer) clambered into Cleopatra's Barge.
The dual scenes were Imagine Dragons' fourth annual Tyler Robinson Foundation Believer gala at Palace Ballroom, and a post-gala gig inside the Barge. McHale, a previous attendee and longtime supporter, emceed for the first time. His opener: "Let's start with a moment of silence for Conor McGregor. He must be wondering right now, 'What did I get myself into?' " McHale, who headlined Treasure Island over Memorial Day Weekend, also needled I.D. manager and TRF Chairman Mac Reynolds for Reynolds' trademark ponytail. "That look never goes out of style, no matter how old you are," McHale said.
Reynolds countered, "You'll notice I'm taking the high road tonight, Joel."
The event drew 700 attendees, more than double the turnout for its first event in 2014 at Hard Rock Hotel. Tyler Robinson Foundation is a childhood cancer support and treatment organization named for a young fan who befriended the band — especially in text conversations with frontman Dan Reynolds — who died of a brain tumor in March 2013 at age 17.
TRF has grown monumentally since its inception. Impressively, this year's gala capped $1 million, with a late bid of $40,000 for the band's four guitars used onstage pushing that final total. A devoted supporter of the band and of TRF (and a friend for a decade, too) Rachel Smith of Fox 5 was honored with the first TRF Legacy Award. Smith has served as co-emcee for the event and has been unwavering in her support of the charity from the start.
The highlight of the night was I.D.'s acoustic set closing the show. Unexpectedly, Reynolds called Shaffer to the stage for a wonderful run through "Stand By Me," singing the first verse and playing the keys the rest of the way. The band also ran through "It's Time," the song dedicated to Robinson; 'Shots," "I Bet My Life," "Amsterdam" and "Radioactive."
Afterward, Reynolds said the band was still considering an idea from about a year ago, to play a pop-up show at O'Sheas at Linq Promenade. The band once played the old O'Shea's hotel-casino, which was wiped out in the Linq renovation.
"I don't know if it would be the same, but we're still thinking about it," Reynolds said. "They still have life music there? Yeah? But we'll do O'Sheas or Beauty Bar, a place like that."
The party soon shifted to Shaffer and Short with David Perrico's Pop Strings in the recently revamped Cleopatra's Barge. Shaffer, cut loose with "Soul Man," toggling the lines with Pop Strings vocalist Kenny "Fletch" Wolcott. Shaffer is due to headline the Barge with his new band, the Shaf-Shifters in late December and early January, with Perrico serving as music director.
Short, in town for his latest co-headlining gig with Steve Martin at the Colosseum, soared through "Fly Me To the Moon" as the crowd roared back. The Barge is a whole thing these days, like the old days, when you never know who's gonna show up.
John Katsilometes' column runs daily in the A section. Contact him at jkatsilometes@reviewjournal.com. Follow @johnnykats on Twitter, @JohnnyKats1 on Instagram.