In 'Baskets' role, Louie Anderson is the mother of re-invention
December 17, 2016 - 6:05 pm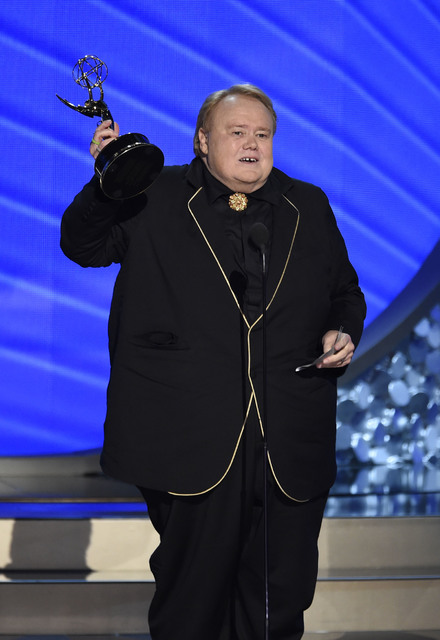 Louie Anderson has been hearing from a few long-lost friends over the past four months.
That can happen when you win an Emmy Award.
"You know, the coolest part of winning an award is how happy people seem to be for you. People who really like you are genuinely happy that you got it," Anderson said Saturday . "But then you have people who are not happy, but who say they are. They add a little slam, like, 'Congratulations. Too bad this didn't come sooner, huh?' "
A first-time Emmy nominee, Anderson won the award for Outstanding Supporting Actor in a Comedy for his portrayal of Christine Baskets on the FX sitcom "Baskets," at the 68th annual Emmy Awards show Sept. 17 in Los Angeles. In his first Vegas stage appearance since, he's part of the lineup at the 3rd anniversary of Mondays Dark at the Joint at the Hard Rock Hotel.
Joining Anderson in the frivolity is the cast of "BAZ," Donald Trump impressionist John Di Domenico, members of the late, great "Jersey Boys" production, Dot-Marie Jones of "Glee," the cast of "Sexxy," members of "Rock of Ages," the Tenors of Rock, the cast of "Steve Wynn's Showstoppers," and members of "Million Dollar Quartet," among many others.
"I love what Mark (Shunock) has done with that event," Anderson said, referring to the founder of Mondays Dark. "He's a gem in this city. I'm happy to help him whenever I can." Anderson has appeared at every anniversary show for Mondays Dark since its inception in 2012.
And he's on a hot streak this time.
Anderson's Emmy victory marks an astonishing turn of events for the veteran stand-up, who has lived in Las Vegas for more than a decade. In March, having just left his run at the Plaza Showroom, Anderson was called totally out of the blue by comic actor Louis C.K.
Louis had an offer for Louie: A role as Zach Galifianakis' mother in a sitcom C.K. and Galifianakis were co-producing. Anderson took it, asking for no further details. His character, Christine, is the mother to twins Chip and Dale, both of whom are played by Galifianakis.
"Zach was telling Louis what he wanted out of this role, and he was saying, 'It's a voice, a particular voice, and I'll know it when I hear it.,' " Anderson said. "And Louis C.K. said, 'You mean, like Louie Anderson?' And Zach said, 'That's it! Get him!'"
Anderson based the character on his own mother, Ora Zella Anderson, who parented a family of 11 children "where every day it was a family feud," as Anderson said, invoking the name of a TV game show he would one day host.
Anderson continued: "It's the role of a lifetime, Let's face it, I was, what, 62 years old, when I took the role. There aren't a lot of roles out there for 62-year-old comics, but I can say there are more portals to reach people than before — especially online. But as far as TV roles, there is not a lot of work out there for us older comics."
Initially, Anderson said the Emmy nomination itself was a victory. No hyperbole there. Anderson was listed in a formidable field of nominees: Andre Braugher of "Brooklyn Nine-Nine," Tony Hale of "Veep" (last year's winner), Tituss Burgess of "Unbreakable Kimmy Schmidt," Ty Burrell of "Modern Family," Keegan-Michael Key of "Key and Peele" and Matt Walsh, also of "Veep."
"The greatest thing is to be acknowledged among such great competition, and to be vindicated for my performance," Anderson said. "I took every chance as an actor and it paid off."
Anderson just finished filming Season 2 of "Baskets" in L.A. He's back in Vegas, and his next stage appearance is Feb. 17 at Rocks Lounge at Red Rock Resort. Anderson has never appeared at Rocks Lounge before, but has effectively crisscrossed the city over the years.
Anderson's 2006 move to Las Vegas coincided with his opening at Excalibur. He then moved to Palace Station in 2010 for a show titled, "Louie LOL," spending three years in that venue before relocating once more for a run at the Plaza. Then he got the call from Louis C.K.
"I have been inspired by Louis, as an actor and as a stand-up comic. I'm still a stand-up, too," Anderson said, nodding toward his return to the stage. "I just love to make people laugh."
John Katsilometes' column runs daily in the A section, and Fridays in Neon. He also hosts "Kats! On The Radio" Wednesdays at 8 p.m. on KUNV 91.5-FM and appears Wednesdays at 11 a.m. with Dayna Roselli on KTNV Channel 13. Contact him at jkatsilometes@reviewjournal.com. Follow @johnnykats on Twitter, @JohnnyKats1 on Instagram.