Is 'Opium' a wild ride? Ask the star-crossed, failed astronaut
Updated March 9, 2018 - 6:17 pm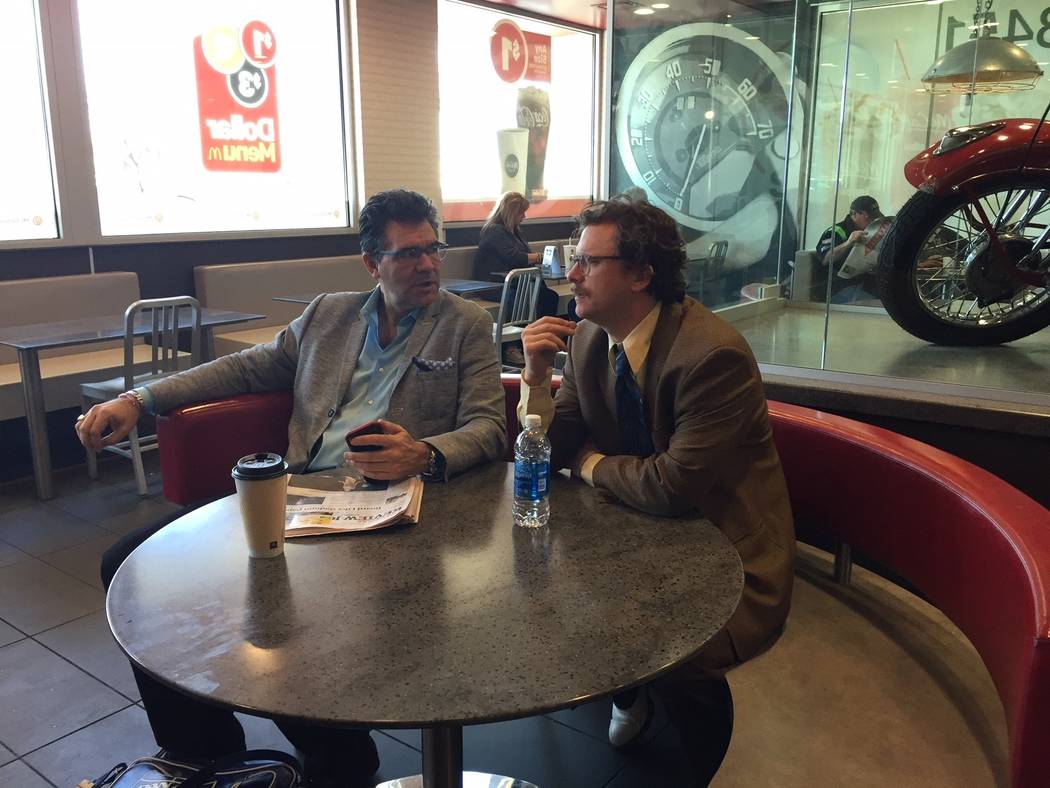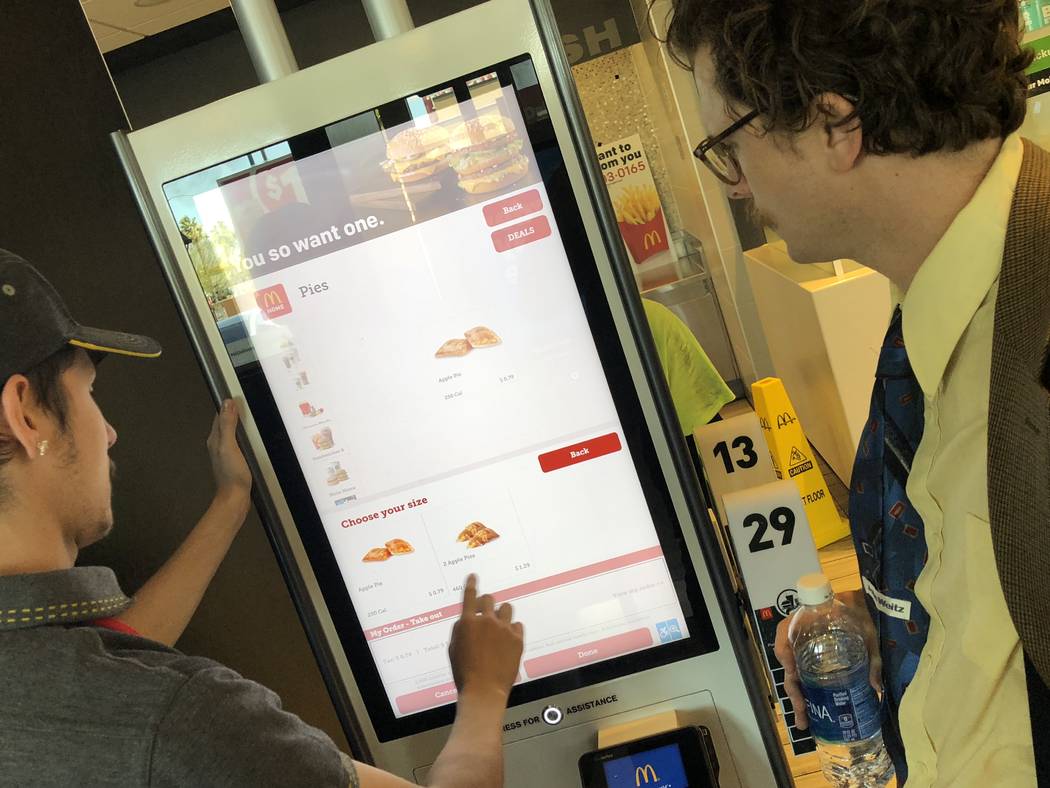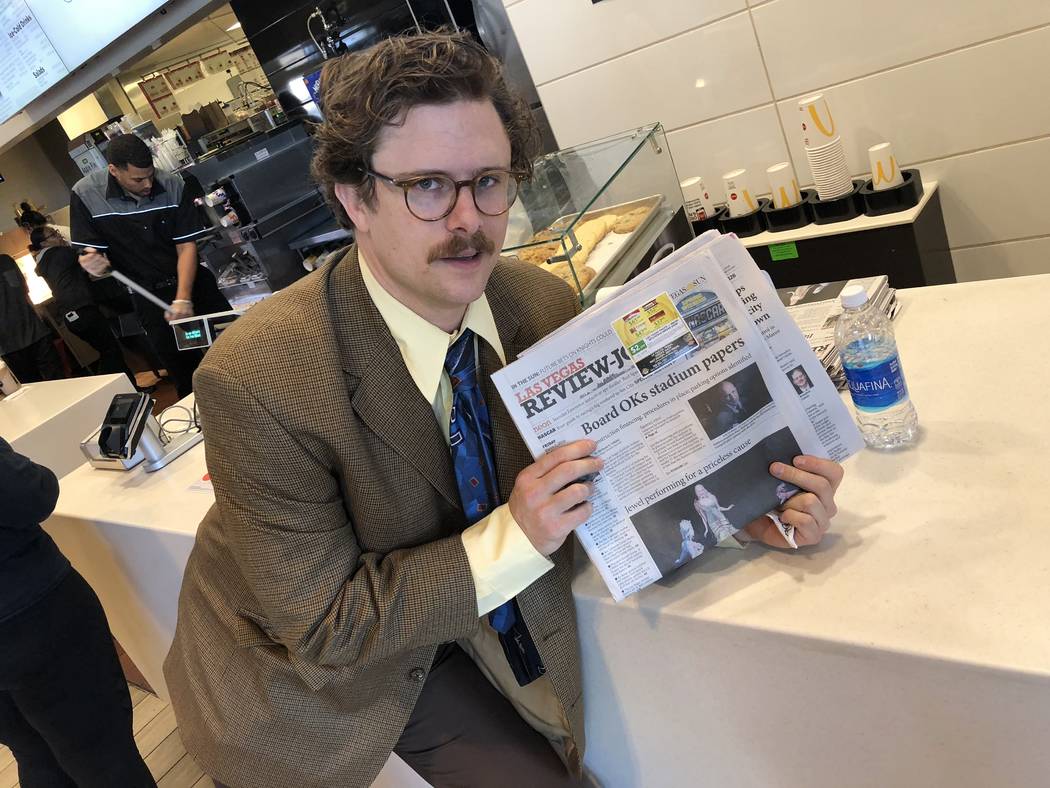 The driver's name is Dale. He is lactose intolerant. He learned of this condition as he was being tested to be an astronaut.
"I was told I was lactose intolerant, so I could not be an astronaut," Dale says as he pilots not a Space Shuttle but a white, new-model Volkswagen Passat. "I didn't know I was lactose intolerant."
So it is that Dale, this luckless fancier of flight, is grounded and driving for Uber. One of his passengers is Harry M. Howie, the producer-character of "Opium" at The Cosmopolitan of Las Vegas. The show opens Tuesday night and carries an obtuse, intergalactic theme.
Harry says he intercepted signals from the cosmos, a complex series of digital messages that led him the resort whose shorthand name is "Cosmo."
"This was all in the stars," Harry says. "The show can play any planet."
How fortunate, then, that our driver Dale wanted to be an astronaut. What are the odds? Dale tells us he lives with his mom in Las Vegas, but yearns to start a life on his own.
Dale has a wide, toothy grin and congenial personality. The kid could have been an actor, and maybe he is.
"I like your style," Harry says to Dale while seated next to me in the back seat of this white ride. "Maybe you could drive for me one day."
"Seriously?" Dale says. "That would be amazing."
"Have you ever driven a Roller?" Harry says. "I'm gonna be in a Roller."
A Rolls Royce, he means.
"All the bigwigs have Rollers," Harry says.
As we roll out of the Cosmo's porte cochere, the destination becomes clear: A McDonald's outpost on West Tropicana Avenue. Harry is breaking from "Opium" rehearsals at the newly named Opium Theatre at Rose. Rabbit. Lie. He is hungry for "Opium's" unofficial snack, hot apple pies from McDonald's.
"We need a dozen, to go," Harry says to the young man behind the counter, whose arms are covered in tattoos and whose face bears a bemused expression. "And also a large coffee."
We wait 20 minutes for this $10.65 order while Dale idles the Passat in the parking lot. As we wait, Harry and I leaf through a copy of the RJ; Harry is trying to find his name and seems miffed it's not there. His blue John Weitz tie, decorated with colored rectangles, is again flipped backward.
Similar to the comic character Dilbert, Harry's disobedient neckwear indicates he's not fully in control of his universe.
Harry says the show is going to be "amazing" (show producer Spiegelworld already claims it is favored by "nine out of 10 tenors"). The cast member Tammy, an ex-McDonald's employee who Harry befriended at The D on Fremont Street, is said to be a great comic and singer.
"Opium," for sure, will be loaded with madcap, raunchy humor; inspired side acts; one or maybe two singers; and a great backing band already unveiled at the press announcement of the show Feb. 8 at Cosmo's Chandelier bar.
The costuming, from the designer Machine Dazzle, is one of the show's early selling points.
"You'll love the costumes," Harry says. "They are out of this world."
As we drive off, Dale is nearly T-boned by a Ford F-150, its horn blaring and driver not amused by this road-tested piece of performance art.
Harry tells Dale, "I like your style. Have you ever done any acting?"
Dale tells him he was in a grade-school production of "Our Town."
"I played a tree," he says. "When the wind came through, I went, 'Whoosh!'"
"I want to cast you in my show," Harry says. "I feel good about you. I feel good about this."
Harry passes the driver his card, then makes off with his bags of apple pies. "We'll be in touch," he calls back, then wanders back into the "Opium" galaxy, to boldly go where no man has gone before …
John Katsilometes' column runs daily in the A section. Contact him at jkatsilometes@reviewjournal.com. Follow @johnnykats on Twitter.