It was dueling Dianas during Ross' Encore Theater performance
October 22, 2017 - 6:18 pm
Updated October 22, 2017 - 6:31 pm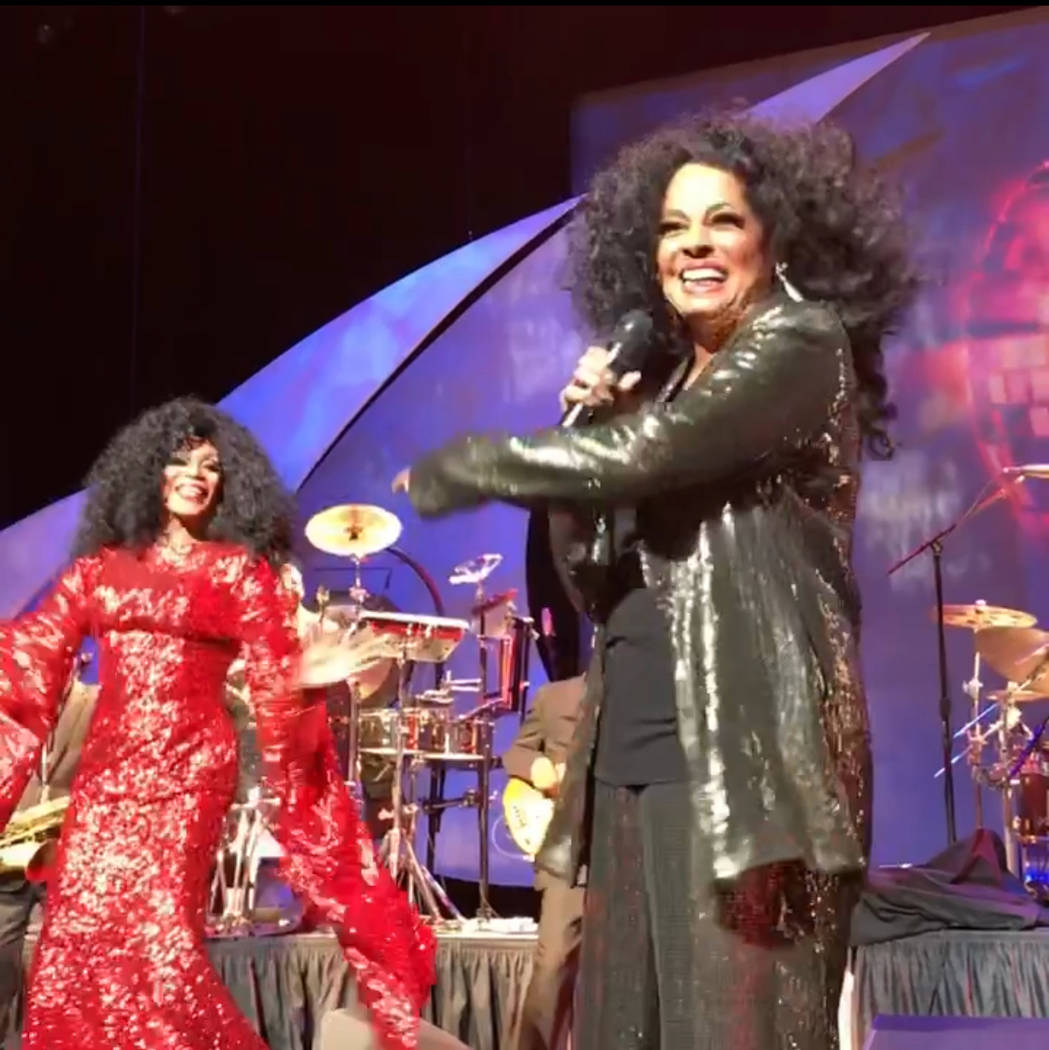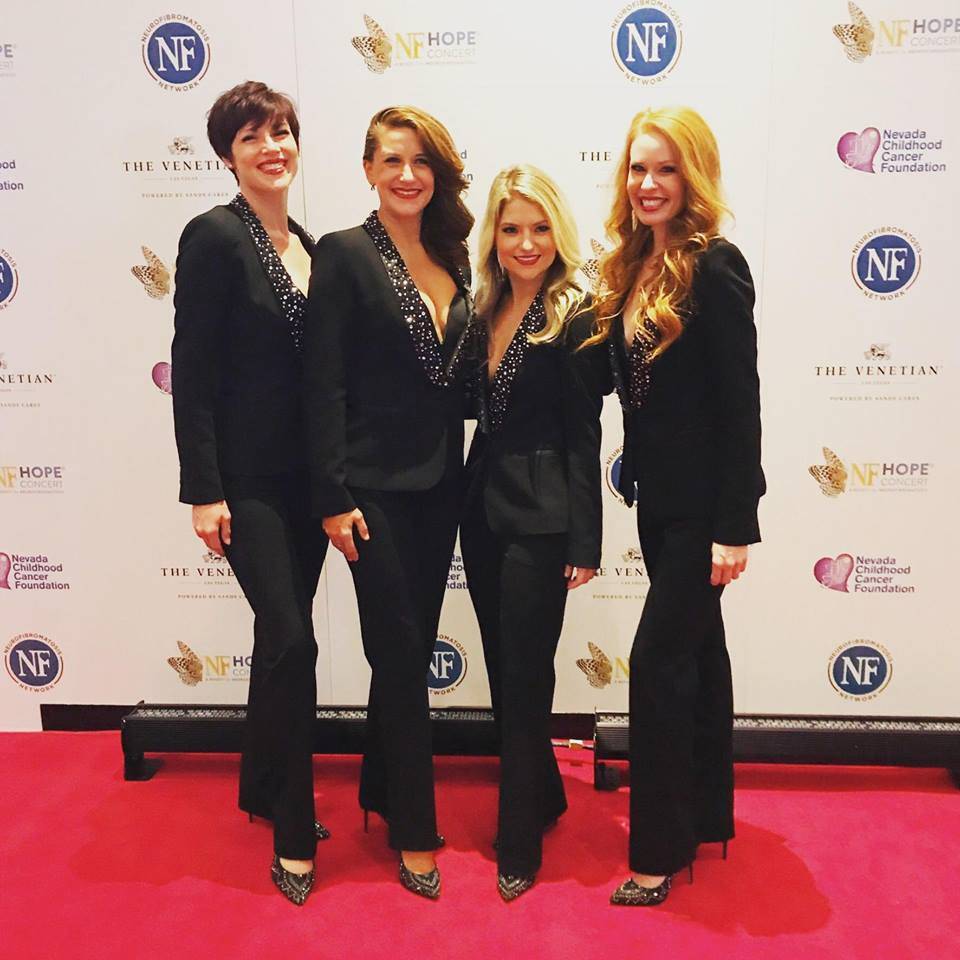 The Kats! Bureau at this writing is a metal picnic table at Mike Hammer's Celebrity Go-Kart Race at Gene Woods Racing Experience at 121 E. Sunset Road. The event is a benefit for military support organizations Nathan Tyler Davis Foundation, Forgotten Not Gone and RWB Dog Tags (which furnishes service dogs for veteran).
This is yet another only-in-VegasVille scene. Moments ago the performing artist and Flamingo headliner Tape Face met World War II veteran Air Force Lt. Col. Theodore Lumpkin, who is 98 and visiting from Los Angeles.
He's a retired intelligence officer. Mr. Lumpkin, I mean. Tape Face is a working, and intelligent, comic.
More from our scene:
Diana doubled
Diana Ross spotted a familiar figure in the audience at Encore Theater on Saturday night and called out, "Come up here, girl!"
Miss Ross was wrong about the gender but made the right call. She had actually summoned Chris Woods, who has portrayed Ross for 32 years in two shows on the Strip, "Evening at La Cage" at the Riv and currently Frank Marino's "Divas Las Vegas" at The Linq Hotel.
"It was absolutely incredible," Woods said Sunday. "I got onstage and looked out at the audience, and it was going nuts, and she was just smiling like, 'What is going on here?' " Woods hadn't even expected to attend the show, but took a last-minute offer from Marino — a Ross fan who has seen her perform at least 200 times over the past three-plus decades.
"I was going to take a friend who backed out at the last minute, so I called out to Chris, 'Wanna go see Diana?' and he says, 'Can I wear the gown?' " Marino said Sunday. "I said, 'Absolutely! Wear it and we'll see what happens.' "
Marino and Woods were seated in the front row, and Woods gracefully took the stage during the show-closing, "I Will Survive." As the crowd cheered, Ross embraced her tribute figure at the end of the number.
"She said, 'You're so beautiful!' " said Woods, who had a tough time leaving the venue. "It took me 90 minutes to leave the theater."
Marino stood watch. "I'm not kidding, 90 percent of that audience took pictures with Chris." Ninety minutes about matches Ross's stage time, but on this night, the tribute artist was a show unto himself. Or, in this instance, herself.
The heart of 'Showstoppers' …
… still beats in a new act of familiar figures called Lady Luck. The just established ensemble is fronted by former "Steve Wynn's Showstoppers" performers Nicole Kaplan, Rachel Tyler, Lyndsay Roginski and Heidi Marie Webster and backed by ex-"Showstoppers" music director Dave Loeb and a seven-piece band.
The crew made its debut at Sunday's "NF Hope Concert" at Palazzo Theater, singing "That's Life" to launch the show.
Wynn has been using the band to attract convention business, offering them as a kind of house act for incoming corporate events at the hotel. Smart, right? Wynn's baseline concept for "Showstoppers," which was to tap into the best of musical theater, was noble. So is this act, which is one to watch for.
Flav on the knee
Eminent hip-hop superstar Flavor Flav is among the celebs at Hammer's drive-a-thon. Flav took a knee earlier as Gabriella Versace of "Sexxy" at Westgate Las Vegas sang the national anthem.
"I'm just doing my thing," explained Flav, siding with pro athletes (primarily NFL players) who take a knee to protest racial inequality and police brutality. "I'm just trying to make my statement and keep it real."
Brown moving on
Gordie Brown is about to defect from Sin City Theater at Planet Hollywood. Expect him to move to a larger venue by mid-November, in a new 7:30 p.m. time slot. Brown's 5:30 p.m. shows have not caught on, and he's been lost in a shuffle of shows in that venue and all across Planet Hollywood (sharing a building with the likes of Ringo Starr and Jennifer Lopez is something of a challenge).
Brown is seeking to again serve as the "name" of his property, as he was during his days at Golden Nugget. This next hotel will, at the start, allow him to be that.
Vista is a Caesars thing
Amid incessant buzz that the Hakkasan-SBE Entertainment merger is unraveling, Hakkasan has shed Vista Cocktail Lounge at Caesars Palace. The hotel took over operations a couple of weeks ago.
Vista has been slow to develop despite its chic-contemporary design and choice location across from the entrance to the Colosseum.
John Katsilometes' column runs daily in the A section. Contact him at jkatsilometes@reviewjournal.com. Follow @johnnykats on Twitter, @JohnnyKats1 on Instagram.