It's a new schedule, venue name for Mat Franco Theater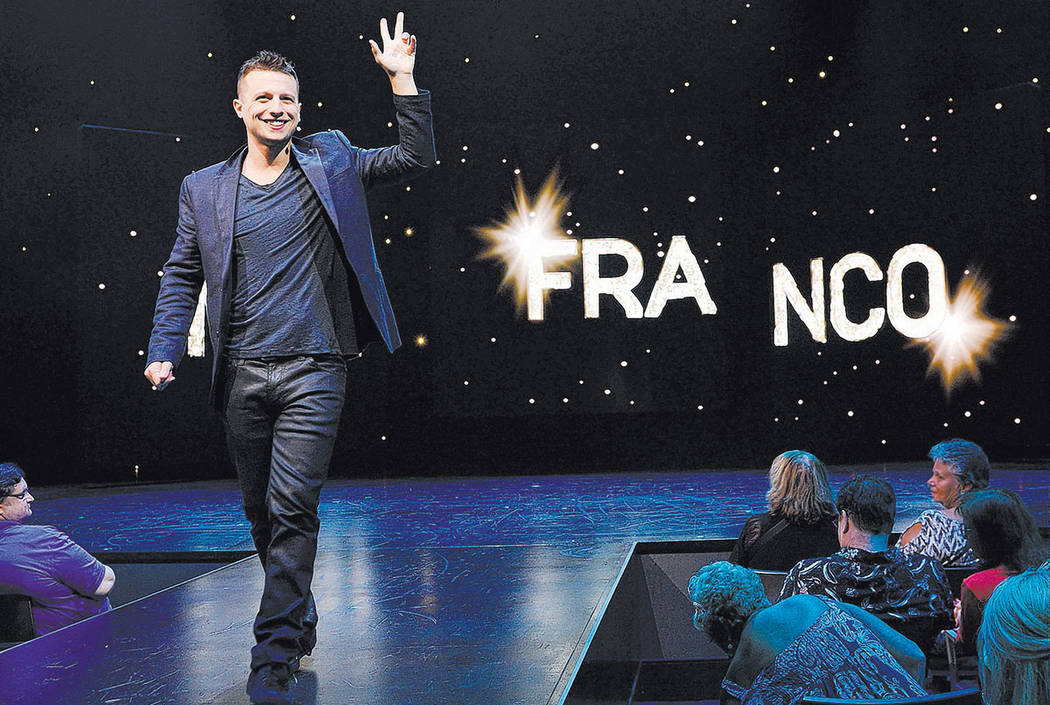 The champion of the ninth season of "America's Got Talent" is a winner on the Strip, too.
Magician Mat Franco is expanding his "Magic Reinvented Nightly" schedule in the venue soon to be renamed Mat Franco Theater at the Linq hotel-casino. The new theater name is to be announced Friday, with a formal unveiling set for July 10.
On that date, Franco boosts his schedule to 10 shows per week, twice daily at 7 p.m. and 9:30 p.m., dark Wednesdays and Thursdays. He's previously performed six shows per week, at 7 p.m. Sundays, Mondays, Tuesdays and Fridays and at 4 p.m. and 7 p.m. Saturdays.
"Everything is going so well with the show and our success with Caesars (Entertainment), we wanted to see what would happen with a later show," Franco says. "We did a test run to try a later show, and found a whole different crowd who came in at 9:30 as opposed to 7. This is a different group we're tapping into, who want to go to dinner at 7, go to a show later and even have time to go out after that.
"It makes sense for those people to have a chance to see the show, too."
Franco remains coy about the theater being re-named for him, saying, "From what I hear, that's what's going to happen, we'll see," and, "I understand there will be a big event for this, and I've been offered champagne. I'm hoping that happens."
The move causes a ripple for the long-running "Frank Marino's Divas Las Vegas" production, which on July 10 moves to 4 p.m. Fridays, Saturdays, Sundays and Mondays; and 8 p.m. Wednesdays and Thursdays, when Franco is dark.
"After doing my show for 31 years, so many people have asked me to do an earlier show, decided to do some happy hour shows," says Marino, who moved into Imperial Palace (which today is the Linq) in 2010 after headlining in "Evening at La Cage) for 25 years. "I am very excited for Mat Franco having the showroom named after him. It was exciting to have the La Cage (Theater) named for us for 25 years at the Riviera. I know it is a real thrill."
Franco, who turns 29 on May 10, opened at the 600-seat Linq Showroom in August 2015. He joins Terry Fator, in a theater named for him at Mirage, as former "AGT" champs to headline their own rooms on the Strip.
Franco says he's not making any significant changes to his show as he enters the summer schedule, though he is always developing new acts to fit in the production's lineup of tricks and illusions.
"I do find myself catering to the vibe of the room, and that's how it's 'Magic Reinvented Nightly,' because every audience is different and I am different each show, too," Franco says. "There is actually a lot of improv in the show."
One night, Franco was performing a card trick when the air conditioning in the showroom, which has undergone a major redesign since the Imperial Palace days, had faltered. He threw down two cards — a 9 and a 6 — and said, "That is the temperature in this showroom right now."
Franco has managed to forge a solid run on the Strip in the face of dozens of show closures over the past 18 months. The net loss of production shows on and off the Strip, of all types, since the beginning of 2016 is between 25 and 30.
What's the young magician's key to success?
"I don't know if there is a secret, but I have a great team around me and I just work very hard," he says. "I keep working, and there is no substitute for experience. I think that's the most important thing."
John Katsilometes' column runs daily in the A section and Fridays in Neon. Contact him at jkatsilometes@reviewjournal.com. Follow @johnnykats on Twitter, @JohnnyKats1 on Instagram.