It's an EDM rodeo on the Strip with George Strait and Tiesto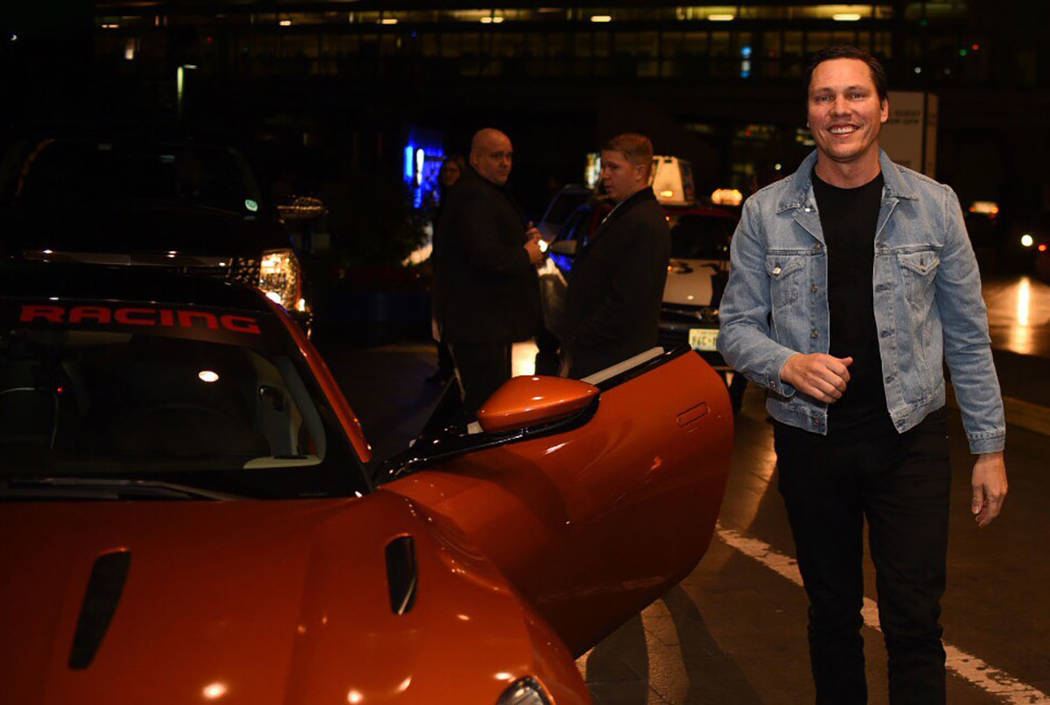 Saturday was yet another only in VegasVille, double-header night on the Strip. The late-night shenanigans were hosted by country legend George Strait at T-Mobile Arena, followed by superstar DJ Tiesto at the fourth anniversary party at Hakkasan at MGM Grand.
They could not be more dissimilar. One draws thousands of devotees to his recurring appearances on the Strip, confounding those who don't care for his genre but generating inescapable excitement and impressive revenue for his host property.
The other is Tiesto.
Strait again performed his greatest-hits production, titled "Strait to Vegas," as it is the only city he plays these days. Strait is backed by a crack group of musicians, dubbed the Ace in the Hole Band (great name) and performs effectively on a square stage in the middle of the arena. It's two songs on this corner, two on the next, and so on.
In this format, Strait receives something like 10 standing ovations around the venue every night. Not that he seems to care. Strait, by all accounts, is a very humble man, even with hits, the adulation and his own Wrangler line of Western shirts.
A couple of unexpected realities from Saturday's show: Strait did not play his monster hit and country anthem "All My Ex's Live In Texas," but he did chisel a spot for a cover of Johnny Cash's "Folsom Prison Blues."
Also, the show did not sell the T-Mobile capacity for his previous performances, which is about 16,50o. Several sections in the upper level were draped off for Saturday's show. One factor in sales had to be that the Academy of Country Music Awards and ancillary Party for a Cause events were held the previous weekend in Vegas. Strait missed that influx of country fans, entirely.
A better barometer for Strait's lasting appeal will be his shows July 28-29, Sept. 1-2, and Dec. 8-9. That last set coincides with the annual National Finals Rodeo taking over the city. Those are Strait's people, and those shows should sell out.
Tiesto hit Hakkasan about two hours after Strait sauntered off-stage at T-Mobile. Similar to Strait's influence on country-music culture, Tiesto holds an exalted status in his genre. He's 48, a crossover star for about 20 years, proof that EDM has multigenerational appeal. For further evidence: A medley from his "A Town Called Paradise" release is in rotation at Fountains of Bellagio.
A true jet-setter, Tiesto started his day Saturday in Boston, hit the Phoenix Lights Festival in Chandler, Ariz., and landed in Vegas at 12:45 a.m. for a 1 a.m. (OK, 1:30 am.) start at Hakkasan. He showed no signs of fatigue, though.
"I like to party, and I feel the adrenaline of the crowd," Tiesto said during a photo op before his set. "During a show, I can't get tired."
Tiesto has hit on the artistic allure and business model of EDM: Ramp up the adrenaline of the masses, then sell it back to them. It works. On peak nights, such as Saturday's anniversary spectacle, more than 6,000 credit-card shredding folks file into Hakkasan. He deserves a tip of the hat — whether it's a Goorin Bros. fedora or a George Strait Resisitol — for such a party.
Another from the Rickles vault
Veteran stand-up comic and frequent Friar's Club roast host Jeffrey Ross idolized the late comic genius Don Rickles, telling Rolling Stone magazine of a particularly brazen Rickles routine years ago in New York:
"I met (Don) at a Friar's Club event in 2000 and he could get away with stuff that none of us could get away with when he roasted Steve Wynn," Ross recalled. "(Wynn) has a terrible, sad degenerative eye disease and nobody could make fun of that or even talk about it. But Don went up at the end and went right for it. He would just wave his hand in front of Steve Wynn's eyes, 'Steve, I'm over here. I'm over here. Follow my voice, Steve. Follow my voice.' You could see the tears of laughter come out of Steve Wynn's eyes. It was really beautiful. Don wrote me a note afterwards (thanking me)."
The Tropicana walk-a-thon …
Access to the pedestrian bridge between MGM Grand and Tropicana is closed for construction. To hoof it from one hotel to the other, you must use the bridges connecting Trop to Excalibur, and New York-New York to MGM Grand. This is important info for those who might park at the Trop and walk across to the MGM Resorts hotels to skirt the parking fees.
Also, a quibble: The directional signage inside the MGM Grand sends folks toward "Tropicana Blvd." You won't find that street on the Vegas Monopoly board.
Whither Perez?
In one of his many side projects, Vegas rocker Franky Perez is currently touring with Billy Idol guitarist Steve Stevens through Denmark, Sweden and Switzerland. Perez and his band, The Truth, are back at the Lounge at the Palms on April 29.
Big Elvis is big in …
The Netherlands! Indeed, Pete "Big Elvis" Vallee, still rocking it at Harrah's Piano Bar, is being featured on a PBS television special in that country marking the 40th anniversary of Elvis' death. That date is Aug. 16, and the Dutch PBS crew has been filming Big Elvis singing his bondless collection of Presley hits.
John Katsilometes' column runs daily in the A section, and Fridays in Neon. Contact him at jkatsilometes@reviewjournal.com. Follow @johnnykats on Twitter, @JohnnyKats1 on Instagram.