Jeff Dunham, headlining the Strip? It figures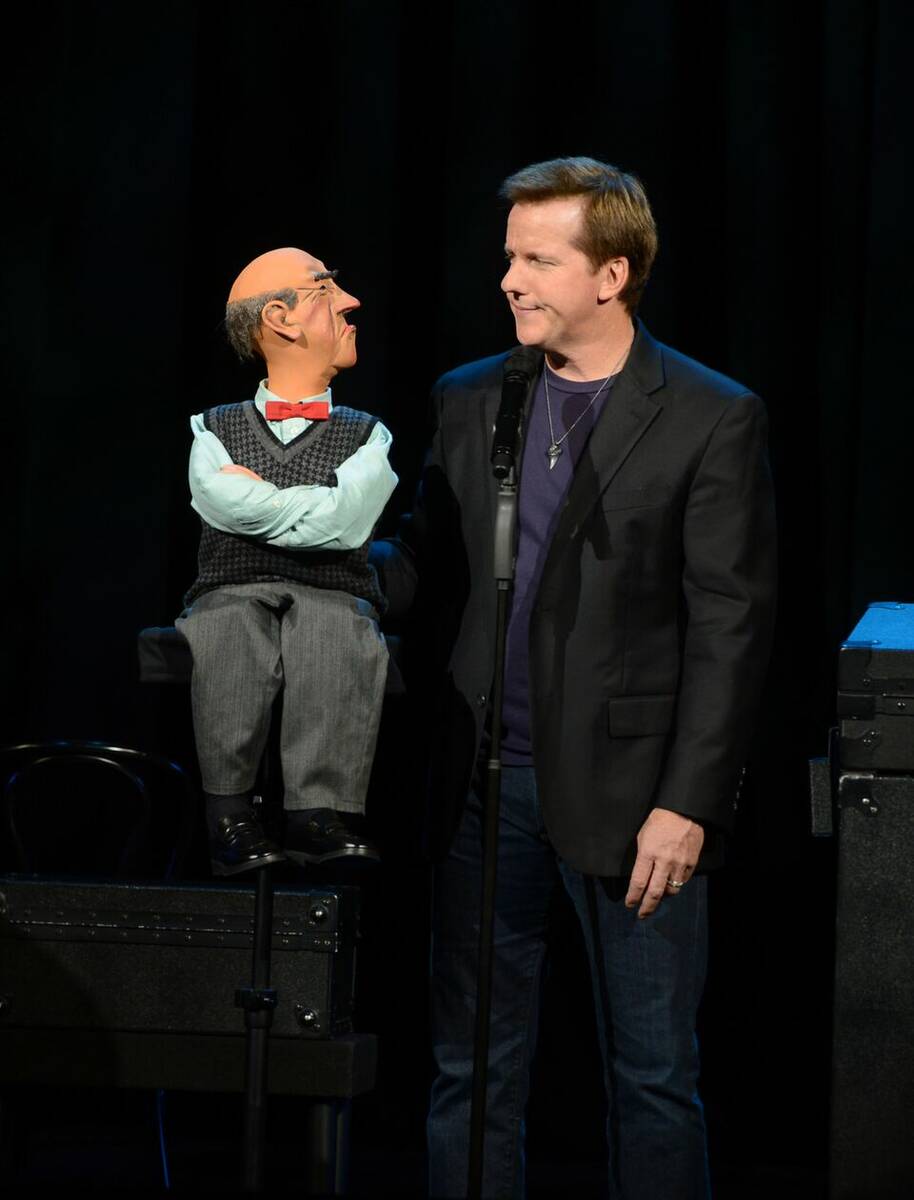 We will always have that night with Dickie V.
This VegasVille yarn centers on ventriloquial star Jeff Dunham, appearing 8 p.m. Sunday at Bakkt Theater at Planet Hollywood Resort. This is the first of a half-dozen performances for the veteran entertainer this year at the onetime Zappos Theater. He's back July 16, Sept. 3, Oct. 22, Nov. 12 and Dec. 8.
"Still Not Canceled" is the name of the show, and Dunham's message. He's still rolling with Achmed the failed terrorist, crotchety old man Walter and his purple sidekick, Peanut.
I chatted with Dunham last week for the first time in about seven years. The last time I saw him perform, at the Colosseum at Caesars Palace, was December 2016. I happened to sit next to legendary basketball broadcaster Dick Vitale at that show.
"This guy is phenomenal!" was among Vital's real-time critiques.
Dunham is that. He's performed for about 7.25 million fans in 1,390 performances from June 2007 though May of last year.
Now, the 61-year-old headliner is launching a new set of slam-dunk performances on the Strip.
"It looks like my 15 minutes of fame have gone on longer than anyone would have expected," Dunham says. "We're still doing the big arenas and big theaters around the country, to 5,-000-10,000 people."
Dunham jokes about not being canceled. So would one of his leading figures, Achmed. At first blush, it would seem a long throw to generate laugh from a dead terrorist. Or, a zombie terrorist, if you will.
But in Dunham's hands — hand, actually — Achmed is a largely harmless cartoon character. He's like a post-Acme-bomb Wile E. Coyote.
"Achmed is supposed to hate us. He's supposed to blow us up. But he's terrible at blowing things up, and blew himself up," Dunham explains. "But he came to this country, and now he he's fallen in love with all the trappings of the things that we have here. He fell in love with the movies, with rock and roll, with the cars and the good-looking women."
Dunham catches himself.
"Can I even say that, these days?" he asks with a laugh. "He loves good-looking women."
Dunham has managed to keep a broad sense of humor by tapping into a deep history of comedy, outside ventriloquism.
"I go back to the comedy of Johnny Carson, Bob Hope, Will Rogers. Those guys would always make fun of who was in office and what was going on, and they would even it out," Dunham says. "And they'd make fun of both sides. It was a different kind of comedy. They didn't they didn't make fun of groups, they made fun of individuals."
Dunham almost sounds like Walter when dissecting late-night talk shows.
"I don't understand the late-night guys at all," the native of Santa Inez, Calif., says "They they make fun of one entire group. They call them idiots. They pick sides themselves."
Dunham can quantify how many audience members he can offend per show.
"I've always said, if I'm offending 2 or 3 percent of the audience, I'm on the edge where I like to be," Dunham says. "I don't want to offend 20 or 40 percent of the audience. But you have to have some sort of edge to what you're doing. It can't be be all knock-knock jokes."
John Katsilometes' column runs daily in the A section. His "PodKats!" podcast can be found at reviewjournal.com/podcasts. Contact him at jkatsilometes@reviewjournal.com. Follow @johnnykats on Twitter, @JohnnyKats1 on Instagram.
Jeff Dunham "Still Not Canceled"
Where: Bakkt Theater, Planet Hollywood.
When: 8 p.m. Sunday (continuing July 16, Sept. 3, Oct. 22, Nov. 12 and Dec. 8).
Tickets: Starting at $49 (not including fees), ticketmaster.com/JeffDunhamVegas
The Dunham Files:
* He has performed for 7.25 million fans in 1,390 performances from June 2007 though May of last year.
* He has recorded four of hte top-five, highest-rated programs on Comedy Central:
"Minding the Monsters" (2012) and "Controlled Chaos" (2011) were the network's most viewed specials of their respective years,
"Jeff Dunham's Very Special Christmas Special" (2008) captured the title of Comedy Central's highest rated program ever to date,
"Jeff Dunham's Completely Unrehearsed Last Minute Pandemic Holiday Special" (2020) marked Comedy Central's highest-rated special in five years, garnering over 4 million views in just five days, surpassing Dunham's own "Unhinged in Hollywood" (2015) special.