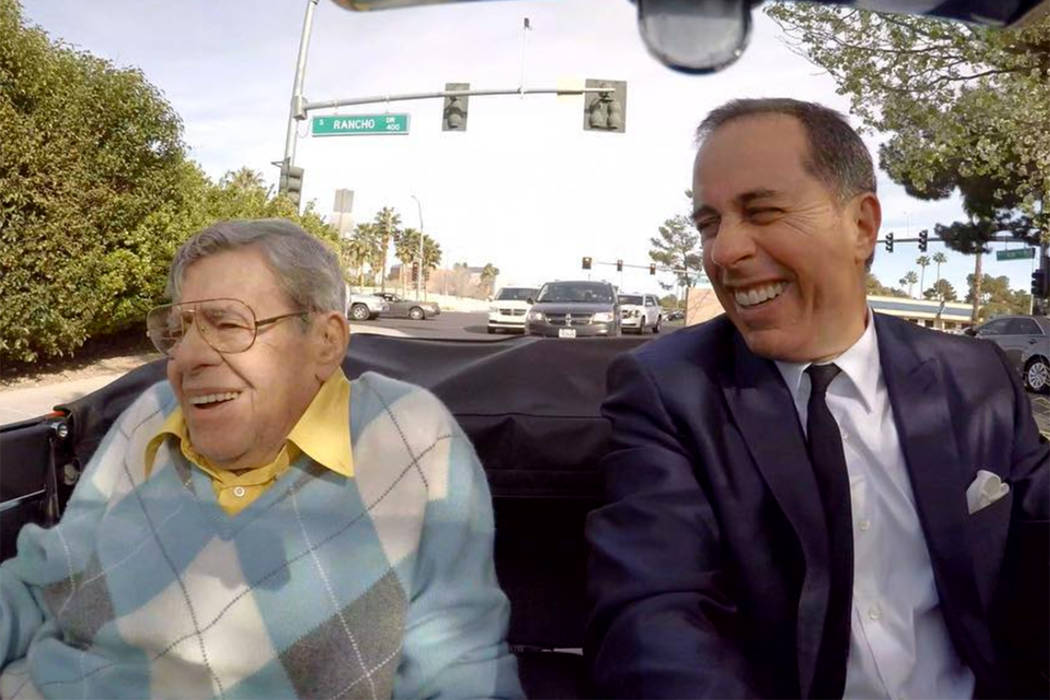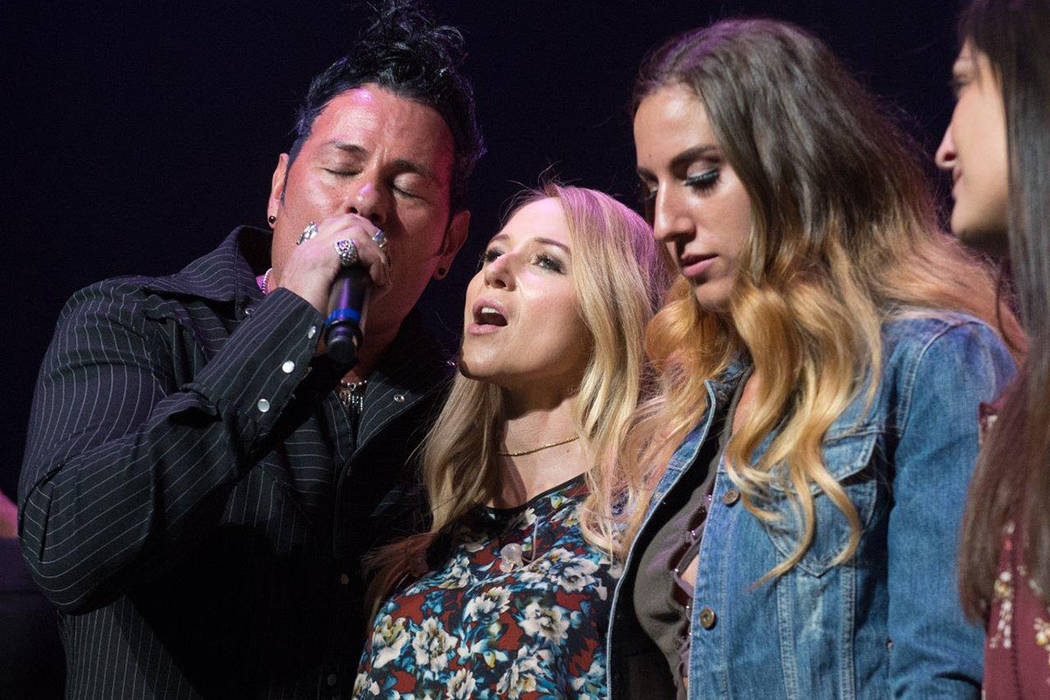 The Kats! Bureau at this writing is Michael Jackson ONE Theater at Mandalay Bay, the final run-through of "One Night For One Drop," Cirque du Soleil's annual production to raise money and awareness for its international One Drop clean-water initiative.
Earlier, I met Jewel's father, Atz Kilcher, who is in the cast and wore a costume that looked much like a raccoon. Expect a yodeling duet from this father-daughter duo.
More from this scene, and elsewhere:
Of Jerrys and coffee
The unaired episode of Jerry Seinfeld's "Comedians in Cars Getting Coffee" featuring Jerry Lewis will indeed air on Netflix, I'm reliably informed. Seinfeld and Lewis recorded the segment last March, just five months before Lewis' death on Aug. 20. While recording the video, the comics tooled around and turned heads in a 1966 convertible Jaguar roadster (Lewis actually owned that same model Jag in '66). Seinfeld and Lewis chatted at the Omelet House on West Charleston Boulevard, a favorite Lewis eatery.
There is no release date, but Netflix has been promoting the show among the 59 episodes already posted. Seinfeld headlines The Colosseum at Caesars Palace on March 9.
Donny Nova Band lives!
Richard Oberacker, music director of "Ka" at MGM Grand, is working on a follow-up to "Bandstand," the musical he and writing partner Robert Taylor conceived and wrote in Las Vegas and sent to Broadway. The musical ran for 166 performances at Bernard B. Jacobs Theatre, closing in September. The show picked up a Tony Award for Andy Blankenbuehler's choreography.
Details on next project are scant, but Wednesday he told the audience at Myron's Cabaret Jazz during The Composers Showcase of Las Vegas, "The story is set in 1974, in Hollywood, when the studio system has fallen and young Turks take independent work into blockbuster hits."
Niki Scalera of "The Cocktail Cabaret" at Caesars Palace sang an early version of one of the numbers planned for the show. The scene provided a strong sense of deja vu, as "Bandstand" was essentially born on that same stage. Just before introducing Scalera, Oberacker talked of the heartbeat of "Bandstand," the cracking Johnny Nova Band.
"The original band members were all actors in the show, and recently the band got together and worked up a show and on a whim played the famous Birdland Jazz Club in New York," he said, referring to a sold-out gig on Nov. 27. "It was this massive hit, and the band started getting calls from across the country."
One of those calls was from Smith Center reps, who booked the band for two shows this July. The band plays refreshed arrangements dating to the 1940s, contemporary numbers and some originals. The trumpet player, Joey Pero, is well-known for his days fronting his own trio in town. The musical's co-leads, Corey Cott and Laura Osnes, are in the band, too.
"This has become a thing," Oberacker said from the stage. "This is a great, full-circle moment."
And from Pero, who still lives in New York and has signed to play in the upcoming revival of "My Fair Lady," "Demand for us has been very high."
Return of 'Ka'
The stage show at MGM is back in full production beginning Saturday night. The show went dark during the early performance on Feb. 21, after its main stage malfunctioned.
'Inferno' cooling
A show that needs an uptick in business, "Inferno" is moving its show times at Paris Theater from 9:30 p.m. to 8:30 p.m. March 14, then back to 9:30 p.m. on May 16.
Good idea. "Inferno" has been doing the types of numbers that caused another inspired but challenged show, "Circus 1903," to close in December after five months.
A $100 grand throw-down?
The dodgeball rivalry between Darin Feinstein and Red Mercury Entertainment and Steven Siegel's Siegel Group team is getting chippy. Red Mercury's team knocked off Siegel Group on Sunday in the After School All-Stars charity event at Bill and Lillie Heinrich YMCA.
It was the third straight victory for Red Mercury, and as agreed upon, the losing side donated $5,000 to the charity.
On Wednesday, Siegel Group Senior Vice President Michael Crandall challenged Feinstein's team to a $100,000 match in next year's event. Feinstein re-issued his original challenge to the Siegel crew: $50,000, but Siegel himself must participate. Siegel, however, is unable to play because of a shoulder injury.
"It's $50,000, with Siegel," Feinstein says. "That's a solid, non-negotiable offer."
"Our offer is double that — $100,000, all-employee teams on both sides," Crandall countered. "And we'll throw in the $5,000 we agreed on this year, for $105,000." Who said this was just a playground game?
John Katsilometes' column runs daily in the A section. Contact him atjkatsilometes@reviewjournal.com. Follow @johnnykats on Twitter, @JohnnyKats1 on Instagram.