Jimmy Kimmel to host Las Vegas Strip comedy show
Updated May 14, 2023 - 9:50 am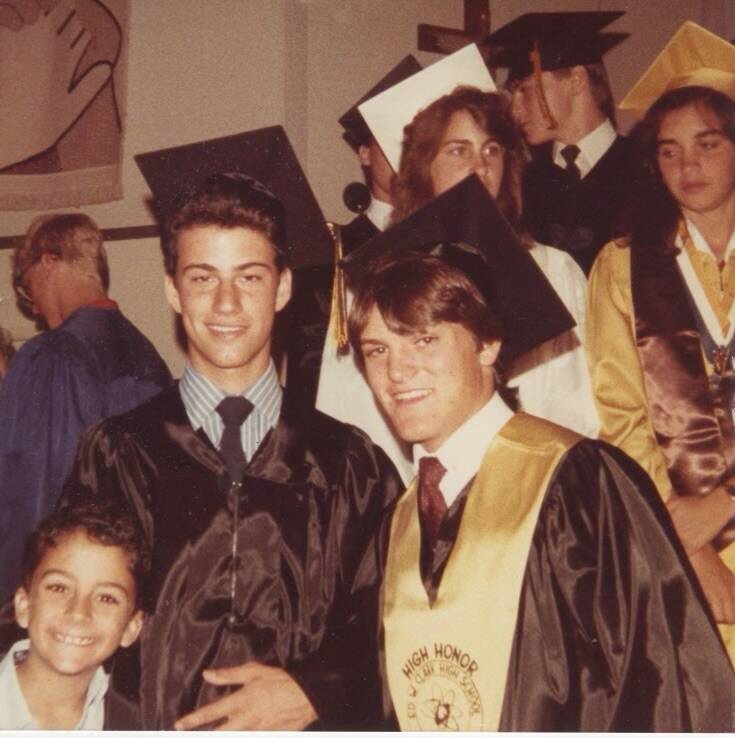 Jimmy Kimmel learned about philanthropy in uniquely Las Vegas fashion.
"My first charitable memories of Las Vegas were the Jerry Lewis telethon," Kimmel says during a recent Zoom chat. "That made a big impact on me, because my dad loved the telethon. We would watch it in its entirety, and I'd even go to see it live."
Kimmel has since learned that charity is not always the first subject that leaps to mind when folks talk of his hometown.
"There are so many other things to talk about when it comes to Las Vegas," Kimmel says. "People don't think about the fact that we have hospitals and churches, and people who care about the community."
A specific person and illness Kimmel cares about deeply is the inspiration for "It's No Joke" comedy show and fundraiser for Project ALS. The show is May 26 at Kimmel's eponymous Jimmy Kimmel's Comedy Club at Linq Promenade (click here for ticket and event info).
The event has been inspired by Kimmel's godson, Joey Porrello, who was diagnosed with ALS about a year ago. Jimmy and Tommy Porrello, Joey's father, have been friends since their days at Kenny Guinn Middle School.
To support the family and the cause, Kimmel has summoned several comedy friends, among them Sarah Silverman, Jeff Ross and Nick Kroll along with star YouTuber Mark Rober.
"I have a couple of guests that I'm going to bring out as a surprise,," Kimmel says. "The format will be a group of friends on stage entertaining the audience."
Kimmel is a Vegas ambassador in his role as host and organizer. The late-night, talk-show star is here to enlighten, about the comedy culture and the city in which he grew up.
"The comedy community — we never actually call it that, but we should — is a very charitable group of people," Kimmel says. "They're so quick to offer their help and time."
Along with all network late-night talk shows, "Jimmy Kimmel Live" is not airing new episodes as members of the Writers Guild of America are on strike. But prior to the walkout, Kimmel interviewed his late-night idol David Letterman, who praised Kimmel's performance as host of the Oscars.
"This was a sensational moment for the country and the network and yourself," Letterman said during his March 15 appearance on "Jimmy Kimmel Live." "You know what this makes you, don't you? You are the Prince of Hollywood."
Letterman wasn't finished.
"Congratulations, because you resurrected this carcass," he said, "and the network and the Academy ought to be very grateful, nice going."
Kimmel demurred at that effusive, and also accurate, account from his childhood hero. The host tried to move off the topic, but Letterman continued to steamroll, "The show was so bad that the Academy got together and they said, 'We can never let this happen again!' "
Letterman, along with millons of TV viewers, especially enjoyed the bit where Kimmel had to tell Cocaine Bear get away from Malala Yousafzai.
Kimmel is now a leading candidate to return in 2024 for his fourth run as Oscars host.
Would he be up for it?
"Oh, man. You know, whatever we do, I'm not going to give any answers until the summer is over. It's a lot, " Kimmel says. Asked if it was accurate to say he had not ruled in, nor ruled out, an Oscar return, Kimmel says, "Exactly."
Kimmel says he still intends to "throw" segments of his ABC show to his Vegas comedy club to showcase headlining stand-ups.
"We did do a bit of that, and then we got shut down during COVID, so we're hoping to get back to that plan, "Kimmel says. "We reopened and reorganized, and now we're just kind of putting the technical equipment together. But that is our hope, to is to make the club our Las Vegas studio."
Such headliners as Kimmel's buddy Adam Carolla, comic actor Patrick Warburton in his "Letters From a Nut" show, "America's Got Talent" alum Vicki Barbolak, resident comic-magician Farrell Dillon and Sunday-Monday headliner Luenell have spurred the club's revival.
Upon JKCCs reopening, Pompey Entertainment's Damian Costa and Nick Cordaro have operated and booked the venue, in partnership with Kimmel and Caesars Entertainment.
The TV star who has hosted his own show for 20 years, and salvaged the Oscars telecast, is still excited to see his name on a Vegas marquee.
"As far as these things that I've done, I sometimes think back on them and can't believe it," Kimmel says. "But you know, one of my goals was to have a place in Las Vegas, to be represented on or near the Las Vegas Strip. That is a big deal to me."
Cool Hang Alert
Aaron Benward's "Nashville Unplugged" is back at Mandalay Bay's Rhythm & Riffs music lounge from 8-9:30 p.m. Fridays. Benward hosts a rotation of top songwriters for an original show every Friday. This show was a pre-shutdown favorite, as Benward is an accomplished songwriter, confident showman and right at home in that lounge.
John Katsilometes' column runs daily in the A section. His "PodKats!" podcast can be found at reviewjournal.com/podcasts. Contact him at jkatsilometes@reviewjournal.com. Follow @johnnykats on Twitter, @JohnnyKats1 on Instagram.