JLo, Chainsmokers ignite XS; Santanas open for Warriors in Oakland
Updated June 3, 2018 - 12:15 pm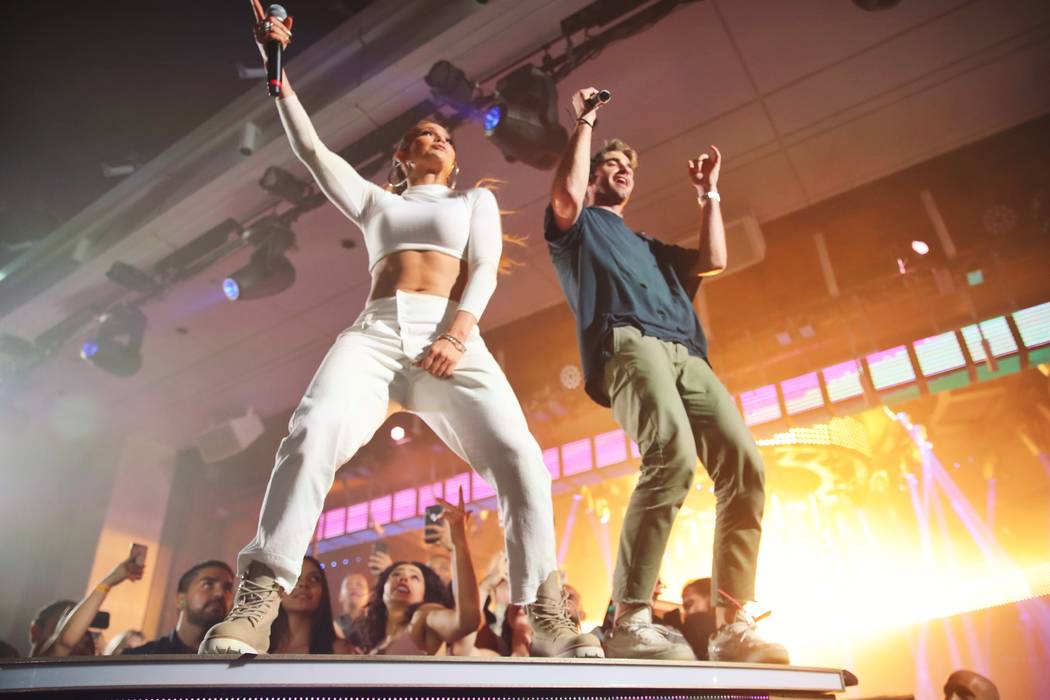 Jennifer Lopez knows how to share the "Dinero."
JLo performed the song of that title, which is her new single, with The Chainsmokers at XS Nightclub on Friday night. Alex Rodriguez and Lopez's manager Benny Medina filed into the club with a group of dancers from Lopez's show at Zappos Theater at Planet Hollywood.
Soon after touching off a scene around the club, Lopez and The Chainsmokers' Drew Taggart launched into the song, which debuted May 21 during the Billboard Music Awards telecast at MGM Grand Garden.
Lopez, Rodriguez and their accompanying entourage hit the club to celebrate one of Lopez's dancer's birthdays.
A-Rod posted a clip of the performance with the caption, "My girl killing it with the Chainsmokers."
Oklahoma City Thunder star Russell Westbrook was also at the club with a collection of friends. XS is celebrating its ninth anniversary this weekend.
Santanas open for Warriors
Carlos Santana and his wife, Cindy Blackman Santana, are back at Oracle Arena in Oakland on Sunday to sing the national anthem prior to Game 2 of the NBA Finals between the Golden State Warriors and Cleveland Cavaliers. Santana and his band, with Cindy blasting away on drums, are in residency at House of Blues at Mandalay Bay.
The Santanas have a home in Las Vegas, but Carlos is originally from San Francisco and an avid supporter of Bay Area teams. The two have performed the anthem at each of the last three finals in Oakland. Game 2 airs on ABC at 5 p.m. Sunday.
'Flip the Strip'
Former Vegas Seven Editor-in-Chief Melinda Sheckells and freelance entertainment reporter Mark Gray are co-hosting a new lifestyle/entertainment show to be called "Flip the Strip" on KXNT 840-AM beginning this month.
Sheckells is available for the new project after Vegas Seven ceased operations effective Friday. The online magazine's owner, Wendoh Media, is focusing on its bar and restaurant businesses and also its annual Life is Beautiful arts and music festival in downtown Las Vegas. Vegas Seven launched as a weekly print publication with an online component on Feb. 4 2010.
"Flip the Strip" is to air each Saturday, beginning in mid-to-late June, Sheckells said today. The show is will focus on the Vegas entertainment and lifestyle scene, with segments also examining the city's dining and sports cultures.
Gray and Sheckells will interview subjects of note throughout the city, and even plan a "mystery guest" segment where the guest's identity is not revealed until the end of the segment (kind of a "What's My Line"-type of vibe). The "mystery guest" will be reminded not to refer to him or herself in the third person …
The air time for "Flip the Strip" is still to be determined, most likely in the afternoon, and the duo are hoping the podcast version of show will be syndicated nationally.
And, fun facts about each host: Sheckells has held season tickets to one NHL team: The Anaheim Ducks, the season the team won the Stanley Cup in 2007. During his days as a PR rep for Kirvin Doak Communications, Gray submitted celebrity items to People magazine from Pussycat Dolls Lounge at Pure Nightclub at Caesars Palace, where Omnia now stands. Gray wound up working as a writer for … People magazine.
Contact John Katsilometes at jkatsilometes@reviewjournal.com. Follow @johnnykats on Twitter, @JohnnyKats1 on Instagram.