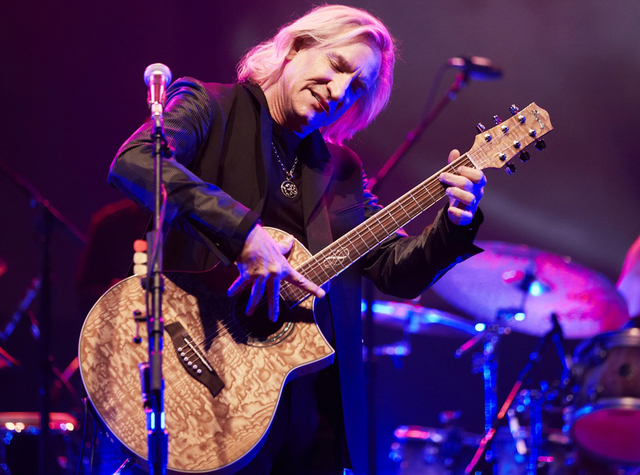 Joe Walsh has sorted out his career away from The Eagles.
Crucial to his strategy is to keep the Eagles alive.
"We weren't ready to be done yet," says Walsh, who performs — solo — Thursday, Saturday and Sunday at House of Blues. "We spent a year grieving, and we grieved, and we wanted to at least try. It didn't seem right that the Eagles were finished."
Walsh conferred with Don Henley about re-igniting the Eagles after the death of Glenn Frey in January 2016. The original idea was for Walsh and Henley to perform a two-man, storytelling showcase in a small venue, such as a House of Blues-styled room, on the Strip and on tour.
That idea morphed to a renewed Eagles lineup, with Frey's son Deacon Frey and country star Vince Gill joining Walsh, Henley and Timothy B. Schmit for the "Classic West" all-star show at Dodger Stadium on July 15, and the "Classic East" concert at CitiField in New York two weeks later. Then it was a series of fall shows in Seattle (the "Classic Northwest" festival in September); Greensboro, N.C.; Atlanta; Louisville and Detroit.
"That is the band," Walsh says, referring to the refurbished Eagles. "I talked with Deacon, got him up to speed. I called Vince, because he would cover all the bases musically and vocally. Everybody said, 'I'm all in,' and we have reinvented the Eagles. We're playing a bunch of dates next year." Those shows are not yet announced.
Walsh will continue to perform the band's greatest hits at his House of Blues shows. He favors such compositions "Life in the Fast Lane" and "Take It To the Limit," along with impressive collections of solo hits, "Rocky Mountain Way," "Life's Been Good," "All Night Long," "A Life of Illusion," "The Confessor" and "Ordinary Average Guy."
Walsh had performed those hits as the opener for Tom Petty this spring and summer when Petty celebrated his 40th anniversary with the Heartbreakers. Walsh was stunned when Petty died in of cardiac arrest in Los Angeles on Oct. 2.
"We went and played 20 shows for him, and he was fine," Walsh says. "He played great. It just came out of left field. Nobody had a clue anything was wrong, not even the band. But he was so great, even at the end. Playing with him was such a challenge, I had to really suit up to pull it off."
Walsh says he likes the cozy informality of House of Blues, where he often holds ongoing conversations with the folks up close.
"I loved it, because I don't get a chance to play places that small very often," he says. "I kind of graduated to a little larger scale, whether I wanted to or not. But it reminds me of the old days, where the audience is right in front of you and not pushed behind some barricade."
And the smaller music hall offers lyrical benefits.
"I can hear them sing," Walsh says, "and everybody knows the words better than me."
John Katsilometes' column runs daily in the A section. Contact him at jkatsilometes@reviewjournal.com. Follow @johnnykats on Twitter, @JohnnyKats1 on Instagram.