Justin Bieber puppet takes Las Vegas stage with Terry Fator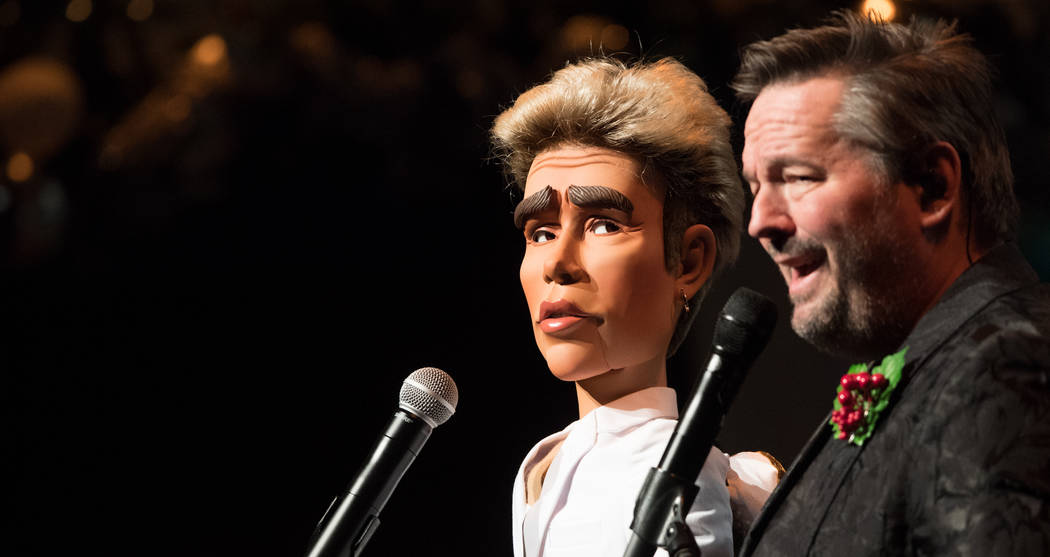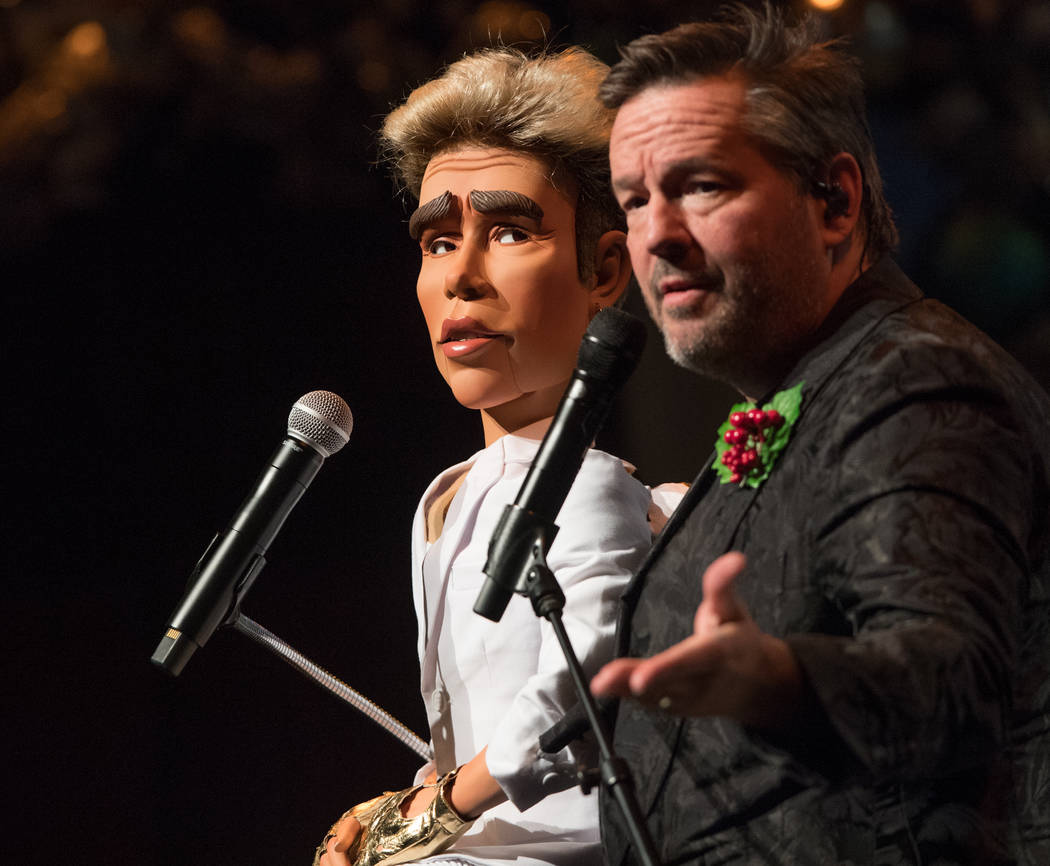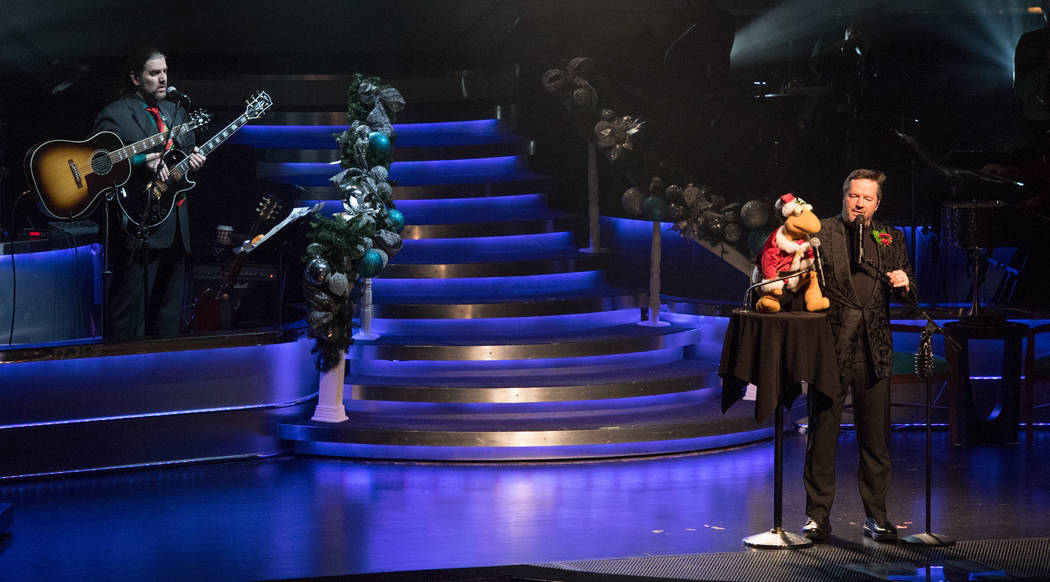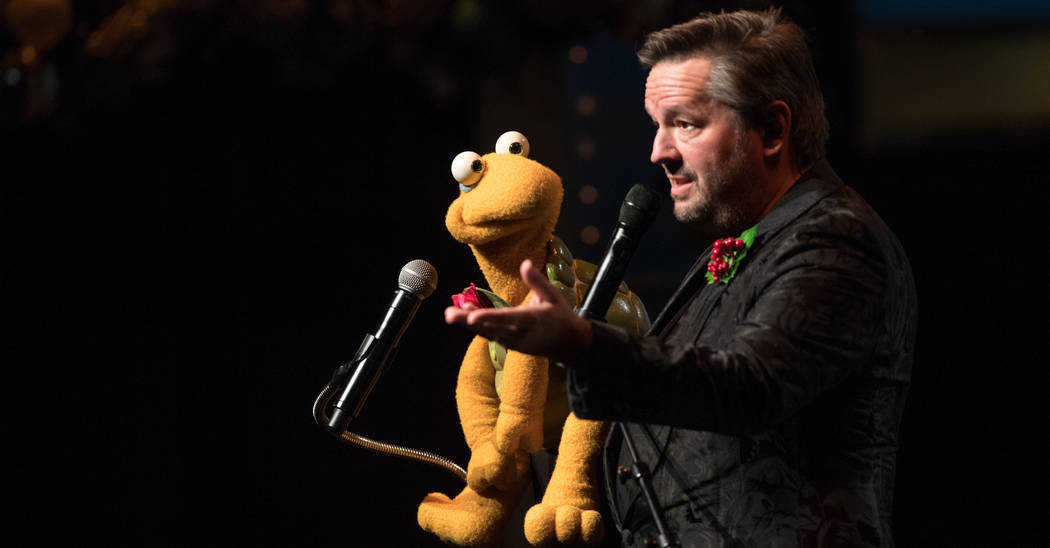 Terry Fator has premiered a puppet, Justin time for the holidays.
Hopefully you can pardon that pun while meeting puppet version of Justin Bieber in Fator's annual Christmas-themed show, which debuted Friday night at his theater at The Mirage. It's more than just Justin. Ozzy Osbourne and Dolly Parton are in the routine, as a devil and angel perched on Bieber's shoulders and whispering in his ears.
"Justin Bieber is just one of those guys who tries to be good, and a lot of the times is good, but in a week or two he'll do something bad," Fator said in a phone chat Sunday. "This idea is great to work with, and him with Ozzy and Dolly are already getting some of the biggest laughs of the night."
Aside from their mirthful banter, Fator sings "Love Yourself" as Bieber (Jim Buck plays guitar, so the song's a winner anyway).
Bieber was developed by designer Chance Wolf, who also worked with Fator on his Michael Jackson and Paul McCartney figures. The two first decided on the devil-angel characters, and Osbourne and Parton were comparatively easy to slot into those roles. More difficult was deciding which performer to use as the central character.
"We went around and around, wondering who it would be," Fator said, adding that Britney Spears was among the finalists. "We finally went with Justin because he's fun and cute, and the puppet is just so adorable. We're excited about it, the crowd is in hysterics, and even if Justin saw it he would not be hurt or offended."
It is never Fator's objective to offend.
"I want it to be, like, if the person came in and saw how they were being portrayed, I want them to laugh," Fator said. "I don't want them to say, 'I can't believe this!' That goes for somebody new to the show, somebody old that I'm bringing back, everybody."
Barge haps
I returned to "The Cocktail Cabaret" on Saturday. Once more, I strongly endorse this slick fusion of standards and contemporary hits.
This was not the Cleopatra's Barge I remember, though. The moat is dry. The water has been drained completely from the venue, which opened in 1970 and has always featured water, as it is themed after the Nile River.
Oh, doctor!
On the topic of column faves at Windows … Vinny Adinolfi of Bronx Wanderers gave a shout-out to the individual who has helped him make every performance in more than two years at Bally's.
"I want to thank that man right there," Adinolfi called to Dr. Ray Mondoro. "He keeps me onstage!" The family rock 'n' roll act has performed nightly since September 2016.
Phil & Tiger's post-match scene
Phil Mickelson and Tiger Woods celebrated their match at Shadow Creek Golf Course with a post-event party at Topgolf at MGM Grand on Friday night. Charles Barkley was among the celebrants (he posted a video of himself teeing off with the Strip in the backdrop). The party took up the entire fourth level; no word on if the competition itself spilled over to Topgolf.
Answering the bell
Two star chefs with strong Las Vegas connections, Jose Andres and Guy Fieri, contributed to the Thanksgiving Day relief effort near the Camp Fire in California. Andres, who founded World Central Kitchen, which mobilizes to cook meals for those in areas of crisis, set up dinners on the Chico State University campus and also at the Sierra Nevada Brewing Co., also in Chico.
Those chefs, along with about 800 volunteers, served more than 15,000 dinners to those who were displaced by the deadliest fire in California history. The Camp Fire has devastated the neighboring community of Paradise, killing at least 85 people and wiping out out nearly 14,000 homes and 155,000 acres.
Andres operates Bazaar Meat at SLS Las Vegas Bazaar Meat at SLS Las Vegas, as well as China Poblano and Jaleo at The Cosmopolitan of Las Vegas. Fieri, a UNLV graduate, runs Guy Fieri's Vegas Kitchen & Bar at The Linq Hotel and Guy Fieri's El Burro Borracho at Rio.
In an interview published in Chico's Enterprise-Record, Andres said, "When normalcy disappears, food keeps you connected with the humanity we aim for."
Stage legend dies
Nino Frediani, billed as "the world's fastest juggler" and who mastered the art despite being legally blind, has died. Frediani succumbed to a brain tumor on Wednesday in Las Vegas. He was 78. Born into a circus family in Lisbon, Portugal, Frediani moved to Las Vegas in 1980. Over the years he performed with such greats as Frank Sinatra, Elvis Presley, Bob Hope, Diana Ross, Paul Anka, Bing Crosby, George Burns and Dionne Warwick.
Frediani overcame poor eyesight throughout his career, suffering from chronic dystrophy of the optic nerve. He kept the condition a secret through most of his entire career, finally telling writer John Glionna in a Los Angeles Times story in 2013 that objects even a few feet away were blurry. Frediani retired in 2017.
"I never wanted to be treated as a handicapped person," he said in that story. "I don't act blind. It comes from my circus roots — we're all pretty tough people. I wanted to be known as a fast juggler, not a blind one."
Cool Hang Alert
For a rocking good time in the open air, catch the acts at Carnaval Court between Harrah's and The Linq Hotel. Shows run daily from noon-3 a.m. Such fun-loving acts as Droids, The District, The Whip Its, Mr $ Mrs Smith and others rock the scene, and the flair bartenders are a show unto themselves. The cover charge is "none."
John Katsilometes' column runs daily in the A section. His PodKats podcast is posted on the R-J website. Contact him at jkatsilometes@reviewjournal.com. Follow @johnnykats on Twitter, @JohnnyKats1 on Instagram.