Keys open a new life for Cuban-born Noybel Gorgoy
October 14, 2016 - 11:03 am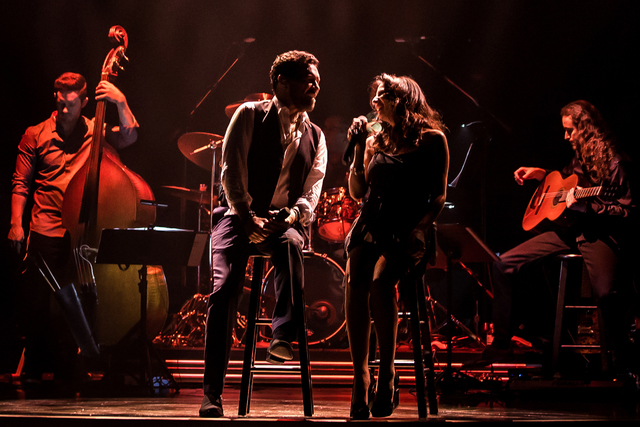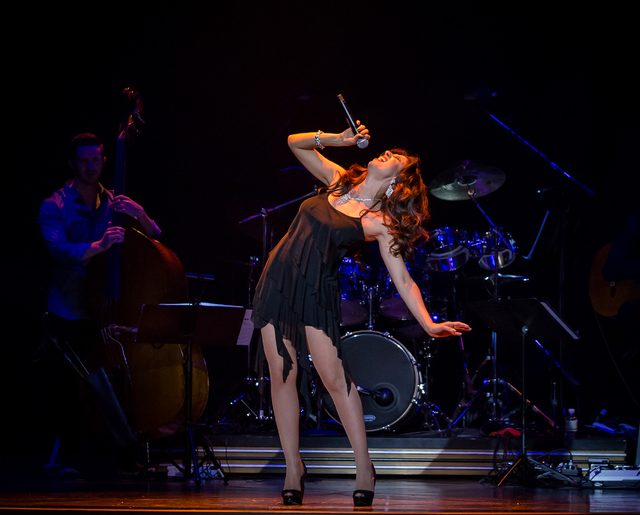 Asked what it was like to grow up in Cuba's Pinar del Rio, Noybel Gorgoy talks of subsisting on rice and an invisible piano.
"We were what you would consider middle class. Both my parents worked and they also had other interests. But a lot of the time there was just no food to buy," Gorgoy, 33, recalls during a conversation a couple of hours before taking the stage in Clint Holmes' "Between the Lines" at the Palazzo Theater.
"So you could have money, but nothing to spend it on," she continues. "Sometimes we had dinner of soup with rice, and rice for dessert."
This was during a time known as the Special Period, when the breakup of the Soviet Union left Cuba in a prolonged economic crisis.
Despite the hardships, Gorgoy grew up in a family enriched by the arts. Her father, Noel, was a composer and guitarist for a prominent theater group in the family's hometown. Her mother, Juanita, was a singer when not working for the government as an accountant.
Gorgoy also grew into a gifted artist, attending the School of Arts Pinar del Rio for vocal and music training. There she faced a different kind of challenge: too many students and too few pianos.
"So we would rotate. They told us, 'In an hour, you will go, then another, then another,' " Gorgoy recalls.
Practicing at home also required a creative approach.
"At home, I didn't have a piano to play, so I set up an area on our little kitchen table to study, with my music books open, imagining where the keys would be. I just had to study movements with my hands, so I could learn them for when I was playing a real piano."
Her talent on the keys was evident when Gorgoy auditioned as the featured vocalist in Holmes' show. Without being asked, she played a piano piece, sliding onto the bench next to the show's music director, Christian Tamburr.
"She turns to Christian at the piano and asks if he knows a title in Spanish," Holmes recalled. "Christian couldn't come up with anything, so she says, 'I'll do it,' and moves him off the piano and plays it herself." The song was one Gorgoy had written herself, "Te Encontre (I Found You)."
That performance was more than enough to earn Gorgoy a spot in "Between the Lines," Holmes' autobiographical production at the Palazzo.
Moving gracefully, salsa-style, Gorgoy is featured on Holmes' takes on John Mayer's "Daughters," Ed Sheeran's "Thinking Out Loud" and the Bill Withers' classic "Lean On Me." It's a healthy complement of numbers for an artist whom Holmes first spotted just two weeks before her audition, when she was singing with bandleader Kenny Davidsen's act at Tuscany Suites.
But Gorgoy has a long history in Las Vegas, dating to the production show "Havana Night Club," which ran from 2004 to 2006 at the Stardust. Produced by Siegfried & Roy, the show introduced to Vegas artistic director Nicole "N.D." Durr, who had connections to her native Cuba through the touring version of "Havana Night Club" and another touring production, "Lady Salsa."
Gorgoy was touring in "Lady Salsa" in Germany when she was invited to join Durr's new show in Vegas. Gorgoy said, "Yes," which happened to be one of the few English words she knew at the time, and was part of the show's ensemble for two years.
When the Stardust show closed, Gorgoy spent three months on another Durr production, a meandering project called "Raw Talent Live" at the Sahara. It was a key moment in Gorgoy's development in Las Vegas.
"Then life really started. I realized I did not speak English well enough to be in a major, English-speaking gig," says Gorgoy, who sought out vocal teacher Greg Enriquez to intensively develop on her language skills. "I had to work really hard on pronunciation so I could sing properly, mingle with people, all of that."
Gorgoy left the Sahara show to join Latin percussion great Michito Sanchez in his raging salsa-dance production "Salsero" at the South Point. Through that show, she learned of a gypsy-jazz band of great artistic merit, the Hot Club of Las Vegas. Seeing that band perform one night at the Bootlegger Bistro led to a first-time gig four days later, and then a permanent position as that band's singer.
Aside from her performances with Hot Club, too infrequent to be considered full-time employment, Gorgoy picked up gigs with any reputable act that needed a singer. She also danced some, working at the Bank nightclub at Bellagio, saying, "I needed to use my dancing skills to feed myself," when life happened once more: Her father died after slipping down a flight of stairs at home in Cuba.
"This was a month before he was supposed to move to the U.S.," Gorgoy recalls, chuckling as if to push back the pain of that memory.
Her father's funeral in 2013 was Gorgoy's most recent visit to Cuba.
"After that, I took a moment to travel, to find myself again," says Gorgoy, who today is engaged to onetime "Le Reve" artist Chris Tollette. "I was with Hot Club, recording a CD, and was in a Cuban production called 'Ballet Revolucion' in London for around three weeks. I was doing all kinds of stuff when Clint called."
Performing at the lavish Palazzo Theater is something of an embarrassment of riches for Gorgoy, who describes her home country as "A lost-in-time place, where everything looks like the late '50s with old American and Russian cars that are still running, somehow," she says. "To be here, with all the opportunities, is still shocking to me."
And when the inspiration to create strikes her now, Gorgoy is free to make music at home. As she says, "I own a piano now."
John Katsilometes' column runs Saturday, Sunday, Tuesday and Thursday in the A section and Friday in Neon. He also hosts "Kats! On The Radio" at 8 p.m. Wednesdays on KUNV-FM, 91.5, and appears at 11 a.m. Wednesday with Dayna Roselli on KTNV-TV, Channel 13. Contact him at jkatsilometes@reviewjournal.com. Follow @johnnykats on Twitter and @JohnnyKats1 on Instagram.