Killers' longtime lineup back intact for Dec. 1 benefit show
November 10, 2017 - 6:58 pm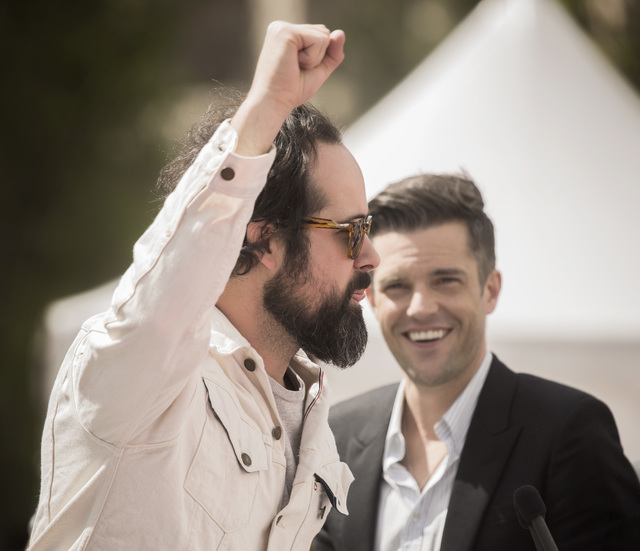 The back-beat of The Killers is up front about the band's approach to the Dec. 1 Vegas Strong Benefit Concert at T-Mobile Arena.
"We don't care where we fall in the lineup, we can open, we can close," Ronnie Vannucci says. "We're just happy to assemble the masses."
The Killers, Las Vegas originals, will go with their long-running lineup dating to 2002 for the show benefiting the Las Vegas Victims Fund through the National Compassion Fund. Band members Mark Stoermer and Dave Keuning "are available and ready to play," says Vannucci, who along with vocalist Brandon Flowers is touring the U.K. with guitarist Ted Sablay and bassist Jake Blanton.
Those two veteran musicians are in as Stoermer and Keuning have stepped away from full-scale tours. The Killers' appearance Dec. 1 is the first of three upcoming shows in Las Vegas. They'll play Pearl Concert Theater at the Palms on Dec. 11 and MGM Grand Garden arena on Feb. 3.
Vannucci, who was not in Las Vegas on Oct. 1, learned of the Route 91 Harvest festival shooting in a text from his brother, Nick, who was not at the festival but was in town.
"I can't tell you exactly what was going through my mind, I mean, but it was just like, 'Not again,' " Vannucci says. "It was a healthy combination of sadness, fear and frustration, just disaster after disaster after disaster."
The benefit show was quickly built and is still being organized. Currently, The Killers are tucked in a lineup with fellow Vegas-based rockers Imagine Dragons, David Copperfield of MGM Grand, Cirque du Soleil artists, Rio headliners Penn & Teller, and Mirage headliners Boyz II Men. Tickets range from $75-$125 at AXS.com or through AXS Call Center at 888-929-7849. In-person purchases can be made at any MGM Resorts International box office location or concierge desk.
Rarely do The Killers and Imagine Dragons appear the same bill — they have not appeared in the same single-night lineup before — but the charity show was a must for both bands, who are managed by rock-industry heavyweight Reynolds Management and Mac Reynolds (with Imagine Dragons) and Robert Reynolds (with The Killers). Dan Reynolds, Imagine Dragons' lead singer, is one of the Reynolds brothers
Asked to describe the relationship between the two internationally famous rock acts, Vannucci says, "I have known Dan Reynolds and the Reynolds family since we were kids, so we're family friends that way. But these days I don't have contact, and we don't have any ongoing conversations with them. It's not like we're having backyard barbecues together."
Vannucci says the band has yet to sort out its play list for Dec. 1. The Killers are touring behind their latest album "Wonderful Wonderful," which was released in September. The video for "The Man," the first single, shows a solo Flowers in such locations as the desert near Vegas, the Plaza casino, the upscale Villas at Caesars Palace and Dino's Lounge.
The absence of other members of The Killers, especially Vannucci, an entertaining drummer to watch, was no issue for the band.
"We're all comfortable with it, to the point where there was no direct conversation about it," Vannucci says. "It's fairly directly a song about one man. I could see other ways it could have gone down, but we're not so precious about such things. Everybody involved with it did a great job, and it's a great song."
Vannucci says "The Man," "Rut" and "Tyson vs. Douglas" are songs from "Wonderful Wonderful" that spark the most excitement on the band's current tour. The Killers have performed such Vegas-rooted classics as "Viva Las Vegas" in their live shows. The Dec. 1 concert offers a chance to play that once more, even as part of a show-closing jam with their fellow Las Vegas rock stars.
"To my knowledge, that has not been discussed, but anything can happen," Vannucci says. "We're just happy to be part of the function."
Contact John Katsilometes at jkatsilometes@reviewjournal.com. Follow @johnnykats on Twitter, @JohnnyKats1 on Instagram.