Kimmel 'not optimistic' about quick end to WGA strike
Updated May 30, 2023 - 6:37 pm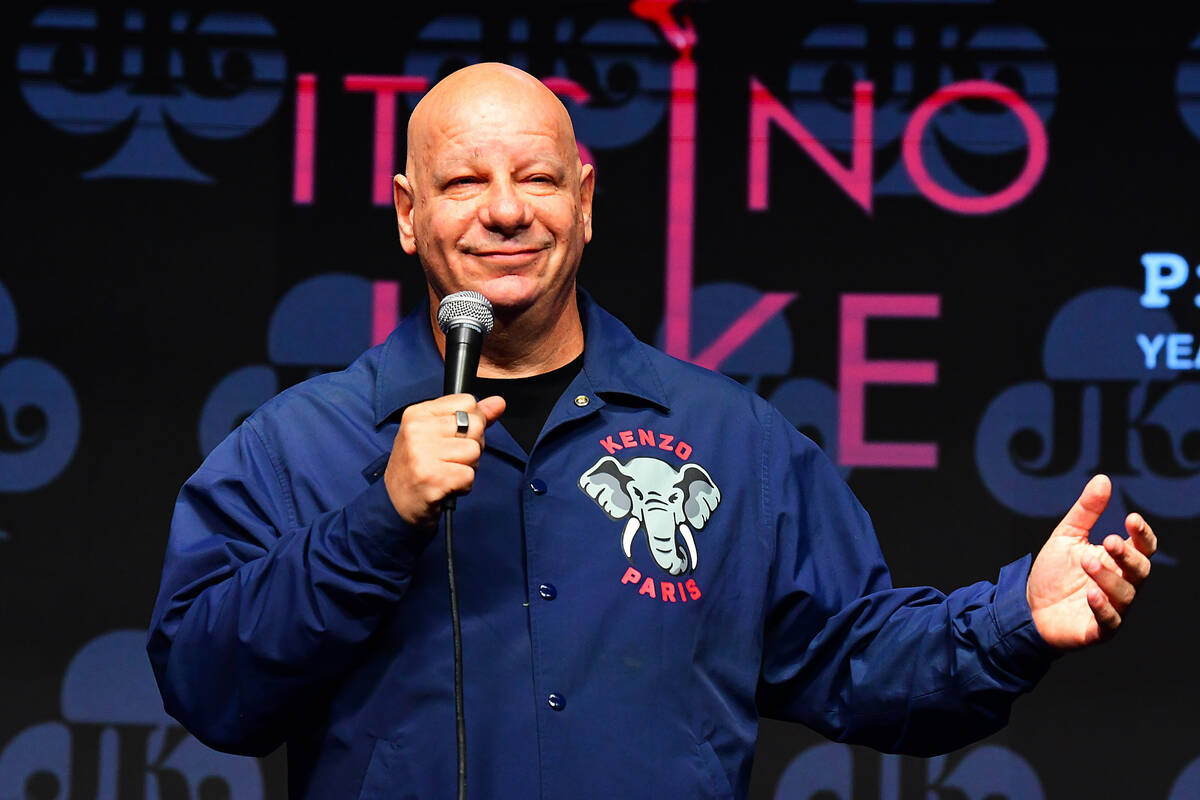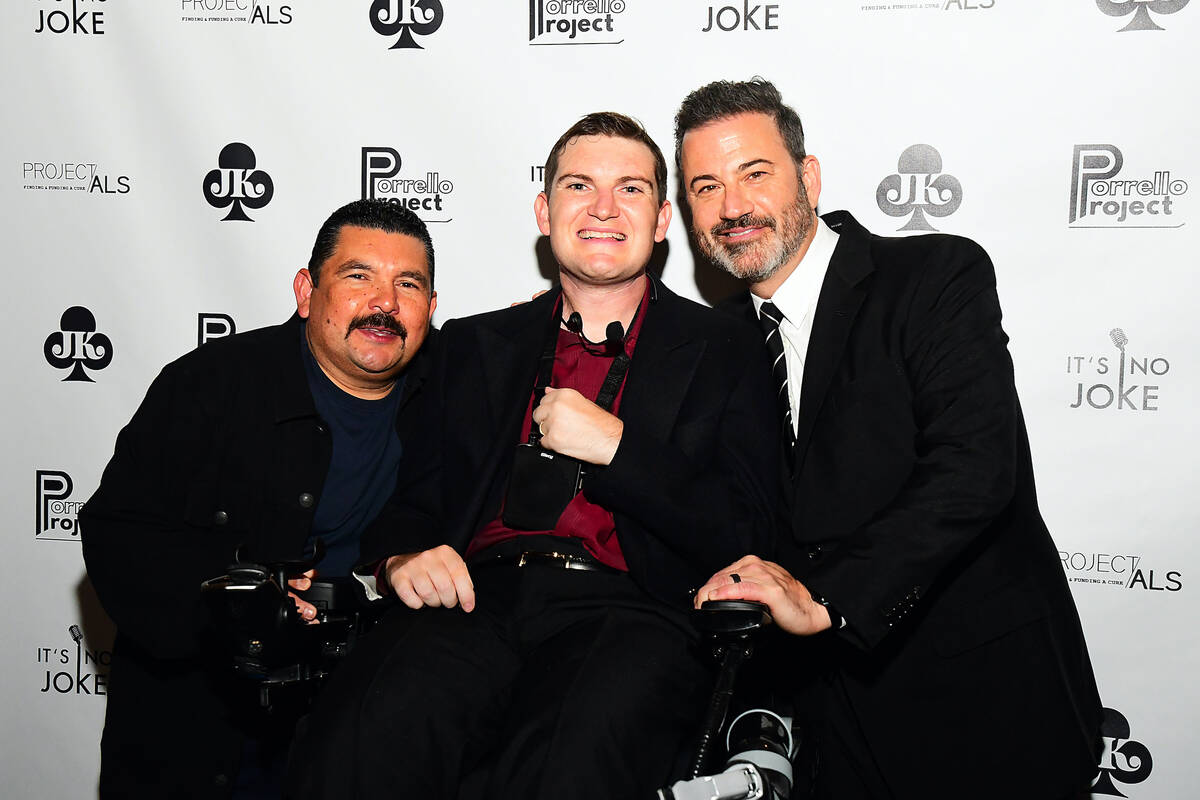 With his late-night talk show on hold, Jimmy Kimmel talks of refining his image.
Make that, images.
But the late-night TV star is not confident it will happen.
"I have a lot of plans that I will not follow through on. One of them is, I want to learn how to do Photoshop," Kimmel said Friday night before his "It's No Joke" Project ALS fundraising event at his eponymous comedy club at Linq Promenade. "I know that won't happen. I just, I don't like it when my 8-year-old knows more about photo editing than I do."
Comedy on edge. A show with heart. @jimmykimmel hosts for @ProjectALSorg & his godson Joey Porrello … @MarkRober @SarahKSilverman @pattonoswalt @realjeffreyross in the mix @kimmelscomedy @LinqPromenade pic.twitter.com/XI7uMamDO6

— John Katsilometes (@johnnykats) May 27, 2023
Kimmel also said he might do some fishing over the coming weeks, so look for him in his own private Idaho.
Kimmel's time-off plans are forced by the ongoing strike by the Writers Guild of America. The walkout is entering its fourth week. Kimmel has some free time to fill during the ongoing dispute.
I asked Kimmel for his read on the shutdown, and if he's optimistic he'll be back on the air this summer.
"I'll just say I have no idea, but I'm not optimistic," Kimmel said. "I think it's going to be a long strike."
Kimmel is also holding back a decision about returning to host the Oscars, which he crushed in March. He has said he won't make that call until the summer at earliest.
Kimmel was back in his club for the second time this year, after attending the grand re-opening in November. He was again throwing his time and star power behind a Vegas charity event, to support Project ALS and his godson, Joey Porrello.
Kimmel brought in his comic friends Sarah Silverman, Jeff Ross, Nick Kroll and Patton Oswalt. YouTuber Mark Rober, who is a Porrello favorite with 24 million subscribers, was a non-comic participant.
Kimmel and Joe's father, Tommy Porrello, attended Clark High School together and remain close. Joey was diagnosed with ALS in May 2022. He has since retired from his career as a civil engineer with Kimley-Horn, which has contributed to the development of Allegiant Stadium and the Las Vegas Ballpark, among other prominent Vegas facilities.
Porrello has since spent his time living life to its extent, thoughtfully chronicling his experiences on his @JoeyDoesAls Instagram page. From the stage, and seated in his powered wheelchair, Porrello delivered a moving speech after receiving the night's Project ALS Jenifer Estess Award, named for the organization's late founder.
Porrello's words were projected on the club's LED screen, as he said it was important to speak in his own voice while he still has it, but also for supporters to understand those words: "I'm a man with ALS, there's tens of thousands of us out there. What makes me unique is you, every one of you. I'm incredibly fortunate to have so many people care."
Porrello thanked his wife, Alli, children Otti and Walter, his parents and family members. He showed gratitude to Kimmel and his wife, Molly, "who have treated us as family and don't seem to know the meaning of the word, 'No.'"
Rober, a former civil engineer with NASA, has built an international YouTube following with his "Glitter Bomb" YouTube clips. He's also produced the world's largest super-soaker and presents fascinating engineering innovations at crunchlabs.com.
Rober gave a moving tribute to Porrello, illustrating his own loss of a family member to ALS. Rober's mother died of the disease in 2009, six months before his first YouTube video.
"She barely graduated high school, she was the biggest influence on my life, by a large margin … Everything she does has her fingerprints on it," Rober offered.
To Porrello, he said, "You are influencing strangers, obviously friends and family, through personal experience, I know your legacy will live on."
A Clark High and Kenny Guinn Middle School grad, Kimmel has known his comedy friends at the event for 20-plus years. All have been repeated guests on "Jimmy Kimmel Live."
They did not reign in their acts (of course) for a VIP crowd of 175 that included Sen. Jacky Rosen, seated at the front.
Silverman recited a bit about the use of toilet paper, details best left to your own research. It's a bit about toilet paper, just know that. After Silverman lit up the audience, Kimmel came back and said, "How was that, Senator?"
Kimmel also brought up Guillermo Rodriguez, his security-guard-turned-sidekick.
Rodriquez was deep in the frivolity when he took the mic, starting with, "Jimmy doesn't have the voice of … sexy voice of … Morgan Freeman! Or the body of, like, Ryan Gosling! Or the torso of Michael B. Jordan! But what he has is a good heart! He's a great husband! He knows how to smell good! He puts a lot of Downey on. Right? …"
Kimmel cut his buddy off with, "You know, we have been on strike for how long now?" "Four weeks!" Guillermo said. Kimmel responded, "And you are losing the ability to speak English."
"You know what?" Guillermo explained. "I think it is because I am drunk!"
Oswalt was introduced with a clip from "Jimmy Kimmel Live" 20 years ago, where the then-apple-cheeked comic joked about Michael Jackson dangling his then-nine-month-old-son Prince Michael from a hotel balcony.
A late addition to the event, Oswalt apparently didn't realize how he'd be introduced.
"Jimmy, that aged great!" he called out. "Fantastic! I wish you had shown my 'pro-O.J.' stuff, too! That (stuff) killed!"
Ross, one of the earliest guests on Kimmel's show, came to roast. That included himself: "I look like a Jeff Bezos blow-up doll you'd buy from Amazon."
Kimmel promised we'd laugh until crying. He was right about that. His family friend's message did bring tears, as Joey Porrello ended the show with, "As we know, love conquers all, including ALS."
Cool Hang Alert
Cuban-born Las Vegas (and column) fave Noybel Gorgoy headlines Maxan Jazz Sushi & Jazz from 7 to 10 p.m. Monday. Otto Ehling on keys, Steven Lee on guitar, Timothy Bailey on bass and Ramses Rodriguez on drums. It's Latin, funk, soul and more, much more. A $25 F&B minimum; hit maxanjazz.com for intel.
John Katsilometes' column runs daily in the A section. His "PodKats!" podcast can be found at reviewjournal.com/podcasts. Contact him at jkatsilometes@reviewjournal.com. Follow @johnnykats on Twitter, @JohnnyKats1 on Instagram.