Knight moves: Foley picks a precious metal and drops 'Las' in new name
November 23, 2016 - 7:09 am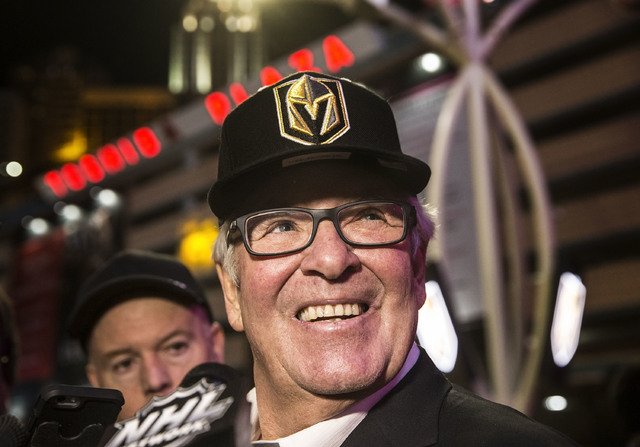 We got your Dan Tanna. We got your precious metal. And we got the owner's affection for West Point and Army, too.
It's the Vegas Golden Knights for Las Vegas' NHL franchise, as announced tonight in front of about 5,000 fans at Toshiba Square at T-Mobile Arena.
The new name and color scheme — gold, silver, red and black — carries some strong affiliation to the city and region: The shorthand Vegas, or, "Vega$", for those who recall the 1970s TV series starring Robert Urich (or, later, the catchphrase "Vegas, baby," from "Swingers"). Gold, preferred because, as Foley says, "It's the No. 1 precious metal in the world, and Nevada is the largest gold producer in the country."
Knights, because, well, who better to go to battle with than a collection of stick-wielding medieval warriors? One version of the team team logo does borrow a taste of the Strip with the addition of two golden starbursts, reminiscent of the old Stardust hotel-casino sign.
As for dropping the "Las" from "Las Vegas" in the title, it's a topic bound for extensive debate in Las Vegas. Or, Vegas. Foley says, "I found that being a resident of Nevada and Clark County — I live in Summerlin — that local people refer to Vegas. They don't refer to Las Vegas. People from out of town refer to Las Vegas, but if you ask someone who lives here, they say, 'Vegas.' "
Hmmm. Really? I've actually found the opposite to be the case, in most cases anyway. But Foley expands the thought: "Las Vegas Golden Knights is four words. Vegas Golden Knights, three words. Easier. It just sounds better as three words, like 'Let's go Knights! Let's go Knights!"
The name is certain to be whittled casually to "Knights" anyway, and as one fan pointed out just minutes after the announcement, "He paid $500 million for the team. He can call it what he wants."
If early on-site sales are a barometer, the name is a winner. Hundreds of fans descended on an outside merchandise tent at Toshiba Plaza and the T-Mobile gift shop, carting away hoodies for $90 and $65, hats for $25, T-shirts for $25-$30 and beanies for $22 (online, the rates are a bit cheaper). The store at T-Mobile is open Wednesday from noon-8 p.m. — in time for the holidays!
Those who have been following the naming saga know that "Knights" was always atop Foley's short list of names. But even as a West Point grad, he could not secure Black Knights (West Point was not in favor of sharing the Army nickname) and he did not favor Desert Knights, which he said "didn't have the kind of character we wanted." Silver Knights also was an option before Foley landed on Golden Knights.
"Knights was there the whole way," Foley said. "But there were others. I liked Night Hawks, I liked Desert Hawks. We had Sidewinders there, we liked that. But I had this thing about Knights, being in the warrior class, and Knights are the epitome of the warrior class."
Even so, those looking for some true Vegas — or, rather, Las Vegas — ingenuity in this title will be disappointed (opting for, say, a Peppermill-like purple, blue and fuchsia scheme was out of the question). Black is a color used prominently by at least half of the NHL's previous 30 teams, though Foley says gray and gold will be the team's primary colors and black used secondarily. "We even have red in there," he noted, "for Red Rock Canyon."
Even NHL commissioner Gary Bettman, who has of course observed all the league's color schemes in action, stressed that, "Ultimately, when you see more of the logo and uniform, you'll see it's a treatment that will set the team apart, that fans will like and be very representative of the city."
The name and color combo represents more than a marketing strategy. It can make a difference on the ice. The NHL is simply not a place for pastels.
"It's a tough sport. It's not for the faint-hearted," Golden Knights General Manager George McPhee said. "To show up and compete this sport each night is not easy. Dignity matters, and the players need to be proud of what they are wearing. They don't want to be embarrassed by what they are wearing.
"Those are the things we had in mind when we decided on Golden Knights."
John Katsilometes' column runs Saturday, Sunday, Tuesday and Thursday in the A section, and Fridays in Neon. He also hosts "Kats! On The Radio" Wednesdays at 8 p.m. on KUNV 91.5-FM and appears Wednesdays at 11 a.m. with Dayna Roselli on KTNV Channel 13. Contact him at jkatsilometes@reviewjournal.com. Follow @johnnykats on Twitter, @JohnnyKats1 on Instagram.