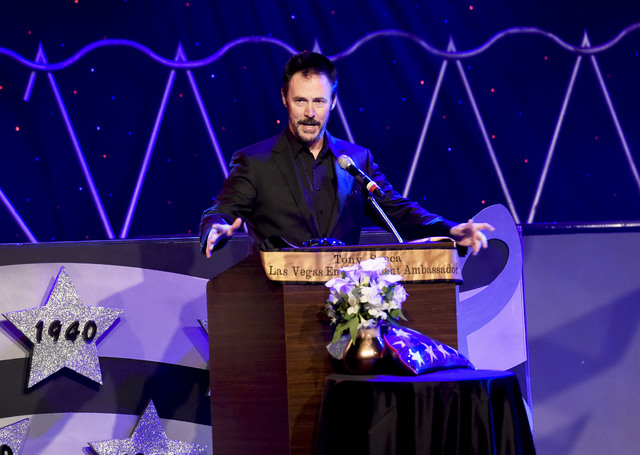 Lance Burton has a new name for an old buddy.
"My good friend, Emmy Award-winning Louie Anderson called me — that's what I call him now, 'Emmy Award-winning,' " Burton said Tuesday, recounting how he answered the call of the comic actor last week to fill in as host of this Saturday's "Louie Anderson … The After Show" at The Space.
The master magician's reference is to Anderson's Emmy for Best Supporting Actor in a Comedy Series for his portrayal of the mother Christine Baskets in Zach Galifianakis' FX series, "Baskets." Anderson had won two Emmys for Best Performer in an Animated Program for "Life With Louie" in the 1990s, but his role in "Baskets" was his first as an actor, and his first nomination in that field, a stunning victory in a category stacked with talent.
Anderson has since thrown his support and rejuvenated star power behind late-night comedy shows at The Space. He recruited Burton to fill in as host this weekend; the most recent guest host was Gordie Brown (debuting this week at The Cabaret at Planet Hollywood) on April 22.
Burton usually reserves his appearances for charity events — especially those benefiting animals — since retiring from his stage show at Monte Carlo in 2010. So rare is Burton's participation in a ticketed show — this one is set for Saturday at 10:30 p.m. and costs $20 general admission, $50 VIP — he can't recall performing any such show since he closed at Monte Carlo.
"This is ticketed?" Burton said, chuckling. "I wasn't sure. I have never been to the Space, either, so I am looking forward to all of it."
Otherwise, Burton says, "I don't get out much." (But he was on the scene Monday night to support his girlfriend, Gabriella Versace, in the revamped "Sexxy" at Westgate Las Vegas.)
Burton is serving as host of Saturday's late-night showcase. Also on the bill are two Las Vegas performers close to Burton: Harrah's headliner Mac King, another friend of Burton's for several decades dating to their days growing up in Kentucky; and Michael Goudeau, who was the comic juggler in Burton's production from 1991-2010. Frequent club headliners Chas Elstner, Jeffery Baldinger, Sandro Iocolano and Vinny Falsine are also taking the stage.
"It's my job just to announce the lineup and keep the show rolling," Burton says. "I might tell the story about when I met Emmy Award-winner Louie Anderson."
That story unfolded during a reception hosted by President Reagan at the White House in 1986. Burton and Anderson were in the lineup for the "Kraft All-Star Salute to Ford's Theatre," hosted by Richard Chamberlain and featuring such stars-of-the-moment as Paul Anka, Sandy Duncan, Tommy Tune, Jaclyn Smith, Victor Borge and Joel Grey.
"We went to this party with all these stars, and we brought cameras with us," Burton says. "We were the only two who brought cameras. Everyone else was very cool, except for us."
Burton remembers meeting Anderson's date that night — Anderson's mother, Ora, the woman who inspired Anderson's portrayal of Christine.
"I spent some time with them, talked to her for a few minutes," Burton recalls. "He is playing her in the show, and he's great. He's the heart and soul of that show." And, lest we forget, an Emmy winner.
John Katsilometes' column runs daily in the A section. Contact him at jkatsilometes@reviewjournal.com. Follow @johnnykats on Twitter, @JohnnyKats1 on Instagram.