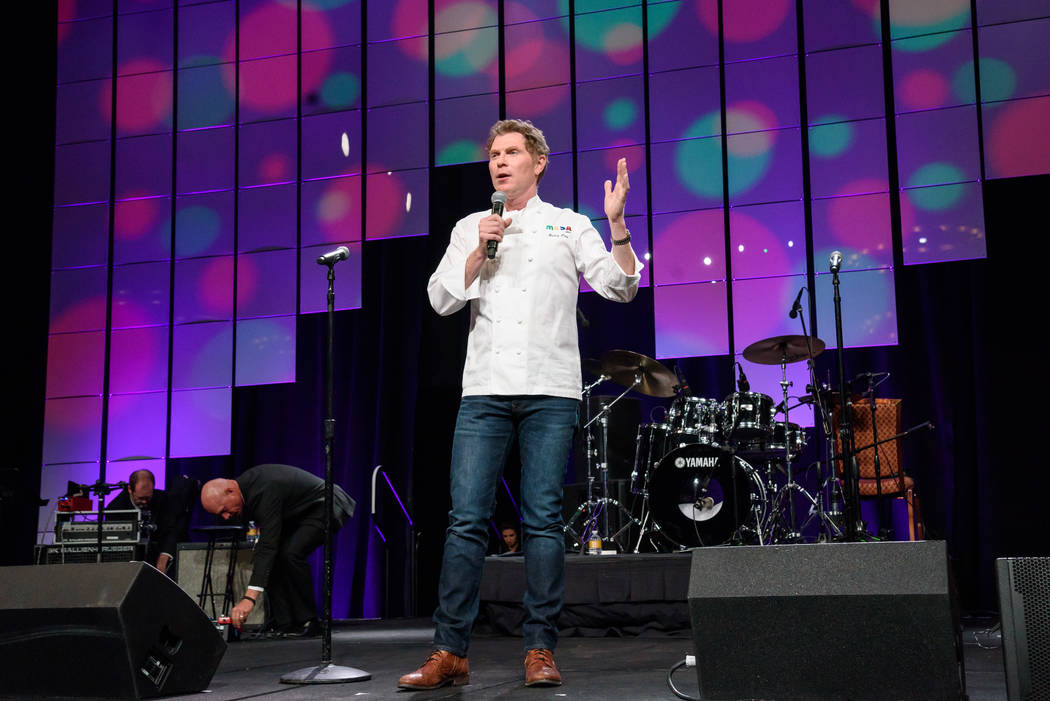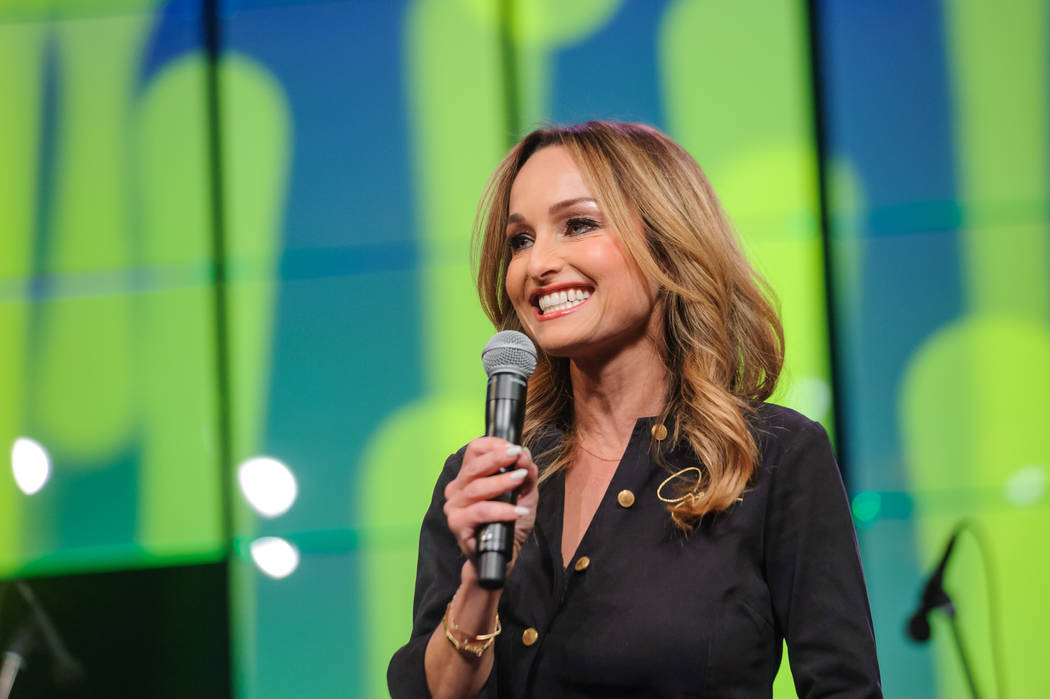 A message from Mister Rogers helped start this fancy dinner.
"My mother always told me whenever there was a tragedy in a movie or on the news to look for the helpers," he said during a video clip leading into Saturday night's Vegas Heroes Dinner at Caesars Palace. "There are always people who are helping."
Penn Jillette seized that message, quoting from the late host of the PBS children's show "Mister Rogers' Neighborhood," in the months after the Oct. 1 mass shooting on the Strip. That sentiment was the theme of the evening as 2,500 first responders were invited to a gathering of food, entertainment and, yes, grooving at a party hosted by Caesars Entertainment Corp.
Star chefs Guy Fieri, Bobby Flay, Gordon Ramsay, Giada De Laurentiis and Steve Martorano contributed to the dinner menu and introduced a series of headliners throughout the three-hour program, which drew an all-invite crowd of 2,500 first responders, friends and family. Wayne Newton, Penn & Teller, Tenors of Rock, and the cast of "The Cocktail Cabaret" kept the place jumping. The house band was David Perrico's Pop Strings Orchestra.
Newton, among the night's unbilled guests, has supported military members and first responders dating to his USO tour of Vietnam in the late 1960s.
"You have shown the world what Las Vegas and Nevada is all about," he said, his voice quivering, from the stage. "I thank you from the bottom of my heart for that."
Then Mr. Las Vegas tore into Chuck Berry's "Johnny B. Goode.
De Laurentiis, who recently opened her casual-dining spot Pronto by Giada at Caesars, said in her address, "Your uniforms may not have capes, but you are all superheroes to us."
Flay noted as he introduced the many Las Vegas firefighters on hand, "My great-grandfather, who I never had the chance to know, was an original New York firefighter. I am with you, firefighters."
Fieri, a UNLV graduate and a man entirely comfortable onstage, called out, "I will never forget you, Las Vegas will never forget you, and the world will never forget you." The night ended with all the chefs onstage and the dance floor full of those heroes having a richly deserved night on the town.
The 'Amazing' doc
The documentary "Always Amazing: The True Story of the Life, Death and Return of The Amazing Johnathan," will premiere March 10 at the Just For Laughs Film Festival in Vancouver, British Columbia. The film charts Johnathan's long friendship and professional relationship with Joel Osborn, from the time the two met when Osborne was a 12-year-old fan through the period after Johnathan was diagnosed with heart disease. Johnathan has survived three years longer than his original prognosis.
A.J.,whose legal name is Johnathan Szeles, performed a series of road dates and shows at Rocks Lounge at Red Rock Resort last year. He's not scheduled for any ticketed shows in Las Vegas in 2018.
Simmons' 'Smile'
In his meet-and-greet Saturday afternoon with fans at the Rio who paid $2,000 for "The Vault," a 10-CD collection of previously unreleased music spanning 50 years, Gene Simmons of Kiss was asked, "In your opinion, what is the best song ever written?"
His answer was a far distance from, "Love Gun."
"I think 'Smile,' by Charlie Chaplin," Simmons said. "The melody, the lyrics — it's just a perfect song." The instrumental version of the tune debuted in the 1936 movie "Modern Times," with lyrics added by John Turner and Geoffrey Parsons in 1954. The song was a favorite of the late Jerry Lewis, who sang it a cappella to close his final show in October at South Point Showroom.
'Alice' returns
The revamped version of "Alice," the steampunk-themed, rock musical adaptation of "Alice's Adventures in Wonderland," returns to Rocks Lounge on Monday night. The pre-show is at 9 p.m.; the show-show is 10 p.m. Creator Anne Martinez has written a new act in the middle of the show, and the production also will debut its new prop — a solid-metal teacup that is 7 feet wide, can support four aerialists and took 34 hours to finish.
An 'Inferno' warning
Hey, no photos during "Inferno" at Paris Las Vegas. A member of the stage crew suggested that anyone caught focusing on the stage should have his or her phone taken and given to star magician Joe Labero so he can set if aflame. No joke — this show would be happy to do that.
John Katsilometes' column runs daily in the A section. Contact him at jkatsilometes@reviewjournal.com. Follow @johnnykats on Twitter, @JohnnyKats1 on Instagram.