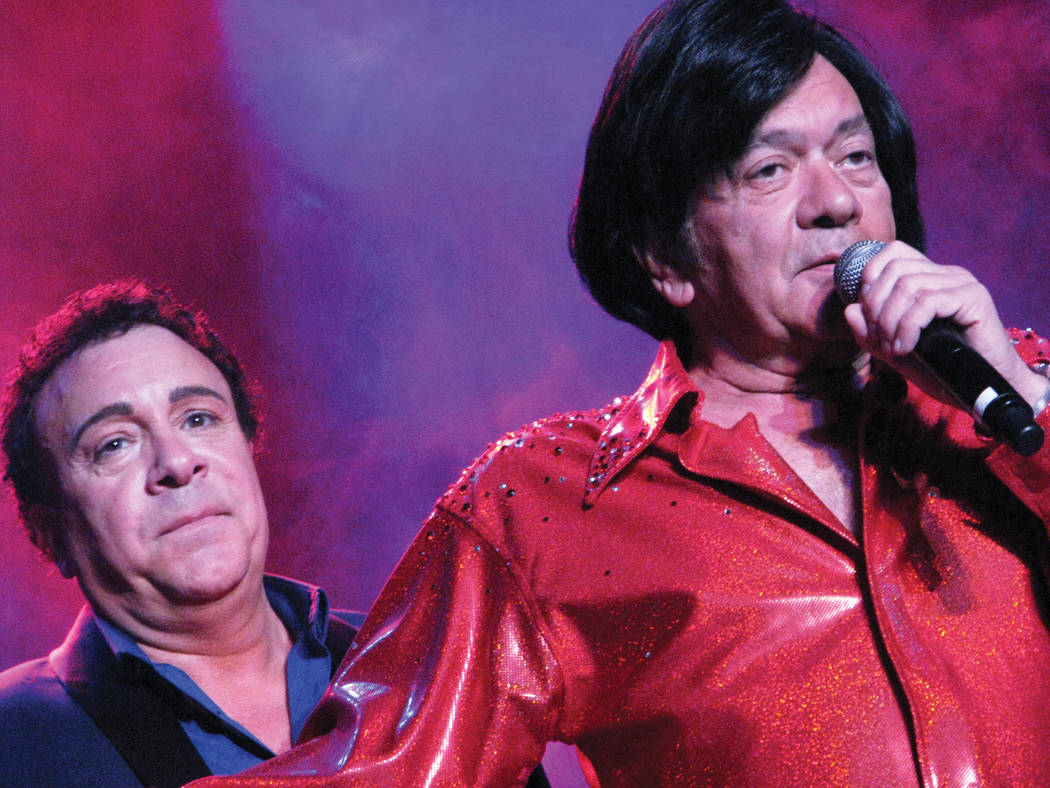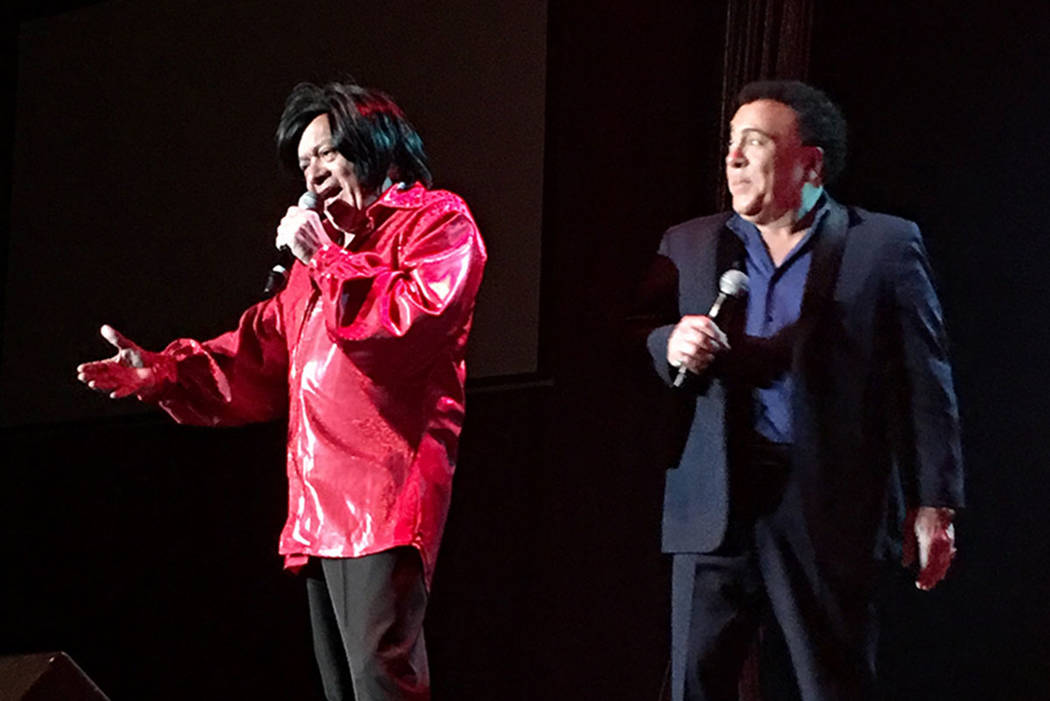 At the end, Joey Scinta heard the music: classics by the Beatles, Ellie Goulding's "Anything Could Happen" and James Blunt's "Tears and Pain" in the mix. The songs were played through a phone held by his wife, Mary.
The couple lay next to each other in a hospital bed, Mary tapping her hand against her husband's chest, whispering into his ears with her eyes closed.
Joey Scinta went out that way, with a song. A stalwart with the popular Plaza Showroom variety act The Scintas, Scinta died Friday afternoon at MountainView Hospital. He was 69. Plans for services are pending.
Just 2½ hours after Scinta's death, the act was back onstage playing to a near-capacity audience at the Plaza.
"We have a showroom full of people out there, and we're going to go out and rock it," Frankie Scinta said 30 minutes before the curtain. "That's what Joey would have wanted."
Joey Scinta had suffered a series of strokes the afternoon of Nov. 4 and was admitted to MountainView's Nathan Adelson Hospice facility Monday. At his death, he was surrounded by his family, including Mary, brother Frankie and sister Chrissi.
"He has been an incredible friend, father and the love of my life. I didn't just marry this talented loving man but an entire talented loving family," Mary Scinta said on Facebook.
"He was a funny, funny guy," Frankie Scinta said. "Joey was the funny Scinta."
No doubt of that. While Frankie Scinta assumed center stage for the balance of the act's of The Scintas' performances, Joey was summoned for what Frankie called "his three things" in the show: the sharp impressions of Joe Cocker, Mick Jagger and Neil Diamond.
"He was a fan favorite," Frankie Scinta said. "We'd have people come up to us after the show and say, 'Your show is really good. You're good, but your brother is the funniest one.' I said, 'Hey, I'm standing right here!' And my brother is just laughing."
Joey Scinta is survived by his wife, Mary; and chidren Joe Jr.; Nicole; Lisa; Michael and Nicholas.
Lisa Scinta also posted her feelings of her father's passing on Facebook.
"Dad, you're the first man I ever loved. Nobody will ever replace you. You're a beautiful person with a good heart and you have made so many people happy," she wrote. "You let us know all about every standing ovation you've ever gotten but I really had no idea how many lives you've touched in a positive way."
The Scintas, originally with Chrissi and drummer and "Honorary Scinta" Pete O'Connell, arrived in Las Vegas from their home in Buffalo in 2000 for a highly successful run at the then-Las Vegas Hilton's Shimmer Cabaret. Over the years, they bounced from there to the Rio, the Sahara, back to the Hilton, D Las Vegas and to their current home at the Plaza in 2016, where they have enjoyed a renaissance by consistently filling that hotel's classically appointed showroom.
The lineup has changed over the years, with star vocalist Janien Valentine moving in for Chrissi, who stepped away to care for her ailing voice, in 2013.
The two brothers have been the constants, teaming when Frankie was 19 and Joey 27 in Buffalo.
Frankie was a budding singer, comic and piano player who persuaded his older brother to ditch plans to move to Florida to sell home security systems and create an act.
"We had an offer to play at Paul Maguire's club in Buffalo," Frankie said, referring to the ex-Buffalo Bills kicker who opened a restaurant and piano bar.
"He calls and says he needs an act by the weekend. I accepted for both of us, without even asking Joey. We took a bass guitar and electric piano into the basement and created our act."
Joey was known as a rocker, a fan of the Rolling Stones and the Beatles who once said of his musical interests, "I noticed girls gathering around me when I played the guitar, and I liked that." He led a number of rock bands in the Buffalo area before teaming with Frankie under the name The Scinta Brothers.
Then Chrissi joined and it was The Scinta Brothers Featuring Chrissi, and finally The Scintas. The act toured for 25 years, so the performers were well-seasoned stage vets by the time they reached Las Vegas.
"Joey was amazing with the audience: 'Sir, unfold your arms! Set your nipples free!'" Frankie said. "His ad-libs were great. He froze in that pose one time, looking at the ceiling, and I said, 'Joey, what are you doing?' And he says, 'My Lead Singer Look!' That became part of the act, every night."
Frankie said his brother was working on a Jimi Hendrix impression. "He had the big Afro, the headband, facial expressions. It was great," Frankie said.
"But the banter, the ad-libbing with my brother is what I'll miss the most."
John Katsilometes' column runs daily in the A section. Contact him at jkatsilometes@reviewjournal.com. Follow @johnnykats on Twitter, @JohnnyKats1 on Instagram.