Las Vegas hotel an unwitting character in O.J. Simpson legacy
Updated July 19, 2017 - 7:36 am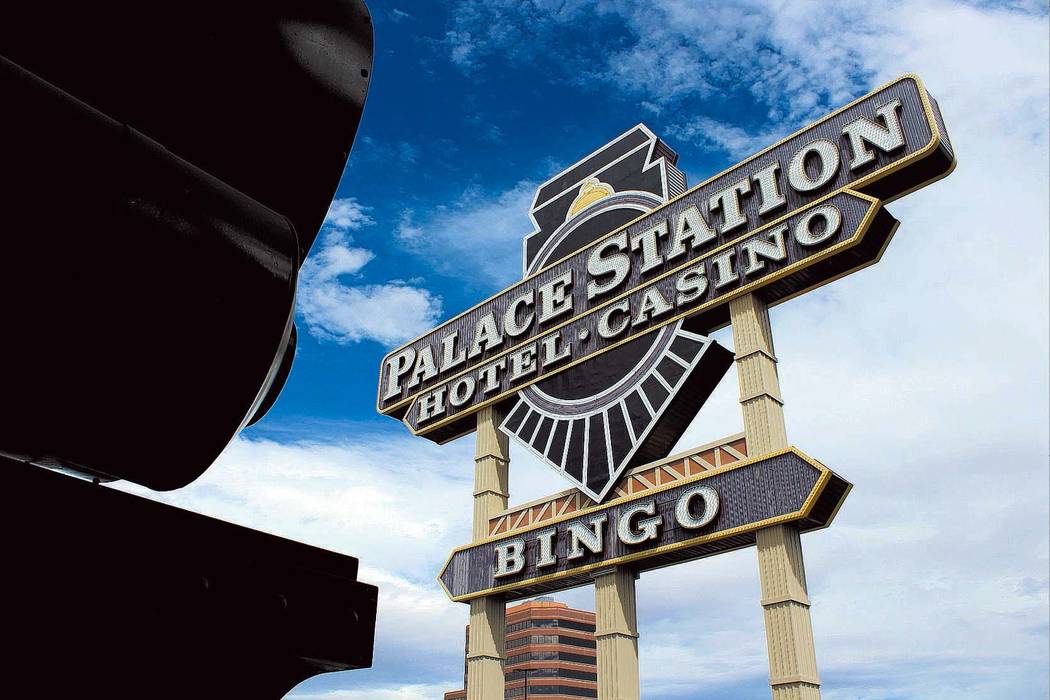 Lori Nelson remembers taking the call on the night of Sept. 13, 2007, from a Palace Station executive saying, "We just got a call from a guest who is upset, and is saying that O.J. Simpson, or someone who looks like O.J. Simpson, just broke into his hotel room."
"I had just hosted my parents for dinner, I'm cleaning up, and this call comes in with this information. My first thought was, 'That's really far-fetched. Why would O.J. Simpson be at Palace Station? It's just not possible,' " says Nelson, Station Casinos vice president of communications. "But then I received a follow-up call, and our surveillance cameras showed it was in fact O.J. Simpson, and then I thought, 'Any moment, Palace Station is about to become infamous.' "
The otherwise nondescript locals' hotel, the first casino operated by the Fertitta family of Las Vegas, was indeed infamously portrayed as the scene of the crime that night nearly a decade ago.
For the uninitiated: Simpson had led a group of men into Palace Station room 1203, occupied by sports-memorabilia dealer Bruce Fromong, demanding the return of items Simpson said had been stolen from him. Simpson was subsequently found guilty of 10 felony charges in relation to the episode and has been locked up in state prison in Lovelock since December 2008. Simpson's parole hearing is Thursday; if he is granted parole, he could be released in October.
Palace Station figures into the Simpson saga by pure coincidence. To this day, Nelson jokes that her life would have been a lot less kinetic if Fromong had checked into, say, the Sahara. Instead, Palace Station's marquee and hotel tower was splashed across national TV reports for several days following the incident. Station Casinos actually could have capitalized on the event by turning room 1203 into a mini-museum marking the event, or jacking up rates for guests hoping to book the room.
No chance, says Nelson.
"We had decided that night to take the high road," she recalls. "We sealed off the entrance to the property. We took the room out of inventory, up until the trial the next year, even when guests specifically asked us for the 'O.J. Room.' "
The room no longer exists, having been wiped out in the hotel's ongoing renovations, she said. Room 1203 is left to history, even if Palace Station will always be loosely connected to the Simpson legacy.
"We're part of pop-culture narrative forever, and it has certainly drawn a lot of attention through the years," Nelson said. "But we'd rather have Palace Station be known as the first property founded by the company under the Fertittas. We don't want to change our true story."
Extension action
Expect "Sex Tips for a Straight Woman from a Gay Man" to be extended at Paris Las Vegas. Co-stars Kendra Wilkinson and Jai Rodriguez have reportedly signed on through the end of the year. The show is a focal point of Wilkinson's We cable series "Kendra On Top." The extension is good news for those who took incomplete notes the first time they saw the show …
Cirque speaks
Cirque du Soleil officials have not confirmed nor denied my report from Tuesday that the company is planning a new show for Luxor in 2019. Interestingly, and unexpectedly, Cirque responded to my inquiry about that show's development by addressing Criss Angel's status with the company. Angel, of course, has headlined at Luxor since 2008, first in "Believe" and, currently, "Mindfreak Live."
From company spokeswoman Ann Paladie: "Cirque du Soleil and Criss Angel have enjoyed a tremendous partnership together over the last nine years. 'Mindfreak Live' is a very successful production and it is continuing with our enthusiastic support." Angel's contract with the hotel ends Nov. 1, 2018.
Gordie's move
The headlining, and recently nomadic, impressionists Gordie Brown is indeed taking the 5:30 p.m. slot at Sin City Theater at Planet Hollywood. As reported in this very space on Tuesday, the Cabaret Show Lounge at Planet Hollywood, across the Mezzanine from Sin City Theater, is due to close Aug. 15. No opening date for Brown's gig at SCT has been set. The string of shows is now Murray Sawchuck at 4 p.m. Brown at 5:30, Xavier Mortimer at 7 p.m. and "Crazy Girls" at 9 p.m.. The venue is to be operated by Caesars Entertainment and is being overhauled for a possible nightclub-live entertainment show, which would take over the Cabaret bar space and also the former Gallery nightclub.
Genius move
A pair of lectures by Dave Hickey highlight recent announcements for upcoming programs by the UNLV College of Fine Arts. Hickey appears at 7 p.m. Sept. 25 at the Marjorie Barrick Museum of Art for a lecture on art. At 7 p.m. Oct. 2, also at Barrick Museum, Hickey hosts a lecture on writing.
A former Las Vegan and UNLV English professor, Hickey is an acclaimed art critic who in 2001 won the MacArthur Fellowship, known as the "genius grant," and in 2003 was inducted into the Nevada Writers Hall of Fame by the University of Nevada, Reno. Hickey's 2006 PBS documentary about Andy Warhol earned a Peabody Award. His wife, historian Libby Lumpkin, is the former curator of Bellagio Gallery of Fine Art and executive director of the Las Vegas Art Museum.
The couple moved in the summer of 2010 to accept positions at the University of New Mexico.
Viva 'Revive'!
"Revive," an in-development, Circus-fashioned show that is to butt heads with "Absinthe," is planned for Opaline Theater at the Venetian by the end of the year. This production will put Base Entertainment in competition with the production it helped make a success at Caesars Palace (that being "Absinthe").
And, to tease even further: "Absinthe" producer Spiegelworld also has a new production in line for the Venetian/Palazzo property, a project that would compete with the Base show. A familiar name on the Strip is reported to be cast in that production. More to come from this box of intrigue.
See the shrink
A pair of distinctive, and dissimilar, VegasVille personalities are to be honored with shrunken heads at Golden Tiki on from 6 p.m.- 8 p.m. Sunday: Claire Sinclair, late of "Pin Up," the pages of Playboy and currently proprietor of Clairbnb bed and breakfast downtown, is joined by veteran Vegas bon vivant Monti Rock III. The event marks the second anniversary of Golden Tiki (where dreams come true).
A side note on my buddy Branden Powers, who operates the swingin' tiki club at 3939 Spring Mountain Road. Rock recently underwent minor surgery and was knocked down for several days. Powers checked on him regularly, and had food delivered to Rock's home. "To find that level of caring, today in Las Vegas, is remarkable," Rock said this week. "He's a wonderful guy."
John Katsilometes' column runs daily in the A section. Contact him at jkatsilometes@reviewjournal.com. Follow @johnnykats on Twitter, @JohnnyKats1 on Instagram.