Las Vegas musical 'Bandstand' finally opens on Broadway
April 25, 2017 - 10:17 pm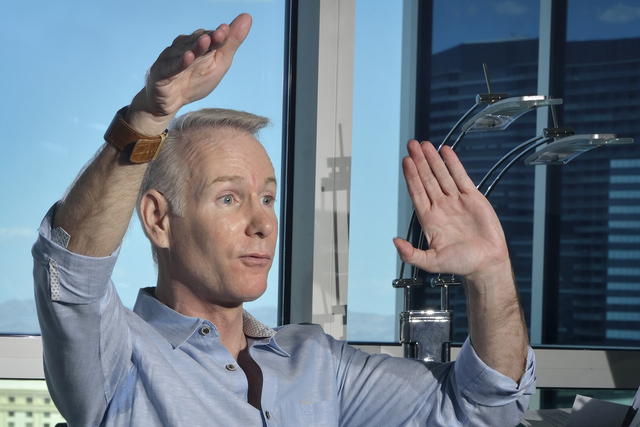 Notes from the streets of VegasVille, and also from Broadway:
'Audiences are flipping out'
That's how Richard Oberacker describes the reaction to "Bandstand," the conceived-in-Vegas musical that opens Wednesday night Bernard B. Jacobs Theater in New York. The show has been in previews since March 31.
"What I have observed as I've watched these previews in the house and people are cheering, weeping, laughing, and it feels great," said Oberacker, music director of "Ka" at MGM Grand, who co-wrote the show with and his longtime writing partner, Las Vegas violinist Robert Taylor. "But having said that, who knows how it will do? So much of this is out of our hands. You never know if something is 100-percent right, but for right now I feel great about it."
Nonetheless, the show is opening in a flurry of activity, a "noisy season," as Oberacker describes it, of shows opening in time to be considered for the 2018 Tony Awards.
"There is so much going on in the city right now," he said. "With so many shows performing, we need to find our audience."
The readings of "Bandstand" date to the spring of 2013 at Cockroach Theater in the Arts District and at the Composers Showcase of Las Vegas at Cabaret Jazz. The musical was also showcased at Paper Mill Playhouse in October 2015.
The story centers on a quintet of World War II veterans, shaken by their experiences in battle, assembling a swing band and entering a national radio competition. Their efforts to win the prize, a contract to appear in an MGM film, are met with obstacles as they attempt to advance from Cleveland to New York for the contest.
The show has been overhauled and tinkered with almost constantly up to opening night. More than 20 minutes have been shaved since it showcased at Paper Mill. The director and choreographer, Andy Blankenbuehler, has won Tony Awards for choreography for "Hamilton" and "In the Heights." As noted in a preview story by The New York Times, Blankenbuehler has been known to make 100 changes in a single day — even after previews began on March 31.
Oberacker has watched every preview performance, and is still "riveted" by the production.
"That's the best way to judge it — can I step outside of it and still be entertained," he says. "I feel as if someone else wrote it, and am always captivated by the story. I'm proud of it, all the work that we have done."
Pero's plight
A member of the original cast of "Bandstand," Las Vegas trumpet great Joey Pero, remains sidelined because of the injury he suffered Feb. 12 after a party at Tommy Tune's house. You might recall this saga: Pero was slammed by a van following a party at Tune's Manhattan apartment after the first rehearsal of "Bandstand" in New York. Tune is close with the show's co-lead, Laura Osnes, and had invited the entire cast to a party celebrating their Broadway arrival.
After the shindig, Pero was knocked down as he walked along the sidewalk and suffered four breaks, including a compound fracture, of his left leg. He had hoped to be back onstage for opening night, and there was talk of re-writing the role of Nick to add a war injury and crutches to that character. But Pero remains on the mend, able walk but still physically restricted.
"It was quite an injury," says the man who needed four titanium screws to repair his left femur and tibia.
Pero is expected back onstage in late-May.
Fiorillo's return
Elisa Fiorillo's latest performance at Cabaret Jazz at the Smith Center on Monday was highlighted by her moving take of "Sometimes It Snows in April," her tribute to Prince. Fiorillo was a friend of the rock icon for 25 years, and was a singer with the New Power Generation from 2009-2014. The song is Fiorillo's favorite Prince number, but as she said, "It's the hardest for me to sing, because of the lyrics."
Fiorillo sang it beautifully, backed by a video montage of her days with Prince. This warm moment played out during a soaring set that also featured big-band versions of The Beatles' "Can't Buy Me Love," Bobby Darin's "Beyond the Sea," Stevie Wonder's "Sir Duke" and Barbra Streisand's "People." Fiorillo even ordered bandleader Bruce Harper off the drums and played a quick solo, joking afterward, "That's all! Tip your bartenders!"
Fiorillo also said she was sad that Prince never got to see her perform with Harper and his fleet of musicians. She had taken Prince's advice to front such a show band, using her soaring voice to full effect. "I think he's here. I think he's listening," Fiorillo told the audience. "I think he's be proud of what we're doing, because it's real music by real musicians."
IAC scholarship time
One of the great Vegas haunts, the Italian American Club, held its scholarship awards ceremony on Sunday afternoon. The event was emceed by IAC President Angelo Cassaro, with club food-and-beverage managers Benny Spano and Jimmy Girard, joining the crowd of about 150 in the club showroom. A total of $26,000 was doled out to 18 Las Vegas-area high school and college students. The awards were funded by the IAC, Sons of Italy, the Augustus Society, and the National Italian American Foundation.
Timmons croons
Jeff Timmons of 98 Degrees and the new revue "Men of the Strip" isn't exactly a wedding singer, but he does sing at weddings. At least, he did Saturday night, as a gift to his friends Daniel and Brianna Kouretas.
Daniel is founder of Kouretas Entertainment Group of Las Vegas and a co-producer of "Men of the Strip," opening May 25 at Tropicana's Havana Room. He and Timmons have been friends since Timmons showcased the production at House of Blues about three years ago.
As Daniel and Bri prepped for their wedding, which was held at a resort in Phoenix, she heard the song "Say You Won't Let Go" by James Arthur and played it for Daniel. "In my head, it had to be our song," he said. Daniel asked Timmons to sing the couple's reception to surprise his bride.
"Jeff told me, 'I'm not really a wedding singer, but as a friend I am honored to do it,' and he learned it over the last month," Daniel said. "He was announced, and the place went nuts. Everyone loved it." Especially the newlyweds.
Who Was Where
Entertainment legend Jerry Lewis, continuing his recent run of Vegas shows Sunday at Billy Gilman's performance at Orleans Arena … Renowned producer David Foster, on Saturday night at John Mayer's show at T-Mobile Arena … Former major leaguer Kenny Lofton, Wednesday night at Topgolf at MGM Grand … "Scream Queens" actress Skyler Samuels, with a group of friends Saturday night at the Backstreet Boys show at Axis theater at Planet Hollywood.
John Katsilometes' column runs daily in the A section, and Fridays in Neon. Follow @johnnykats on Twitter, @JohnnyKats1 on Instagram.