Las Vegas performers write Christmas song in memory of baby twin
Updated December 23, 2017 - 6:05 am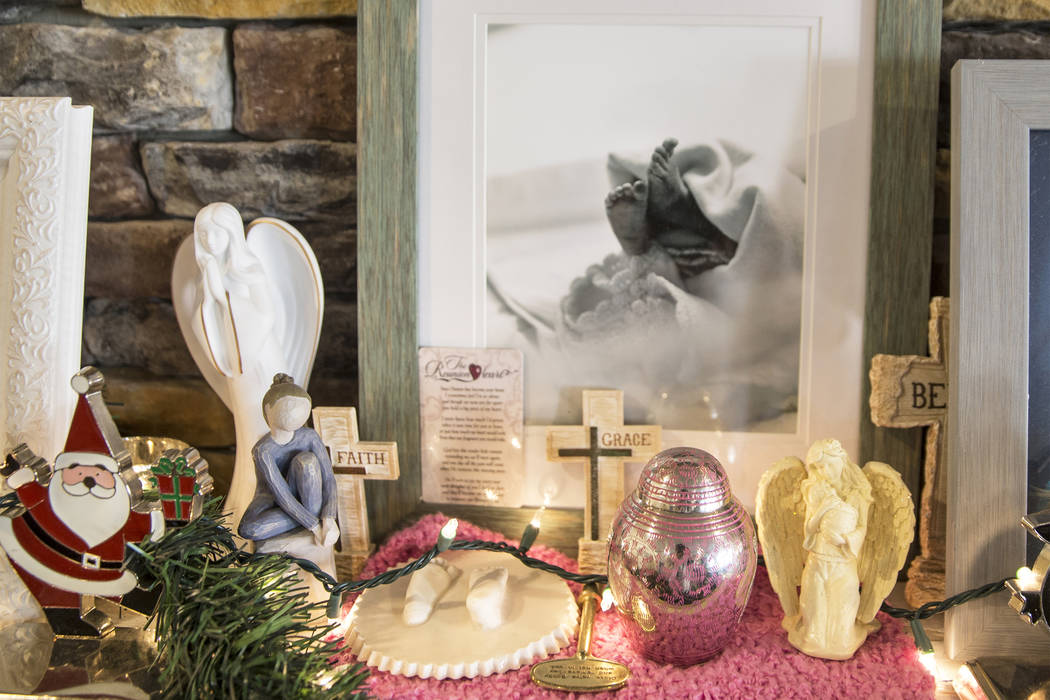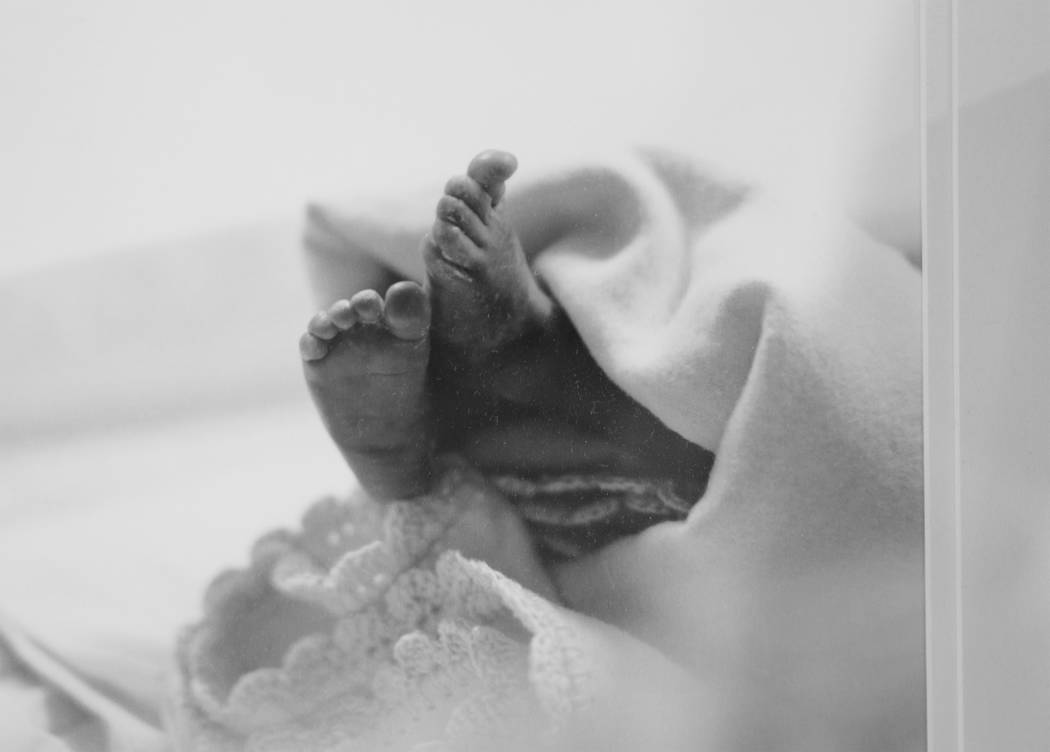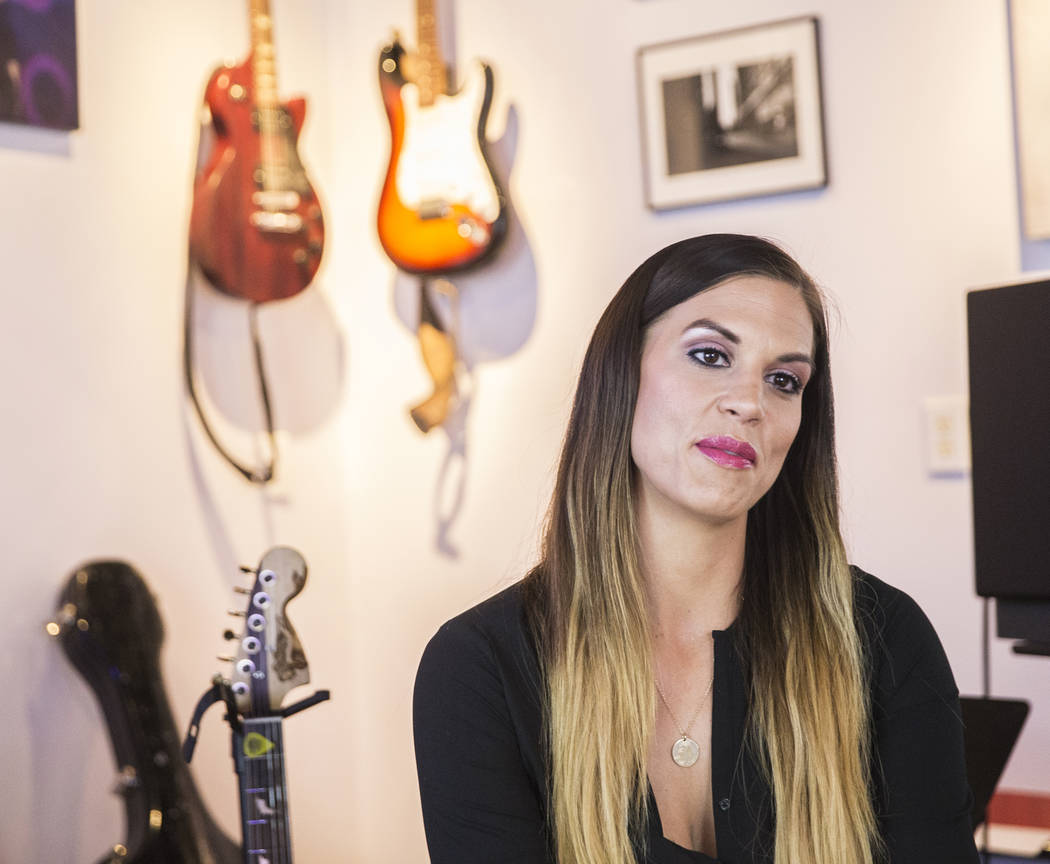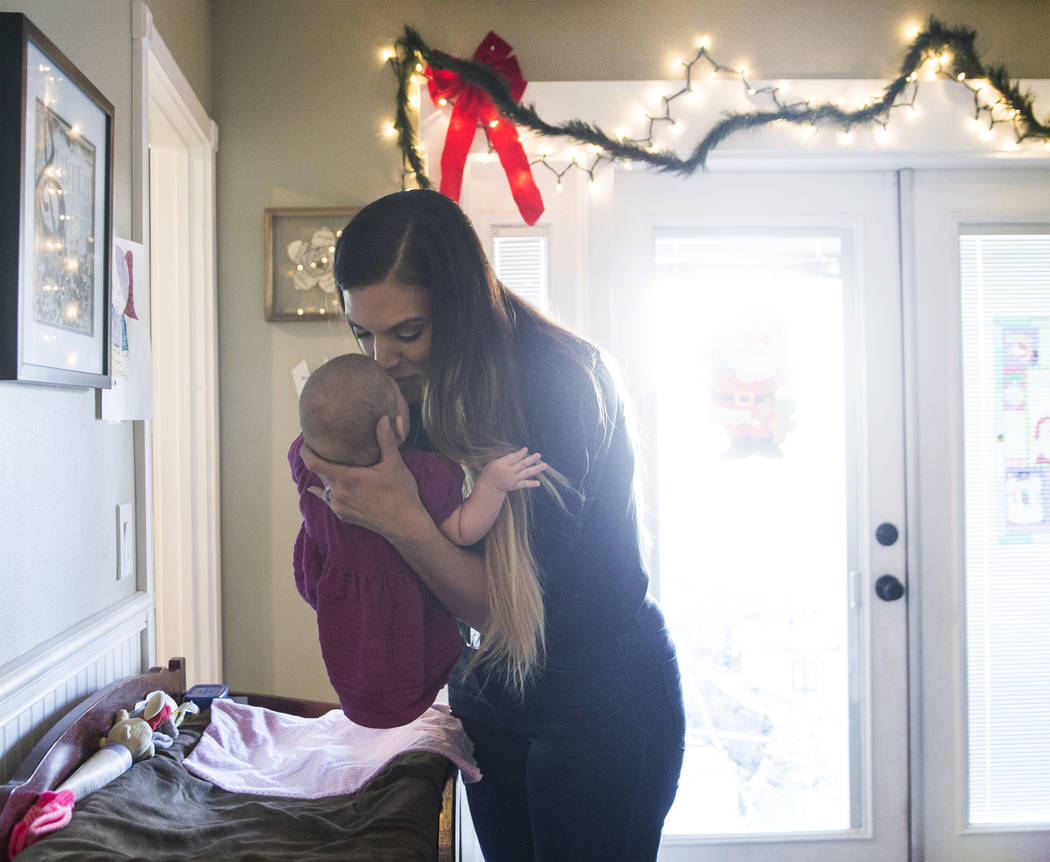 Before their names were Amelie and Abigail, their names were simply Twin A and Twin B.
They were together for 7 1/2 months.
They were the daughters of Ashley and Aaron Fuller, married entertainers of high regard throughout Las Vegas. Ashley, 32, is a rattle-the-rafters singer who was in the closing cast of "Jubilee!" at Bally's, and currently co-stars with her friend Anne Martinez in "Alice" at Red Rock Resort, among many of her assorted gigs in Las Vegas.
Aaron, 37, is the music director of that show, also a busy around-town player, a multi-instrumentalist for whom "multi" is applied accurately. Hanging from the wall of the couple's home studio are an assembly of mandolins, guitars and a violin. He has played cello, and even a hybrid guitar-violin instrument suitably called a "GuitarViol." Aaron plays all keyboard instruments, and if you handed him a trombone, he'd get something out of that, too.
The Henderson couple has released a song about an almost unspeakable loss in their lives, one year ago almost to the day.
It's called, "A New Kind of Christmas."
"Your head held high and strong, your heart weeps silently. But there's nothing new to see, just our happy family. It's a new kind of Christmas for me."
Happy news
The story behind the song began as the Fullers learned they were to add to their family. This couple had not intended or expected to become pregnant in June 2016. It was a happy surprise, especially for their then 3-year-old daughter, Ella, who was giddy at idea of having a little brother or sister.
As the twins developed, there were concerns with "Twin A." She had one kidney, they were told, but certainly could live with just one. But the medical report was far from uniformly positive. This was a high-risk pregnancy, and the little girl later named Amelie was not receiving the vital fluids required to survive a pregnancy. Her heartbeat was irregular. She was smaller than she should be.
"They were being very point-blank honest, and said one could die or even both," Ashley says while seated next to her husband in the couple's home recording studio, refashioned from the house's original garage. "But, as a parent you are thinking that they will both be just fine."
"We were optimistic and hopeful, and I don't think either one of us was thinking that one might not make it," Aaron says.
The parents' unshakable optimism continued until the night of Dec. 22, 2016, 10 weeks before the twins' due date.
"I felt something was just off," Ashley says. "I didn't feel her move. With twins, normally one would move and sort of kick the other, and then that twin would move. That wasn't happening."
'A horrible dream'
The couple planned a trip to the hospital in the morning. That night, Ashley was awakened by what she calls "a horrible dream."
"I remember it vividly — a girl who was talking to another girl through a wall saying, "It's going to be OK!' " Ashley says. "She was just an anonymous girl, and the girl on the other side of the wall was screaming, saying, 'You're not going to take me, death.' Then, all of a sudden, the room gets broken into by, like a SWAT team, and they put a shield on her and a helmet and that's when I woke up."
"I told Aaron, 'We need to get to the hospital, right now,' " Ashley says.
The couple scrambled from bed and sped to St. Rose Dominican Hospital's Siena campus, where Ashley had an emergency C-section. Doctors confirmed her maternal instincts. Twin A, hours later named Amelie after one of the couple's favorite movies, did not make it.
The little girl named Abigail, her name selected simply because it is pretty and keeps with the "A" theme for the girls, survived, but barely. She weighed just 2 pounds, 11 ounces.
She nearly did not make it.
"They put a tube down her throat, and everything was happening so fast, it was all like a blur," Aaron says. "We had these concurrent activities, where you were trying to see how Abigail was and then how Ashley was doing. How's Ella? And I'm just making a quick call or text, getting help. There was a lot happening all at once."
During the night's emergency scene, Aaron called Anne and her husband, Johnny Martinez, who raced to the hospital to look after little Ella, and took her to their home while the events unfolded.
"Having one survive and be with us has helped deal with the loss of losing another," Aaron says. "Normally, in that situation the other baby would also die within the hour, so it was a miracle that Abigail was still alive."
She would spend the next 64 days in the hospital.
Ella, now 4, had been excited for the arrival of two little sisters. Her parents told her, "One of your sisters is a guardian angel. The other is with us."
The Fullers, to this day, don't know the medical cause of Amelie's death.
"We will probably never know," Ashley says. Amelie and Abigail were monochorionic-diamniotic twins, or identical twins who share a placenta but not an amniotic sac.
Doctors told them an autopsy could shed more light on the reason why Amelie died. The Fullers declined.
"We decided in that moment of loss and shock that doing so would not change the outcome of losing her," Ashley says.
Abigail's health is a continuing concern. Her premature birth was stressful, and she suffers from cystic encephalomalacia, where there is air or small bubbles in areas where there should be brain tissue.
"I constantly am worrying about her, about, 'What if she dies?' " Ashley says. "She is perfectly healthy as far as we know right now." She may need surgery, however, to address developmental concerns. Half of the specialists who have seen her say she will need surgery, half say she won't, with the answer still in the offing.
The Fullers' support system, so crucial during Ashley's pregnancy and after, was bolstered by her mother, Laurie. She, too, had lost a child at birth, a girl named Heather who would be 40 years old next July. Ashley is the youngest of five children (three boys, two girls).
"My mother says that every year, at her birthday and Christmas, it's really hard and she thinks about her," Ashley says. "Our song really moved her a lot, too, because she could relate so much."
A song is born
In the months following Amelie's passing, the couple began to map out lyrics to a song to pay tribute to her memory. "It was really kind of a meditation for us," Aaron says. "Working in the studio, together, helped a lot. It was definitely a collaborative effort."
Ashley, primarily, crafted the lyrics.
"We wanted to explain that a child loss or infant loss is very powerful. Just the grief alone from losing a family member is one thing, but when it is a child or an infant, it's too much for a person or the public to understand, so therefore you feel very isolated," Ashley says. "Your pain is almost secretive. For a mother, this is a piece of you. I was kind of nervous because it's a subject that might be too close to home for some people."
This was not originally a Christmas song, exactly. As she worked on the song, Ashley returned to work, first on March 24 with an appearance at Tuscany's Piazza Lounge, singing with Kenny Davidsen. She was back with "Alice," a brave singer at the front of a fearless production show, in July. Aaron, as always, directed the musical traffic from behind the keyboard.
The Fullers debuted "A New Kind of Christmas" on Nov. 29 at Myron's Cabaret Jazz during the Composers Showcase of Las Vegas.
Applause swept the room when Showcase co-founder and emcee Keith Thompson brought the couple to the stage.
Aaron says he tried to talk Ashley out of singing the song — which had just been recorded and mixed — and suggested enlisting another performer for the tune's debut.
"I was like, 'Honey, you shouldn't sing that song for people, you should find another singer to sing it,' " Aaron says. "You won't be able to keep it together."
"But this is my song, and I'm going to do it," Ashley answered.
Ashley's beautiful voice filled the room. Aaron, the typically unflappable master musician, was visibly shaken onstage as he played the melody on guitar.
"I almost forgot how to play for a minute," he says, "because I was so overcome."
The song delivered the Fullers' message for this Christmas, and the ones to follow …
"I'll hang a sock for you, after every year is through. I wish you came true, I'll wish it every day. It's you who should be with our happy family. It's a new kind of Christmas, a new kind of Christmas. Yes, Christmas has changed for me."
Contact John Katsilometes at jkatsilometes@reviewjournal.com. Follow @johnnykats on Twitter, @JohnnyKats1 on Instagram.