Las Vegas proves it can handle the weekend's live-entertainment glut
September 25, 2016 - 6:18 pm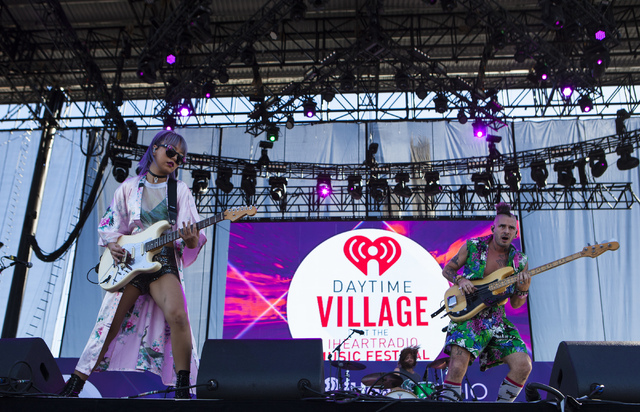 The collision of the iHeart Radio Music festival at T-Mobile Arena and Las Vegas Village and Life Is Beautiful in downtown seems not to have hindered either live-entertainment experience.
"What's the saying? A high tide raises all boats?" Chris Baldizan, vice president of entertainment for MGM Resorts, said Saturday morning. "That's what we're seeing. We've sold out the Village and the arena, and I understand the Life Is Beautiful numbers are up, too."
T-Mobile sold out both shows in its 15,000-seat configuration for the iHeart Festival, headlined by an explosive set by Drake and a captivating appearance by U2. Las Vegas Village capped its 25,000 capacity for Saturday's daytime festival. Downtown, Life Is Beautiful was expecting 35,000 per day and night (105,000 all total, though many of those fans hold three-day wristbands), which would be a record for the festival, now in its fourth year.
As Baldizan said, the reason for the two events running concurrently was multifold. The iHeart shows, previously held at MGM Grand Garden, have always been held the final weekend in September. Life Is Beautiful moved back to avoid competing with the outdoor three-day Route 91 Harvest country festival, set for next weekend at the Village.
"In the end, it did make sense for them to hold the event downtown this weekend," Baldizan said. "It worked out well."
Baldizan's night was a dance around the city, from Hall & Oates at MGM Grand, to T-Mobile (where he caught Sia and twenty one pilots), and finally Mumford & Sons at Life Is Beautiful.
"What other cities can say they can do this, all in one night?" Baldizan said. "Not many."
Away from this weekend's events, Baldizan said he and his team have finally arrived at the "drop dead" date of Sept. 30 to hear about the future of Rock in Rio on the Las Vegas Festival Grounds on the north edge of the Strip at Sahara Avenue.
"We're behind the eight ball, and I've already said that before," Baldizan said. "We need to know as soon as possible, before October, to plan for May."
MILEY MASTERMINDS
It's not just tongue and twerking. Miley Cyrus is a pretty shrewd operator. It was Cyrus' idea to team with Billy Idol to open Friday night's iHeart Radio show at T-Mobile. The two smoked through "Rebel Yell," as the crowd went ape-stuff.
"It was her idea," said Cyrus' Las Vegas manager, Larry Rudolph, said in a text message. "The girl is a genius."
U2's VEGASVILLE MOMENT
U2 closed Friday night's show at iHeart Radio with a set punctuated by "I Still Haven't Found What I'm Looking For," the video for which was shot on a pre-canopy Fremont Street in April 1987. This was during the band's "Joshua Tree" tour stop at Thomas & Mack Center, the band's first show in Vegas.
A DICKERSON SWEEP
Former L.A. Rams and Indianapolis Colts great Eric Dickerson wound up sitting behind me for a time in the T-Mobile Arena press room during iHeart Radio.
Dickerson has just launched a sports talk show on AM 570 LA Sports. What's he think of the Rams moving back to L.A.? "It's great for the city," he says, as one would expect.
Dickerson marveled at Idol's opening set. He's 60. Four years older than me. I couldn't make it through a concert right now."
IMPRESS YOUR FRIENDS …
By remembering, or knowing, that Life is Beautiful headliners Mumford & Sons were among the first headliners at Boulevard Pool at Cosmopolitan of Las Vegas, on April 15, 2011. The band blew up the next year with the release of "Babel."
SPEAKING OF THE COSMOPOLITAN …
Officials there have not yet said of their plan to recruit a new show to replace "Absinthe," which is now staying, for the time being, at Caesars Palace. The hotel has been scouting a variety of options, including comedy, headliners and productions, to fill a room without a regular tenant since "Vegas Nocturne" closed in July 2014.
ON THE TOPIC OF ABSINTHE …
Spiegelworld founder Ross Mollison has spent the past several weeks scouring the globe — including Ethiopia, Ukraine and Australia – looking for acrobats and artists to fill two yet-announced shows. These are in addition to "Absinthe" and the current version of "Vegas Nocturne" (a handful of artists who performed at House of Yes in Brooklyn in July).
Mollison is also still seeking a Vegas home for "Never Sleep Alone," which has also performed this summer at The Public Theater in New York in March and again in June.
WHAT ABOUT CABARET JAZZ?
Time to give a shout to Michelle Johnson, the the First Lady of Las Vegas Jazz or Las Vegas' First Lady of Jazz, depending on where you want to list "Lady" and "Jazz." Her "Tapestry Unraveled" tribute to Carole King is 3 p.m. Oct. 2 at Cabaret Jazz. Working with the expert music director and arranger Jeff Neiman, Johnson is performing the entire "Tapestry" album.
Johnson is the real article, and her band is terrific: Steven Lee on guitar, Blaise Sison on bass and Jess Gopen on drums. Backing vocals are from John Celentano,Margaret Menzies Gonzalez, Tymara Walker and Tyriq Johnson.
Add Mac King of Harrah's to the lineup for "The Sweets' Spot" production hosted by "Absinthe" songstress Melody Sweets, set for 10 p.m. Oct. 11 at Cabaret Jazz. Lon Bronson is the music director and the show will be loaded with groovy elements, beginning with the star.
John Katsilometes' column runs Saturday, Sunday, Tuesday andThursday in the A section, and Fridays in Neon. He also hosts "Kats!On The Radio" Wednesdays at 8 p.m. on KUNV 91.5-FM and appears Wednesdays at 11 a.m. with Dayna Roselli on KTNV Channel 13. Contact him at jkatsilometes@reviewjournal.com. Follow@johnnykats on Twitter, @JohnnyKats1 on Instagram.