Las Vegas run is a sentimental journey for Ringo Starr
October 12, 2017 - 7:05 pm
Updated October 13, 2017 - 8:44 am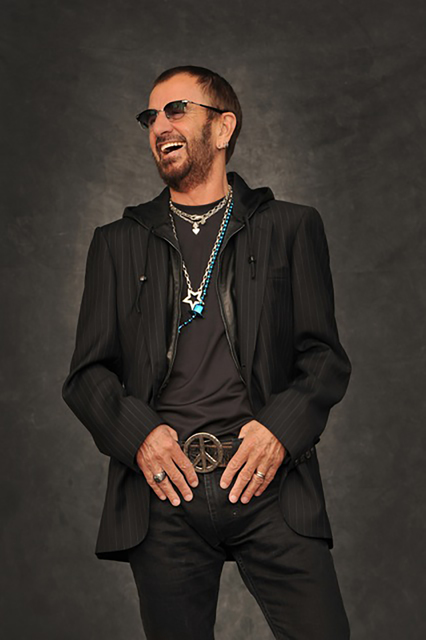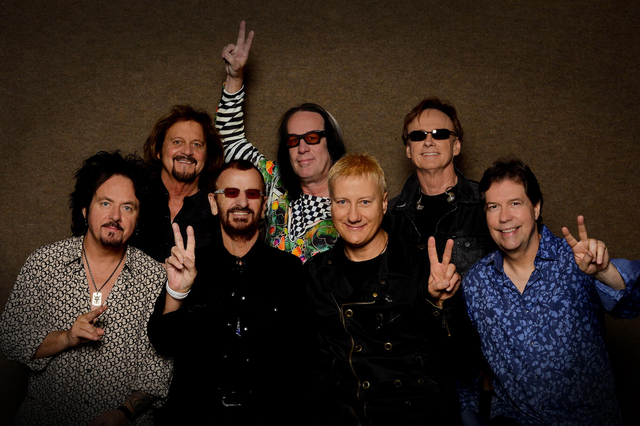 One of Ringo Starr's first Vegas gigs with his All-Starr Band was served along with dessert at the old Circus Maximus Showroom at Caesars Palace.
"We were playing, and it was like everyone in the crowd had just finished eating dinner or something," Starr says, remembering a 1992 performance at the classically appointed showroom that was home to Frank Sinatra, Sammy Davis Jr., Steve Lawrence and Eydie Gormet and several other Strip legends. "I remember them sitting in banquettes with these really high backs, around tables. It was a very unusual place for a rock band to be playing."
Starr has played several Vegas venues over the years, including the old Joint at the Hard Rock Hotel, Rio Pavilion, Mandalay Bay Beach, Pearl at the Palms and Reynolds Hall at the Smith Center. He and the All-Starr Band open an eight-show extended engagement Friday night at Planet Hollywood Showroom.
Starr, remarkably fit at double-7s (77), chuckles at hearing that list. "The deal is, wherever we've played is good, because we're there playing. It has to be good, right?" His current lineup has been together for five years: Todd Rundgren, Gregg Rolie of Santana and Journey, Steve Lukather of Toto, Richard Page of Mister Mister, Warren Ham of Olivia Newton-John's band and Gregg Bissonette of Santana.
More from a post-rehearsal chat in Ringo's dressing room:
Let's cut to the news of the day, first. I have to ask how it feels to be opening in Las Vegas when we have had this terrible shooting and upheaval in our city?
"I came in, actually, on October second, the day after it happened. I could feel it. The vibe, understandably, was very low. It was dreadful, for all those lives that have been lost. What else can you say? Was this person mad? Off his meds? You ask, 'What? What? What?' What happened?' It's just unfathomable to me. I am just here to bring the mood up, any way I can and don't let it completely control our lives."
You've obviously played many types of venues, and in the mid-60s, during Beatles tours, there were disturbing threats against the band. Have you ever felt unsafe onstage?
"No, I never have. When I'm onstage, I feel only peace and love."
We talked, years ago, about your Vegas show being called the Golden Drums, after Elton John's "Red Piano" playing at Caesars at the time.
"Yes! That was it, the Golden Drums, like Elton's show and it's come up again and again. It was an idea, but you still need to put something together. Eight gigs, and that's how it starts."
Over the years we've had many rock bands perform these extended engagements in Las Vegas. Did that trend encourage you to pursue your own residency here?
"Vegas is so great, and it's hot for bands doing this right now. A lot of artists are doing this. Musically, Vegas is up. Attractive to the artists, I can play here Tuesday, Friday and Saturday and get to know what this city is like Tuesday. There are things going on Tuesday?"
Yes. Every night it's something. You played the Smith Center on a Sunday night last year, I believe.
"So, yeah, every time I have ever been to Vegas — including in 1964 when we played here — I get off a plane and go right to the Strip. Every time. Then last year we go to the performing arts center, and that was even crazier. I had no idea how big Las Vegas was! There is a whole world happening out there in Vegas! No one told me this! It was far out. We had a great time."
Where you were staying in 1964, the Sahara, was an out-of-the-way spot in those days.
"All I remember was seeing sand all around. We didn't know any better."
What kind of show are we going to see here? Is it going to be your touring show? Or will there be some Vegas production elements?
"You mean the dancing elephants? Wait! I have given it away!
I think that's being tried at Paris Las Vegas right now.
"Hah, no, it' a rock band. We love to play all of our old hit numbers. Having this band, when I started in 1989, I had the band for a year and kept changing it, changing it, but this band has been together for five years. We have been together longer than any off the All-Starr Bands I've had.
One of your idols, Elvis, is of course a big part of Las Vegas history, too. Did you ever see him perform here?
"No, but Elvis was playing here when I did the 'Sentimental Journey' album, in 1972, and we did a video of the song at Elvis's theater, at the Hilton at the time. They flew me to Vegas to sing this standard in a Vegas showroom — in Elvis's actual theater. I was wearing a tux, pink bow tie. Afterward I went, 'Uh, no. I'm not doing that again.' "
Is this engagement setting up another run in Las Vegas next year? And would the band be OK with returning ?
"I can't say right now because I don't know. I've got 14 more dates on tour after these shows. But how it works is, I decide to play Las Vegas, and if the band can do it, they'll do it. There are lots of people in the All-Starrs, and lots of others who want to be in the All-Starrs, So it's not necessarily this band I'd be bringing if I did come back."
Off the topic a little, I had a chance to hang out with your son, Zak, when he was in town with The Who a few weeks ago.
"He played some club gig, right?"
At the Sand Dollar Lounge. It's a loud-and-proud place, off the Strip. We drove over from Caesars. It was nuts.
"Ha! Hey, you've gotta play where you've gotta play. He's his father's son."
We're hoping they come back next year.
"Zak has been in that band since, what, 1996, I think. When Keith (Moon), who was a great friend of mine, died, Zak actually thought he should have been in the band immediately. This was in 1978. Zak always called Pete Townsend 'Uncle Pete,' and said, 'Why hasn't Uncle Pete asked me to be in the band?' He was like 13 years old, but he wanted it."
You know, The Who played at Caesars, where Circus Maximus used to be.
"Ah! See? We created the vibe. We brought the rock and roll vibe to the Strip."
John Katsilometes' column runs daily in the A section. Contact him at jkatsilometes@reviewjournal.com. Follow @johnnykats on Twitter, @JohnnyKats1 on Instagram.