Las Vegas Strip favorite Philip Fortenberry is taking on China
Updated August 3, 2018 - 10:10 am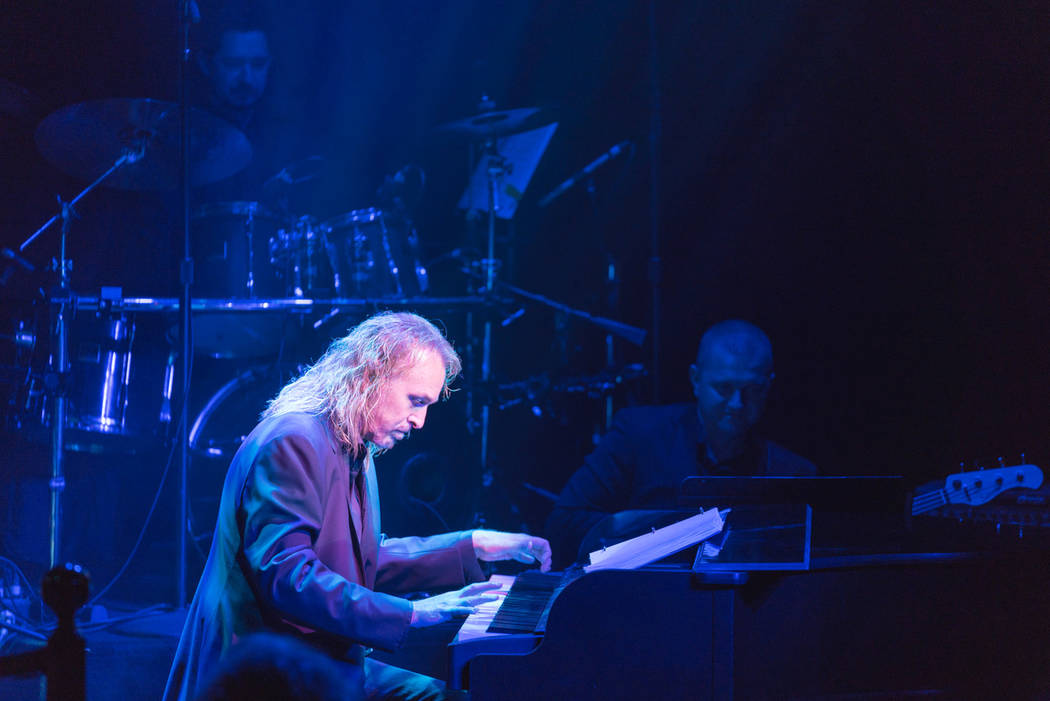 Philip Fortenberry is alternately known as, The Man at The Piano, and The Hands of Liberace.
But for three weeks, he's, The One-Man Broadway Tour.
The pianist for "The Cocktail Cabaret" at Cleopatra's Barge who has performed in four full-scale Strip productions is starring in a 14-city national tour of China this week.
Fortenberry is exclusively headlining performing-arts centers in his first tour of mainland China. "Las Vegas Pianist" is the shorthand description used in the tour's marketing campaign.
The road spree, almost entirely on train, opened Thursday in Mudanjiang on the Heilongjiang province on China's upper northeastern region. Fortenberry closes Aug. 19 in Kunming, to the southwest in the country's Yunan province. His first Instagram post Thursday from his trip showed him with a group of school children onstage after his opening-night performance.
During Fortenberry's absence, "Cocktail Cabaret" is dark through Aug. 15. Band leader and pianist Joey Singer subs on Aug. 17, with Keith Thompson stepping in Aug. 18. Fortenberry returns to the show, which stars vocalists Eric Jordan Young, Daniel Emmet, Niki Scalera and Maren Wade, on Aug. 22.
Unlike his many other performances, Fortenberry is simply playing an entire show on his tour stops in China. He's not backed by an orchestra, band, vocalist, or accompaniment of any kind.
"I am it," Fortenberry says, chuckling. "It's just me and the instrument."
Fortenberry is widely known, and uniformly respected, in Las Vegas. For years he was the house artist at Liberace Museum, hosting the "Liberace & Me" shows at the museum's cabaret room. That role led to Fortenberry being cast as Liberace's hand and body double for the 2013 HBO film "Behind the Candelabra," starring Michael Douglas in the title role.
Over the years, playing Broadway tunes in any environment has been common for Fortenberry. The piano virtuoso has performed in 10 Broadway musicals, including "Jesus Christ Superstar," "Cats," "Ragtime" and "The Lion King." He's also played Carnegie Hall, Lincoln Center and the Kennedy Center.
In Las Vegas, Fortenberry was in the associate music director in "Jersey Boys,: working with fellow composer and music great Thompson, at Palazzo Theater and Paris Theater. Before that production opened in May 2008, Fortenberry played for "Mamma Mia" at Mandalay Bay, "Hairspray" at Luxor and "We Will Rock You" at Paris Theater.
And Fortenberry's own dazzling music/storytelling showcase, "The Man at the Piano," has sold out Myron's Cabaret Jazz.
But for Fortenberry, performing on his own in an entire 90-minute show, on international ground, is something new. He's been preparing for the show for up to three hours a day, a process that is akin to re-training an Olympic sprinter to run a distance race.
"I've been doing so much training, because this is so demanding physically," Fortenberry says. "I have been doing hand exercises, working on flexibility, because there is so much heavy playing.
"This is as much a challenge of stamina as anything."
Fortenberry landed this tour through his management company, KMP Artists of Austin, Tex. A promoter that books international tours asked to review KMP's talent roster, and asked about Fortenberry's availability.
"That's really the extent of it," says Fortenberry, who is under a three-year commitment with KMP Artists to tour internationally. "If this goes well, I'll go back next year."
With Thompson's arrangements, Fortenberry is playing what amounts to a Broadway/Disney greatest-hits package. Selections include "Don't Cry For Me Argentina" from "Evita," the overture and "All I Ask of You" from "Phantom of the Opera," a salute to "Ragtime," "Bring Him Home" from "Les Miserables," medleys from "Fiddler On The Roof" and "Mamma Mia," and a Rodgers and Hammerstein suite covering "The Sound of Music," "Oklahoma," "The King and I," "Carousel" and "South Pacific."
Disney is to be covered with "Let It Go" from "Frozen," "Beauty and the Beast," and "Can You Feel The Love Tonight," from "The Lion King," among others.
How will this all play to the audience filling the halls on this tour?
Fortenberry has no idea.
"When you're playing the instrument, the language barrier goes away," Fortenberry says. "But this is really intimidating. I'm scared, I'm excited, it's all of that. This is one of those opportunities where my fear will be my compass."