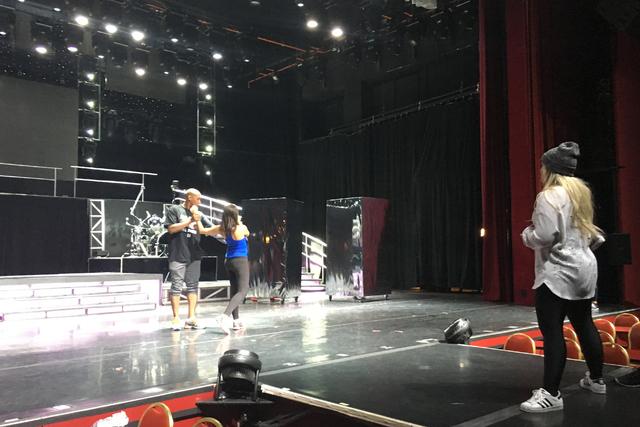 The Kats! Bureau at this writing is the KUNV 91.5-FM studio on the UNLV campus, where my weekly radio show airs at 8 p.m. Wednesdays and is posted on my Twitter and Facebook pages. Be on the lookout (or listen-out) for my guests magicians Jarrett & Raja, headlining their own new showroom at Hooters, and stage great Earl Turner, who performs at South Point Showroom on Feb. 17-19.
More from the scene:
SCHWIMMER DIVES IN
Former "Dancing With the Stars" pro and current Las Vegas resident Lacey Schwimmer has been busy directing the opening number of "Legends in Concert" at Flamingo Las Vegas. The show's "soft" opening for its 34th year on the Strip is Saturday night.
Titled "Legends Never Die," the scene features the entire ensemble dance team and backing vocalists, along with the principal legends in the new show: Elvis (Kevin Mills), Michael Jackson (Damian Brantley), Marilyn Monroe (Stacey Whitton Summers) and Janis Joplin (Michelle Rohl).
Schwimmer was most recently onstage with Frankie Moreno in his production at Planet Hollywood (and again last Saturday with Moreno at his sold-out show at the Suncoast). "Legends" producers sought her out in December to refresh the opening.
"The first question I asked is 'How full out do you guys want this? Dancing with the Stars big?' They replied, 'Oh yes!' " Schwimmer says. "So from there I just started tossing ideas at them, and they took on all of them."
The lead performers are revealed from behind rolling standup mirrors as lights cut throughout the showroom. This project might well be a way to involve Schwimmer, who describes the new act as "saucy," more permanently in the show.
The "Legends Never Die" theme does present a challenge. The current legends are all deceased, but the production also rotates in such living stars as Celine Dion, Garth Brooks and Bette Midler. Gina Capecci Adams, the show's vice president of production, said the company is still considering how to match the theme of the opening number with a blend of past and current legends. She explains, "Our theme has always been that legends never die, and we'll stay with that, regardless."
VICK JERSEY SACKED
KOMP 92.5-FM host Brittney Cason of the "B.S. In the Morning" show has learned that not every piece of memorabilia brought Rick Harrison of "Gold & Silver Pawn" will be accepted. Harrison was a guest last year on morning radio show, and Cason asked Harrison about one of her favorite possessions: A signed Michael Vick Atlanta Falcons jersey from his 2001 rookie season.
Harrison winced, saying the the jersey would bring "bad juju." He said he would never display the piece because of Vick's conviction of felony animal abuse charges related to operating a dog-fighting ring. But as Cason said Sunday during Jeff Molitz's annual Super Bowl party, she has made proper use of the No. 7 jersey: It's now placed in the doggie bed of her Boston Terrier, Faith, whom she describes as "a former Vick fan."
AROUND THE HORNS
Getting 40 cruise directors to show up at the same time at the same place is akin to making a U-turn on a cruise liner. But that was the head count Monday night at the Santa Fe & The Fat City Horns show at the Lounge at the Palms. The directors were in town for a conference headed up by Royal Caribbean Vice President of Entertainment Nick Weir. Joining the performance was trumpet great Kenny Rampton of Bonanza High, UNLV, the Berklee College of Music and Wynton Marsalis' backing band.
Santa Fe is a big deal on the aquatic vessel Quantum of The Seas, which features the band on a series of mobile video screens in its 450-seat showroom. These "live" performances were recorded in the fall of 2014 and debuted the following November. Since then, such Santa Fe regulars as Tony Davich — or, rather, his video image — have received standing ovations every night.
A staple in Las Vegas since the mid-1970s, Santa Fe is now as big on video (and on the water) as in person.
Rampton followed up with a soulful performance of a Duke Ellington medley during Tuesday night's UNLV Jazz Ensemble I Black History Month Celebration at Artemus W. Ham Concert Hall. Pianist and conductor Dave Loeb (late of "Steve Wynn's Showstoppers") and trombonist-arranger Nathan Tanouye (of Santa Fe and Celine's orchestra) were the music directors.
Keep the radar up for these shows by the internationally acclaimed UNLV Jazz Ensemble. They are wonderful.
LATEST FROM THE 'BOUT'
So, now we are hearing, through TMZ, among others, that Soulja Boy's trainer for this purported three-round bout with Chris Brown is Evander Holyfield (stepping in for Floyd Mayweather, evidently). Brown has already convinced Mike Tyson to be his trainer — setting up this intriguing match of former ring combatants as trainers. It's a fascinating concept, but there has been no official confirmation of the fight by its would-be organizer, Mayweather Promotions.
John Katsilometes' column runs daily in the A section and Fridays in Neon. He also hosts "Kats! On The Radio" Wednesdays at 8 p.m. on KUNV 91.5-FM and appears Wednesdays at 11 a.m. with Dayna Roselli on KTNV Channel 13. Contact him at jkatsilometes@reviewjournal.com. Follow @johnnykats on Twitter, @JohnnyKats1 on Instagram.