Live from New York: Comedy Cellar, Spiegelworld advance on Las Vegas
Updated August 4, 2018 - 6:15 pm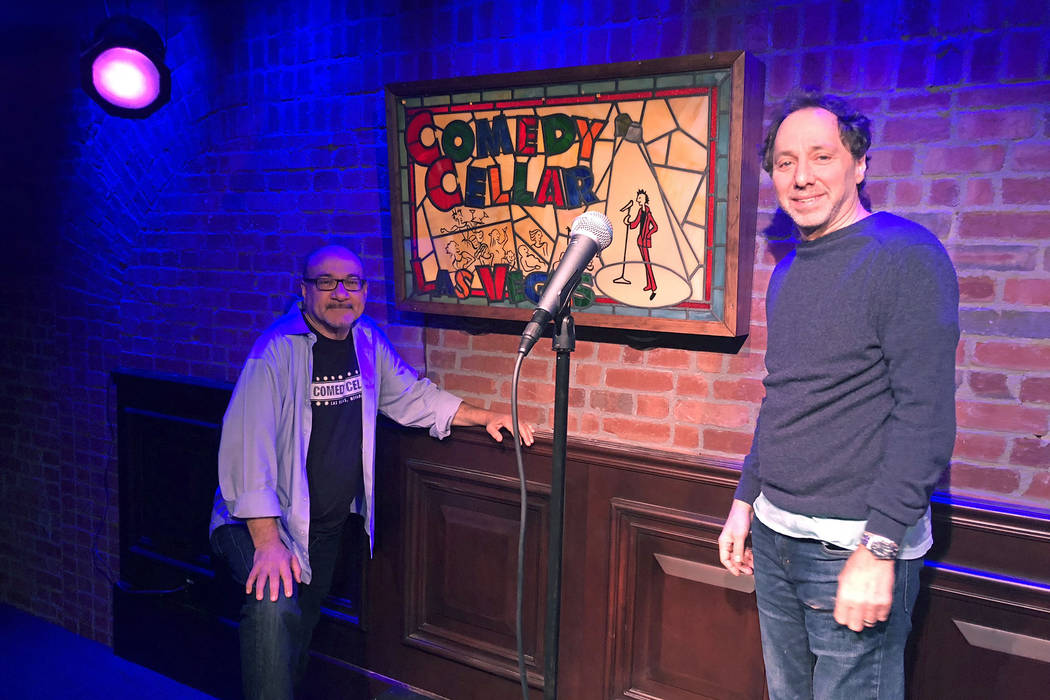 NEW YORK — The Kats! Bureau at this writing is Times Square in Midtown Manhattan. I'm here to catch up on a some entertainment concepts tethered to Las Vegas, and, no, I am not talking about this family act singing "Amazing Grace" next to Mr. Bing Chinese crepes, about 20 feet from me …
Instead, tonight I'm hitting the first showcase of the new disco-themed production "We Are Here," from "Absinthe" and "Opium" producers Spiegelworld. This show is being planned for a Strip theater/showroom/entertainment club in 2019. Nile Rodgers of Chic ("Le freak, see'est Chic!") is managing the music. Steven Hoggett of "Harry Potter and the Cursed Child" on Broadway directs, which is why during this trip I am seeing "Harry Potter" on Broadway.
Also, Friday night, I ducked into Comedy Cellar in Greenwich Village to compare that venue to the club's new outpost at the Rio.
That was a time. I understand why Caesars Entertainment wanted to partner with this club.
I caught 10 top-level comics over five hours performing in three venues: Comedy Cellar at The Village Underground, The Comedy Cellar around the corner at MacDougal Street, and upstairs at the The Fat Black Pussycat Lounge.
I had no idea of the lineup when I was led to a hightop in the back of my first stop, The Village Underground. As it turned out, that space was the comics' gathering point. Within minutes I was joined by a rotating group of such headliners as Judah Friedlander, Nikki Glaser (who led off the Comedy Central Roast of Bruce Willis), Michelle Wolf (best-known for her blistering set at the White House Correspondents' Dinner in April and her Netflix show "The Break with Michelle Wolf," Wolf also is in this year's Life is Beautiful comedians' lineup), former "The Daily Show" executive producer and writer Rory Albanese and a guy billed as "Derek Crisp," who turned out to be Aziz Ansari.
"I have my phone out," Ansari, a past headliner in Aces of Comedy at The Mirage, started, "because I'm recording some new material. I just want to hear how it sounds. It's not like I go home and say, 'Oh, man! This guys is my favorite comic ever!' "
(Ansari, incidentally, has made intermittent, unbilled appearances at Comedy Cellar since he was called out in a January story on the website Babe.net, which chronicled an anonymous woman's date with the comic, whom she accused of being overly aggressive. Ansari denied doing anything wrong, but did say, "Clearly, I misread things in the moment and I'm truly sorry." He was greeted with loud applause and cheers in the two sets I caught Friday, which were terrifically funny.)
The common thread between Comedy Cellar and "We Are Here" are both are trying to hit the target in Las Vegas with readily recognizable brands. Spiegelworld is seeking to play off the enormous popularity of "Absinthe" at Caesars Palace and the peculiar brilliance of "Opium" at The Cosmopolitan of Las Vegas.
But "We Are Here" seems nothing like those productions, presented as a 1970s-designed dance show that harkens back to the high times of New York's Studio 54 (a club that, many years ago, also opened an outpost in Las Vegas, at MGM Grand.
Of course, this is not the first time Spiegelworld has run a show in New York with an eye on Vegas. "Absinthe" premiered in a tent at Pier 17 in downtown Manhattan, just off the East River. That fact that seagulls swooped over ticket-holders waiting at the entrance made Las Vegas seem comparatively inviting. ("Absinthe" was originally planned for the showroom at Fountainebleau, but was snapped up by Caesars Palace after that resort halted construction.)
Spiegelworld also has test-driven the updated, and scaled back, "Vegas Nocturne" in Brooklyn two years ago after the grand-scale production closed at The Cosmopolitan in June 2014. The company pulled the New York version of "Never Sleep Alone," starring the esteemed Dr. Alex Schiller, from Joe's Pub to a tryout at the Spiegeltent in February 2016.
Comedy Cellar, too, is drawing from its New York pedigree. After a bumpy start and two-week shutdown, the club has renegotiated its partnership with Caesars Entertainment to stay keep the Rio club humming. Duplicating the club's entrenched ambiance and NYC equity is not easy. It's on the casino floor and not in a cellar, for starters, and no entertainment tradition can be achieved overnight.
But if the New York crew, led by ubiquitous co-owner Noam Dworman, does have a shot to succeed in Las Vegas if they can re-create the gritty-funny Greenwich Village vibe. The club's business is likely to be boosted by a Comedy Central stand-up series centered on the New York club, titled, "This Week at the Comedy Cellar." The cornerstone of the show, set to debut in the fall, is the fabled "comics table," sort of green-room meeting point at the connected Olive Tree Cafe, which sits above the MacDougal Street club.
As we sat and chatted at that table late Friday night, Dworman said, "I think the Comedy Central show will really help business in Las Vegas. We like being there. We're committed to it, but we know it will take time to grow the brand."
As Dworman spoke, he checked his phone for Friday's box-office numbers from the Rio. "First show a little slow, but second show was good." And that is good. If the club is a hit, maybe we'll set up a new "comic's table, and chat with "Derek Crisp" about his Vegas debut.
John Katsilometes' column runs daily in the A section. Contact him at jkatsilometes@reviewjournal.com. Follow @johnnykats on Twitter, @JohnnyKats1 on Instagram.