Longtime 'Fantasy' singer is Golden Knights' caped crusader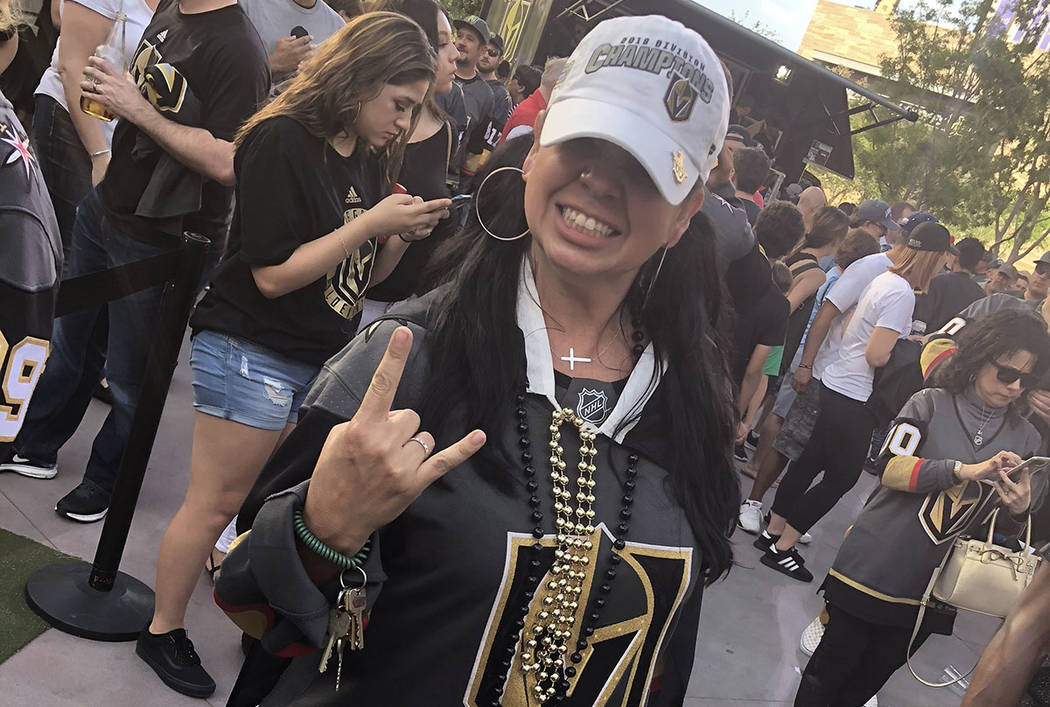 Stephanie Sanchez took an atypical path to her current position as a powerhouse executive for MGM Resorts International. Her journey wound through the adult revue "Fantasy" at Luxor, where she was the show's lead singer for nearly a decade.
Thus, Sanchez, a Vegas native who performed in stage shows since she was a teenager at Bob Stupak's Vegas World, has donned worn all sorts of attire in her career. She's worn the feathers and the leathers and even chain-link tops until leaving "Fantasy" in 2009.
These days, in her role booking entertainment at Brooklyn Bridge, Nine Fine Irishman and the Bar at Time Square, Sanchez sports smart business suits and blazers with her name tag attached. Tonight, Sanchez wore a different uniform: A steel-grey Vegas Golden Knights jersey, white VGK ball cap, gold beads and — yes — a cape.
"I'm going to have 'Vegas Strong' put on the back, hopefully by Friday," Sanchez said. "I think I have enough beads." Four strands are enough.
Similar to her career progression, Sanchez's fan affiliation has also evolved. Those who have known her over years have understood her to be a big L.A. Kings fan. But she says she has "retired" her vintage Kings jersey.
"It's hanging ceremoniously in my closet," Sanchez said.
She purchased all of her Golden Knights gear, except the cape.
"I won that today in a game of box hockey in the EDR," Sanchez explained. EDR is the employee dining room at NY-NY, where it's always game-on.
Campos spotlighted
Jesus Campos, the Mandalay Bay security guard who was first to engage with the gunman on the night of the Oct. 1 mass shooting on the Strip, was the night's Vegas Strong Hero of the Game. The spotlight was directed to Campos, who was shot in the leg in his exchange on the 32nd floor of Mandalay Bay. He received a robust roar.
Skating free
For a decade, Billy Johnson was synonymous with Las Vegas professional hockey as president and chief operating officer of the Las Vegas Wranglers. But the ECHL team, which toiled at Orleans Arena, folded after a spirited run from 2003-2014.
Johnson, now president of Pink Jeep Tours Las Vegas, has not seen any Golden Knights game. A master of marketing, Johnson says he has "some pretty good reinvention going on" and is happy on his pink cloud.
Dual sombrero action
Golden Knights fans Paul Sallach and Casey Morin provided south-of-the-border flair with their VGK head ware.
Both wore rare — we believe two-of-a-kind — Vegas Golden Knights sombreros.
"Two months ago I went to Cabo, and there were a whole bunch of Canadians there and they were selling these hockey sombreros with Oilers, Canucks Maple Leafs, Flames, all those teams' logos," said Sallach, president of All in Aviation of Las Vegas. "I asked for a Golden Knights hat and they said, 'Who's that?' They had never heard of them before — and this was during the regular season."
So Sallach downloaded a Vegas Golden Knights image on his phone and showed it to the artists, offering to pre-pay for two sombreros for the next day's beach party.
"The next day, we're playing beach volleyball and we hear this, 'Senor! Senor! We have your hats!' "Sallach texted a photo of the handiwork to his buddy Morin, who is a fifth-grade teacher at Bailey Elementary School in Las Vegas. "I said, I'll take one." The hats cost $20 apiece, which seems a bargain.
"They're not the highest quality," Sallach said. "They're just for games."
How to score
Polling several Vegas Golden Knights ticket-holders reveals the four best methods to be broadcast on the T-Mobile scoreboard big screen: Wear bling — sequins and rhinestones especially. Dance. Kiss. And, carry a baby (a real baby, not something from Fisher-Price).
The cameras love some baby action.
Oh, and there is also the oft-employed "Ed Bernstein Method," which is to be a well-known Las Vegas attorney.
Staple of an idea
The Vegas Click organization of Golden Knights fans, which coordinate and organize on a closed Facebook community are sending 60 or so Golden Knights fans to Staples Center in L.A. for Games 3 and 4. At this writing, Sunday's game package is sold out, but a few seats are left for Tuesday (bar stools are $135, seats are $200). The hot spot is Suite C17. Vegas will be represented there.
John Katsilometes' column runs daily in the A section. Contact him at jkatsilometes@reviewjournal.com. Follow @johnnykats on Twitter, @JohnnyKats1 on Instagram.