Love, passion for 'my girl' inspired Jerry Lewis in 'Rose' role
September 25, 2016 - 5:25 pm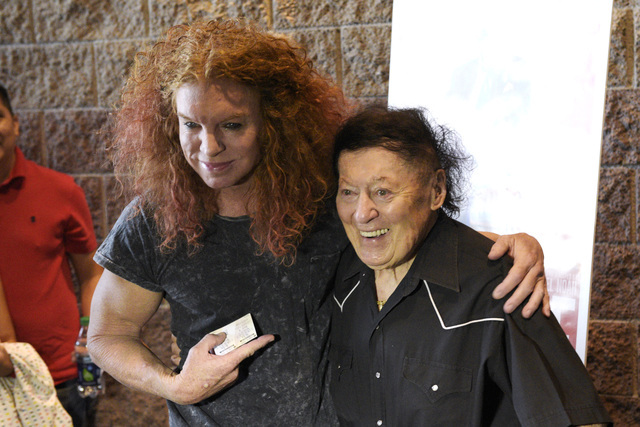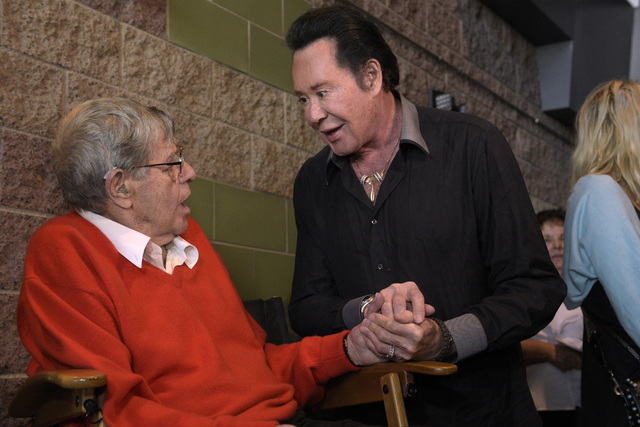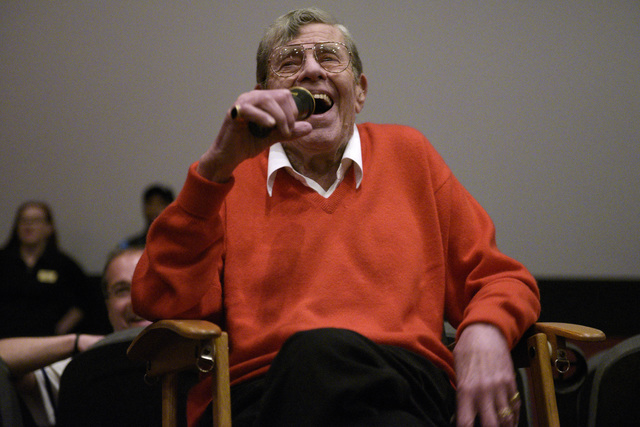 We know Jerry Lewis as an entertainment legend, an institution for his decades in the limelight and in front of the camera. His legacy lives in old TV clips from his days on the "Colgate Comedy Hour" with Dean Martin, in freshly remastered version of his great movies, and even as his famous black-and-white caricature. This is the image Lewis' friend Richard Belzer had tattooed to his right shoulder a few years ago.
But Jerry Lewis is more than an icon or a brand. He is a 90-year-old man who has who exudes passion and wisdom, who is fearless in sharing those qualities — when the time is right.
I'm reminded of these traits every time I speak with Lewis. He says something that just sticks with you and wraps your heart, such as the moment a few weeks ago when he told me in an interview at his Las Vegas home that he was able to evoke emotional pain in his film "Max Rose" by thinking of his wife, Sam.
The Max Rose character, a jazz pianist by coincidence (similar to Willie Loman in "Death of a Salesman," the character's profession is not the thrust of the story), discovers an old locket that seems to reveal his wife, Eva (played in flashbacks by Claire Bloom), was romantically involved with another man. Lewis' face falls and his eyes pinch as he studies that locket, and in the moments in the film when he finally shares with his daughter, Annie (Kerry Bishe), what he has unearthed.
After the Las Vegas premiere of the film at Regal Village Square Stadium theaters, Lewis told an audience jammed with Vegas celebs — Wayne Newton was seated three rows behind him, and Penn & Teller and Carrot Top across the way — how he prepared for the wrenching portrayal. A question from a friend of his for decades, Susan Anton, launched the post-screening Q&A session.
"What attracted me was how love can really generate a difference in the personality in a human being I fell in love with the thought that anyone can fall in love, and everyone will fall in love," Lewis said. "The beauty of love, as far as I'm concerned, is it makes you better. It makes you stronger. It gives you direction. It gives you understanding of what life is, and what we've been given."
Lewis then spoke to Sam, seated at his right.
"And I love my girl, so ferociously, and so beyond any way I can explain it, and I saw her in the script. She was my Eva," Lewis said as the audience listened, rapt. "The night that I committed to do the film, I told Sam, 'I have a present for you, but it would probably take a couple of years, so be patient, sweetheart (laughs).' She was. It brought me so close to the material, that I had to make the movie. I just had to."
This is a heavy movie. Yes, there are the requisite moments of lighthearted fare from Lewis, such as when he performs a jazz jam with "air" instruments, joined by his cronies (including an endearing performance by Mort Sahl), but Lewis mostly moves methodically through this movie. He carries it by inhabiting the Rose character. He verbally lances his son, Chris (portrayed by an effectively frustrated Kevin Pollak), after his offspring says expresses his love for his father. "I've seen how you treat the people you love," a reference to Chris's lax parenting of Annie.
In that earlier interview, Lewis remarked, "This was a personal role. It's not the kind of movie that people are going to walk out and say, 'They all deserve Academy Awards.' "
Well, I walked out thinking at least one actor should be considered.
A little more, even, from the "Max Rose" scene:
— Before the film's screening, Lewis met up with such celeb friends and fans as Newton, Marty Allen (who at 94 has an upcoming date at the Metropolitan Room in New York) and his wife, Karon Kate Blackwell; Penn & Teller; Carrot Top; Tony Orlando; Anton; Criss Angel (with Maestro from "Mindfreak Live!" Mateo Amieva) and Melody Sweets. All stayed to watch the film. Afterward, Teller said, "What a wonderful performance. Just wonderful." He also tweeted, "Lewis's acting seems so effortless and his star quality shines out."
— In his Q&A, Lewis reminded of his upcoming shows at South Point from Friday through Sunday. He returns to the South Point Showroom in a long partnership with his friend Michael Gaughan, who owns the joint. The South Point was host to the telethon from 2005-2010, Lewis' final years hosting the annual fundraising telecast. Expect Lewis to hold forth in his famed director's chair as he introduces clips from his career. It's akin to a great Jerry Lewis viewing party, with Lewis himself as host.
— After a few variations, Angel's upcoming A&E show's official title is "Trick'd-Up," debuting Oct. 12. Angel is sporting a more streamlined, GQ-esque look at the moment, a result of a makeover, or "make-down" for an upcoming cover story by our friends at Luxury magazine. Robin Leach, long a friend of Angel's, updates Criss' life and career and philanthropic efforts.
— Penn & Teller continue to advance their show at the Rio, adding two acts last week. Titles are "Dracula," and "Circle Stop." We'll check in and check back with descriptions, but expect inspired art from these two. They don't put acts onstage unless they have been extensively rehearsed and developed, sometimes for years.
— Great exchange, pre-show, between Lewis and Allen: "Turning 90 is really something, Marty!" Lewis called out. "So is turning 94!" from Allen, who ambled in with the slight aid of his Louisville Slugger cane.
— During the Q&A, after a lengthy and idolatry recast of Lewis' performance from Orlando, an MDA Telethon co-host for more than three decades, Lewis responded: "Thank you, Tony, and just because of that I'm going to start buying more stuff from Puerto Rico." Orlando's ethnicity is Greek and Puerto Rican, or as he says, "Greekarican.
— Updating his vision for a Martin & Lewis Broadway musical, Lewis said, "It's not yet anywhere near what I hope it will be, which will take a couple of years. So, at 92 I will open on Broadway."
John Katsilometes' column runs Saturday, Sunday, Tuesday and Thursday in the A section, and Fridays in Neon. He also hosts "Kats! On The Radio" Wednesdays at 8 p.m. on KUNV 91.5-FM and appears Wednesdays at 11 a.m. with Dayna Roselli on KTNV Channel 13. Contact him at jkatsilometes@reviewjournal.com. Follow @johnnykats on Twitter, @JohnnyKats1 on Instagram.