Luenell, Chappelle team on Netflix special
Updated September 28, 2023 - 6:06 pm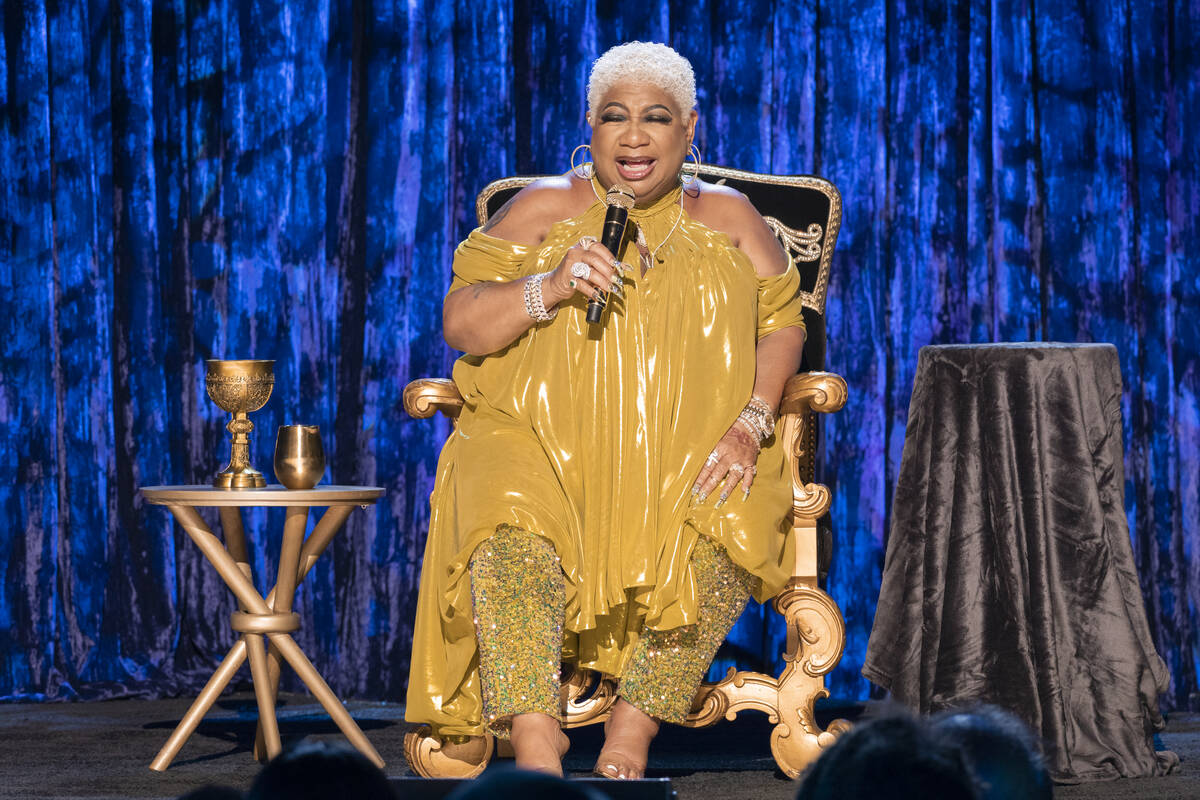 The Kats Comedy Hut returns with a headliner who is a favorite of the column, and of the Hut.
Luenell is that comic star. The Jimmy Kimmel's Comedy Club mainstay is back on the Strip, in full flourish, riding her new Netflix special "Chappelle's Home Team — Luenell: Town Business." The concert special premiered Tuesday.
Chappelle is of course Dave Chappelle, who is producing a concert series featuring top stand-ups. Earthquake was the first to take the stage, in February.
Luenell was filmed at the famed Yoshi jazz club in her hometown of Oakland about four months ago. Chappelle had invited the veteran comic and actress to perform in the summer of '22 at his Wirrig Pavilion in Yellow Springs.
During the appearance, Chappelle had told Luenell's daughter, Da'Nelle, he wanted to feature Luenell in the series.
"He was sitting next to my daughter and said, 'I'm gonna get your mother a Netflix special, and it's gonna be great,'" Luenell says. "The thing you may know, and this is true of any mother and especially a black mother. Don't lie to my kid.'"
So she has a Netflix special.
Luenell continues to pack the place at Kimmel's Club at 9:30 p.m. Sundays and Mondays. The comic performer best known her roles in "Borat," "A Star Is Born," "That's My Boy" and "Hotel Transylvania" now has a home in Las Vegas.
"We're definitely there through the end of the year, and probably into next year," Luenell says of her residency at Kimmel's club. "And if Dave wants to go for another special, Round 2, I will definitely let him."
The write opportunity
Troy Walker has embraced proven coming mechanism during the writers strike.
"There's alcohol," says the ace comedy writer. "There's overeating."
And, there's a stand-up performance. Walker is in the cast of "Jimmy Kimmel Live! Writers" at 7 p.m. and 9:30 on Friday and Saturday at JKCC. Devin Field, Bryan Cook, Jesse Joyce and Rory Albanese are set to appear both nights.
The Vegas shows were booked during the teeth of the Writers Guild Strike. A new contract was signed between the time I spoke with Walker last week and Friday's opening performance. Walker redoubled his live appearances as the strike ground on for nearly five months.
"I kind of immediately put my focus on stand-up. I feel like one of the things that makes it really hard, especially when you're a very creative person, is when that outlet is taken away from you," Walker says. "In one way, it helped just because I was able to keep writing, and I am working on an album in the spring."
Late-night talk shows were the first to be affected at the strike's onset, and are the first new shows to return with original programming. Kimmel plans to return on Monday, just after the "Kimmel Live! Writers" show premieres.
At the time of our chat, Walker was due to perform at High Plains Comedy Festival in his hometown of Denver.
"For me, I was building bits and material," Walker says. "I was honestly surprised at how I was able to start booking road stuff for myself pretty much immediately right after the strike started."
The concept of staging Kimmel's comics was actually suggested by Kimmel, who relayed this to his longtime friend and Vegas PR guru Jim Gentleman, who randomly shared it with the writers.
The conversation was during the Oscars telecast in March, which Kimmel hosted. The show's writers had earlier performed a "takeover" stand-up sets at clubs in L.A.
The new format could be one of those silver-lining opportunities, for the comics and the late-night show. It is conceivable to make a series for the writers to perform in Vegas, together or in rotation, and "throw" their pre-taped sets back to Kimmel's broadcast.
"I agree. And I would also like to ask, would you be my manager?" Walker says, laughing. "I like the way you think." Hey, around here, we just bow to the obvious.
Di Domenico delivers
John Di Domenico returned his Donald Trump adaptation to "The Howard Stern Show" on SirusXM on Monday. "Hello, broken weirdo Howard! Ugly on the outside, ugly in the inside," Di Domenico-as-Trump said after angrily knocking on the studio door.
"I just don't support your candidacy," Stern said. "Get over it."
The bit was based on the back-and-forth between Stern and Trump this month.
A fan on YouTube had criticized Stern for becoming "woke." Stern responded on his show Monday, "By the way, I kind of take that as a compliment, that I'm woke," Stern said. "If woke means I can't get behind Trump, which is what I think it means, or that I support people who want to be transgender or I'm for the vaccine, dude, call me woke as you (expletive) want."
Trump posted on his Truth Social account that Stern is a "broken weirdo" who "went woke."
Di Domenico has portrayed Trump since the days of "Celebrity Apprentice." Stern clearly loves having Di Domenico join the show. Monday will be his 46th appearance on the program since debuting in June 2020.
Cool Hang Alert
Ashley Fuller and the Collective still kick it up at the entrance of Brad Garrett's Comedy Club on Fridays and Saturdays. Garrett holds forth as host Saturday through Monday. Backed by her terrifically talented husband, Aaron Fuller, on guitar, Fuller also celebrated her fifth anniversary on Wednesday at Tuscany's Piazza lounge. Get there, anywhere, and get yer groove on.
John Katsilometes' column runs daily in the A section. His "PodKats!" podcast can be found at reviewjournal.com/podcasts. Contact him at jkatsilometes@reviewjournal.com. Follow @johnnykats on X, @JohnnyKats1 on Instagram.