LVMS founder recalls crash course in racing
Updated October 14, 2023 - 12:07 pm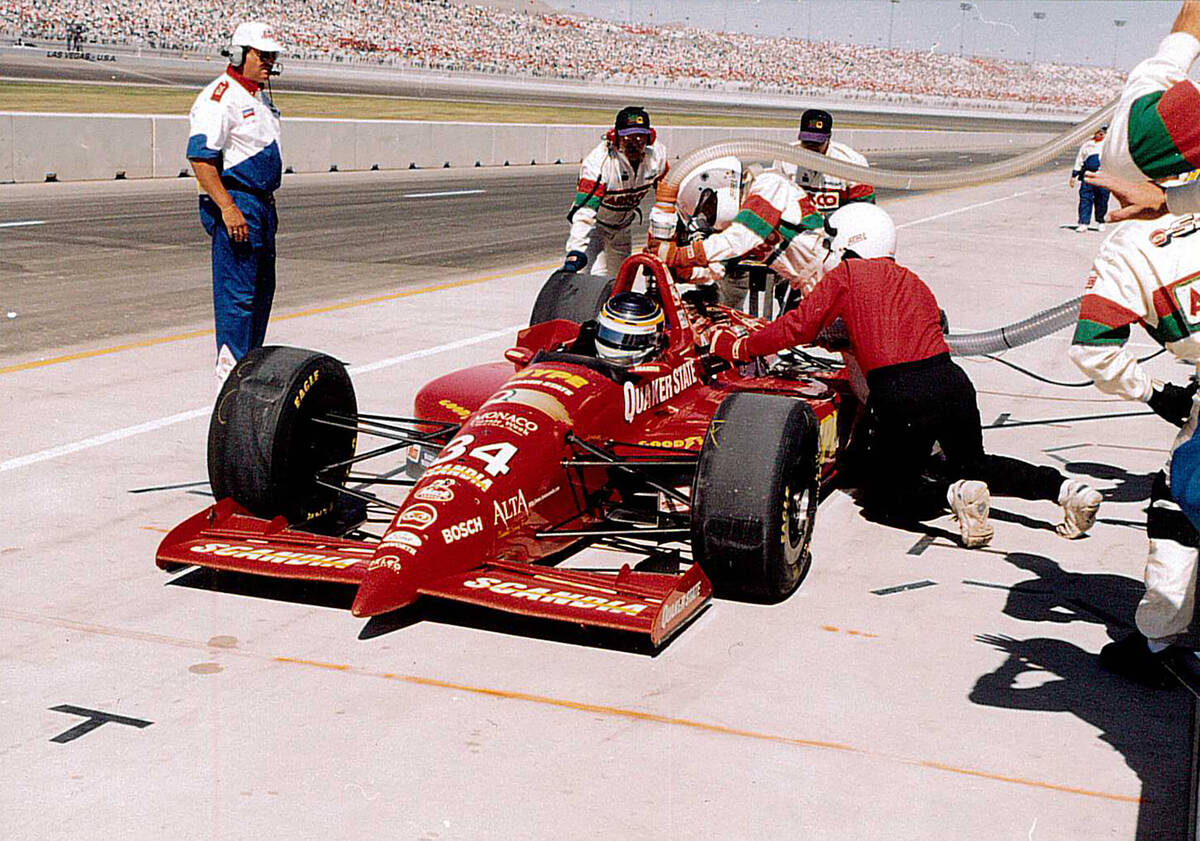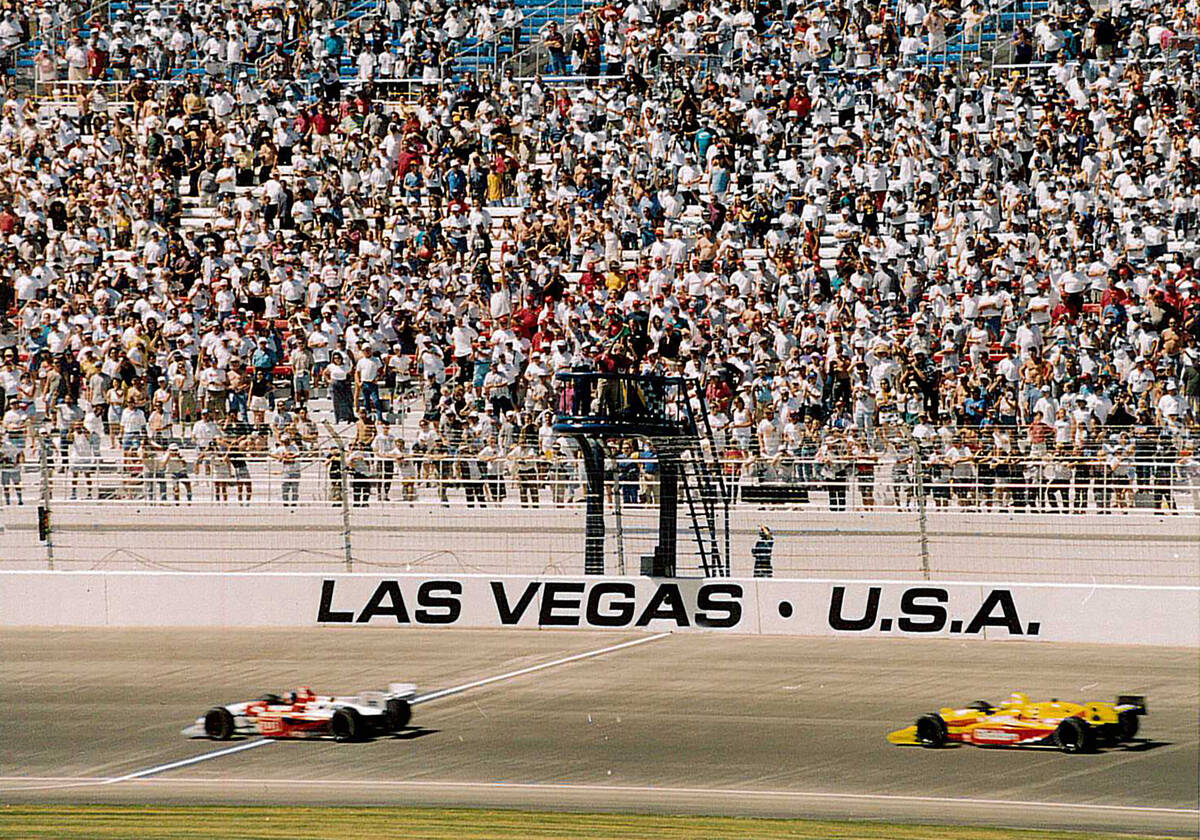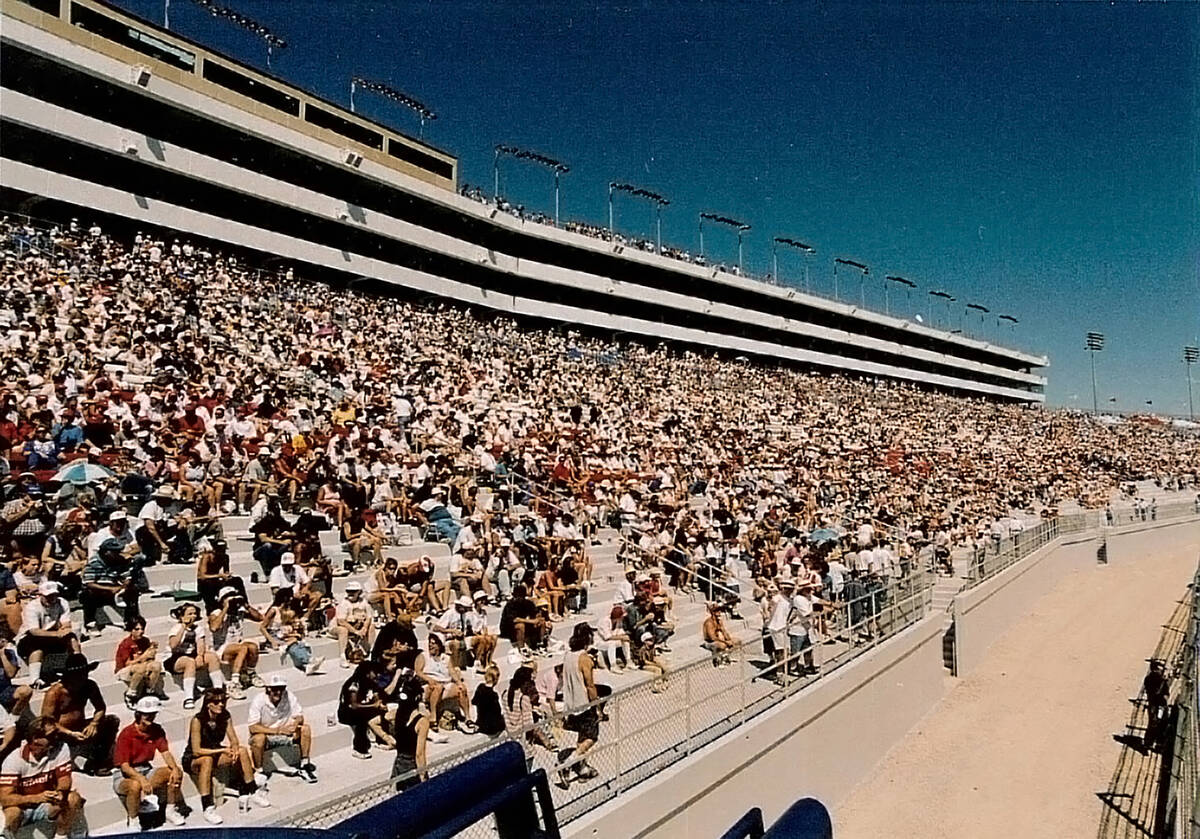 Much of my summer of '96 was spent moseying around Las Vegas Motor Speedway with Richie Clyne. I can't recall a time with Clyne when we weren't walking, sweating or cooling off.
Clyne was a visionary of LVMS, and tangentially of major events in Las Vegas. This was long before Electric Daisy Carnival would overtake the property. It was even before the facility would be awarded a NASCAR Cup race. The NASCAR Cup Series is of course an annual spectacle today, with the South Point 400 starting at 11:30 a.m. Sunday at LVMS's 1.5-mile tri-oval.
But in LVMS's infancy in '96, the sprawling complex was backed primarily by Ralph Engelstad, something of a mythic figure in Las Vegas as the independent owner of Imperial Palace. Engelstad's partner was the iconic Sahara owner William Bennett.
Englestad was especially behind the scenes in the LVMS development days. I don't believe I was ever in his presence, though I was dying to interview him. I ventured to the IP one afternoon and tried to reach the casino magnate on one of the house phones, to no avail.
But Clyne was ubiquitous. We toured the property, often tooling around in an LVMS-branded golf cart, as Clyne directed traffic at the news speedway.
"I just remember running around like a chicken with my head cut off," Clyne said in a recent phone chat from his home in Wolfeboro, New Hampshire, where he's had a residence for the past 30 years. "I was crazy, trying to get it all together. I was going 100 miles an hour and putting out little fires that really didn't add up to anything, but were all important things at the time."
LVMS was more than the tri-oval superspeedway. Its dirt track just off I-15 hosted the World of Outlaws sprint car series. The asphalt oval would become known as The Bullring for weekly racing. Three road courses were home to IMSA GT and AMA Superbike championship races.
LVMS was a beacon of promise leading to its first big-ticket event, the Indy Racing League's Las Vegas 500K. The excitement of the race on Sept. 15, 1996, was drawn from "Indy" in the title, related to the Indy 500. Popular Indy-car drivers Arie Luyendyk, Robby Gordon and Tony Stewart were in that opening lineup, as was the reigning Indy 500 champion, Buddy Lazier.
What I can tell you about that first IRL race, through the lens of time, was it was violent. Stiff September winds swept through the then-barren speedway property, throwing cars off-line and leading to nine caution delays, 83 laps run under yellow flag, one red flag and four drivers disentangled from their vehicles.
I recall Stewart hitting the wall in Turn 2 with such force his car just exploded. Shocks, bearings littered the track. And contender Johnny O'Connell flipped coming out of Turn 4 and cruised down the front straightaway — upside down.
For fans, logistics were a massive challenge, with much of the crowd arriving even during the race. The line of cars inching to the speedway was so long there were tales of fans tossing tickets to the wind, turning afield and heading home.
Richie Hearn, a top driver familiar to Indy fans, won that track-christening race. Even with all the cautions and crashes, the event was considered a success, drawing 67,132 spectators. Clyne had papered the crowd, issuing at least 10,000 free tickets to Air Force personnel stationed at Nellis Air Force Base. That made the race look full and fun on TV.
The running of that race demonstrated Las Vegas's potential a major-sports destination, outside of its championship boxing cards, and the days when the Runnin' Rebels were NCAA championship contenders (the speedway opened just six years after UNLV won the national title).
"When Ralph and I first started to talk about building this track, it seemed everybody who had a farm somewhere in the country said, 'We're gonna build a NASCAR track!' because they saw all the excitement of Talladega and Daytona and everywhere else," Clyne said. "I remember going to see some of the politicians with this idea, and they looked at me and said, 'You're kidding. How are you going to finance this?' And I said, 'Well, Ralph Engelstad is my partner.' Then it was, 'OK! We'll help you out.'"
The Winston Cup, today's Nextel Cup, held its first race at LVMS in March '98. The late Bruton Smith's Speedway Motorsports took over operations that December.
The 69-year-old Clyne spends couple months a year in Vegas, and plans to attend the SEMA show in February. He continues to oversee his classic-car collection, as former co-owner of the Imperial Palace Auto Collection. At the time of our chat, he was prepping for a Duesenberg show in Auburn, Indiana.
A member of the Southern Nevada Sports Hall of Fame, Clyne is clearly proud of his role in developing the speedway.
"I still think it's a fabulous facility," Clyne says. "I think Bruton Smith and his crew did a hell of a job, and they're still doing a great job. His son's taken over now, Marcus, and it is first class. I'll tell you one thing about this family, 20-something years later I still get an invitation to every major event.
"So I look back and I there is nothing bad, I don't think, 'I should have done this or that different.' It was all good."
John Katsilometes' column runs daily in the A section. His "PodKats!" podcast can be found at reviewjournal.com/podcasts. Contact him at jkatsilometes@reviewjournal.com. Follow @johnnykats on X, @JohnnyKats1 on Instagram.