'Marilyn' to close after only 23 shows on Las Vegas Strip
Updated June 9, 2018 - 11:28 pm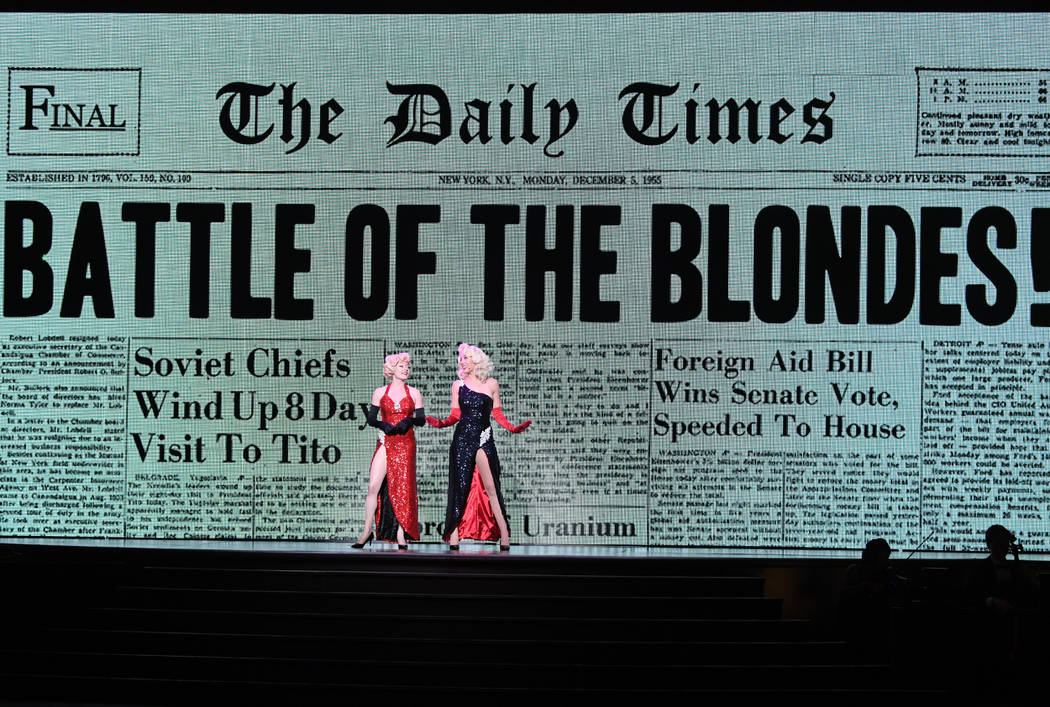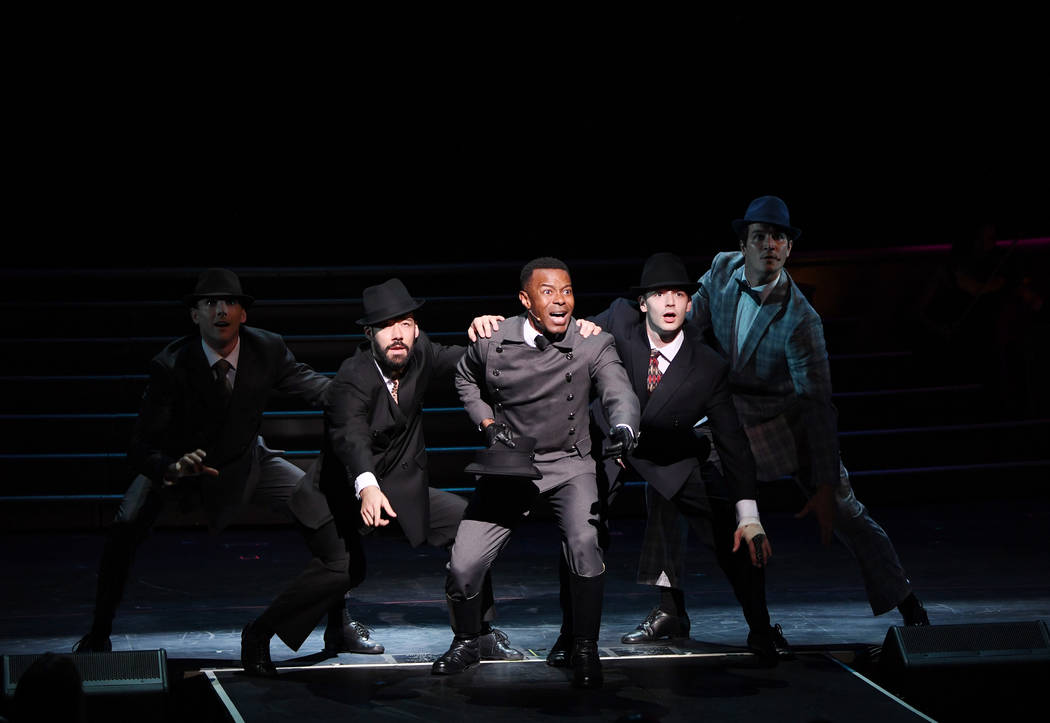 At the June 1 premiere of "Marilyn! A New Musical," the character Charlie the chauffeur kicked off the night with a monologue to introduce the show's storyline.
But the speech by the show's narrator, ably portrayed by Frank Lawson, was clipped off after about 90 seconds. The opening-night audience was still filing into Paris Theater.
The clumsy halt in the production's premiere proved a harbinger of what would come next — Friday's announcement that "Marilyn" is closing after its June 17 performance.
Counting its preview period, which opened May 23, "Marilyn" will have performed 23 shows at the Paris.
A news release announcing the closing date indicates the show plans to return Sept. 4. But this current version of "Marilyn" is closing, and any return of that title would be a new production — even if it were to share the same name. And the Vegas landscape is littered with shows "on hiatus" never to return (just ask the producers of "Surf The Musical," which ran at Planet Hollywood for six weeks in 2012 and has been on hiatus ever since).
Members of the "Marilyn" creative team were informed via e-mail that the show's closing of "this run" of the show would indeed fall on June 17. Those who have not been fully paid have been assured they would be compensated for their final two weeks of work.
Paying the cast on time has been one of the many challenges for "Marilyn." Sources familiar with the production say there was concern Friday afternoon that night's show would not be staged because the performers had not been properly compensated. "Marilyn" is an Actors' Equity production, and the show had risked violating Equity payment guidelines.
Sources also report that producer Tegan Summer, founder of Prospect House Entertainment, is seeking a new investor in the project. Those reports are in line with a production that has abruptly lost its primary funding and is forced to go dark while looking for more money.
"Marilyn" also suffered myriad unexpected obstacles, such as the late delivery of its stage set — reportedly producers used a company not experienced in furnishing sets to Strip production shows. Thus, the show's scenery, crucial to any production's aesthetics, was not completed until the week after its premiere.
But commonly, if a production show holds its financial investment, it can ride out such early production snags. It can also weather a poor reception.
Most early reviews for "Marilyn" ranged from tepid to scathing. The show's talented cast was undercut by more than sparse scenery. Critics especially complained of the show's laborious storyline, unremarkable score (aside from such famous numbers as "My Heart Belongs to Daddy," and the show-closing, "Diamonds Are a Girl's Best Friend") and the fact that Ruby Lewis's own soaring vocal range wiped out Monroe's nuanced personality.
The show's ticket sales were not terrific, but it did draw an audience. Official ticket sales have ranged between 200-300 per show (original reports were the show sold far fewer tickets than those figure). Along with sales to the general public, those figures include discounted tickets issued through the hotel's "Total Rewards" program, and also tickets purchased by brokers for re-sale.
Such discounts severely cut into the profit margin for any show, but they aren't typically low enough to undercut a new production. In fact, those figures are about in line with "Inferno," the magic-fire production that continues to share Paris Theater with "Marilyn."
The cast of "Marilyn" is already planning for its future after the show goes dark.
Lewis, who devoted up to four hours a day working with Summer on mastering the title role, said today, "I'm pretty bummed out. It's back to the drawing board, I'm afraid." Lewis, who left "Baz" at Palazzo Theater to join the production, is working on a new album. Other cast members, too, have indicated they are already turning attention to projects outside "Marilyn."
At this writing, Summer has not returned texts for comment about the show's closing, or what is the future of his production company. The producer, director and co-composer (with Gregory Nabours) of "Marilyn" moved his production company to Las Vegas last year with grand designs on delivering topnotch musical theater to the city.
Summer has become a well-connected scenester at Vegas events. He's enjoyed significant community support — The Space proprietor Mark Shunock (brought to the stage to re-introduce the show on opening night) is a longtime friend and confidant. For months, Summer has been in talks with a number of well-known and established Vegas performers about spots in his upcoming shows.
Summer, too, has regularly showcased new material at The Composers Showcase of Las Vegas at Myron's Cabaret Jazz. Helmed by ex-"Jersey Boys" music director and respected composer Keith Thompson, TCS is fertile ground for prospective stage performers. Those in the room have robustly applauded Summer's efforts to bring quality musical theater to Las Vegas showrooms.
The frustration from those who have supported "Marilyn" is the show seemed to boast great potential. Summer caught a break as he's moved into Las Vegas over the past year: This is a buyers' market for stage performers. Several high-caliber singers. dancers and musicians remain in Vegas from productions that have closed over the past few years — including "Jersey Boys," Steve Wynn's Showstoppers" at Wynn Las Vegas, "Rock of Ages" at the Rio and "Million Dollar Quartet" at Harrah's.
Reach further back and and you'll still find cast members from "Phantom — The Las Vegas Spectacular" at The Venetian, and even "Monty Python's Spamalot" at the Wynn.
Consequently, Summer built an all-star lineup, topped by Lewis in the lead role. Familiar performers abound elsewhere: Travis Cloer of "Jersey Boys" has played photog and Monroe confidant Milton Greene. Chris Fore, also of "Jersey Boys," has been Monroe's longtime soul mate Bill Pursel. Randal Keith of "Phantom" and "Showstoppers" (and going further back, "Les Miserables" on tour and Broadway, and "Spamalot" at the Wynn) has played producer Darryl Zanuck. Lindsay Roginski of "Showstoppers" was originally listed as Jane Russell — though that character's scene was evidently cut from the final performance – and in the ensemble. Sarah Lowe ("Jersey Boys") and Doug Crawford (now a veteran of four shows at Paris Theater — "Notre Dame de Paris," "We Will Rock You" and "Jersey Boys" — before "Marilyn") has been in the the ensemble and also swing in the production.
Along with "Marilyn," Summer has been developing "Bettie Page: A Burlesque Musical," also targeting a Caesars Entertainment venue. He has also secured licensing rights to the James Dean estate, and has been in talks with EDM superstar Steve Aoki for a yet another original musical.
But all of those plans, and all that talk, has been on hold as "Marilyn" opened at the Paris. The production's closing only opens more questions about the viability of its producers — and about the public's appetite for original musicals on the Las Vegas Strip.
Note: This version of the story corrects the official ticket sales for "Marilyn" at Paris Theater.
John Katsilometes' column runs daily in the A section. Contact him at jkatsilometes@reviewjournal.com. Follow @johnnykats on Twitter, @JohnnyKats1 on Instagram.