Mark Wahlberg wants Las Vegas premiere, Christmas release for new film
Updated March 29, 2023 - 12:01 pm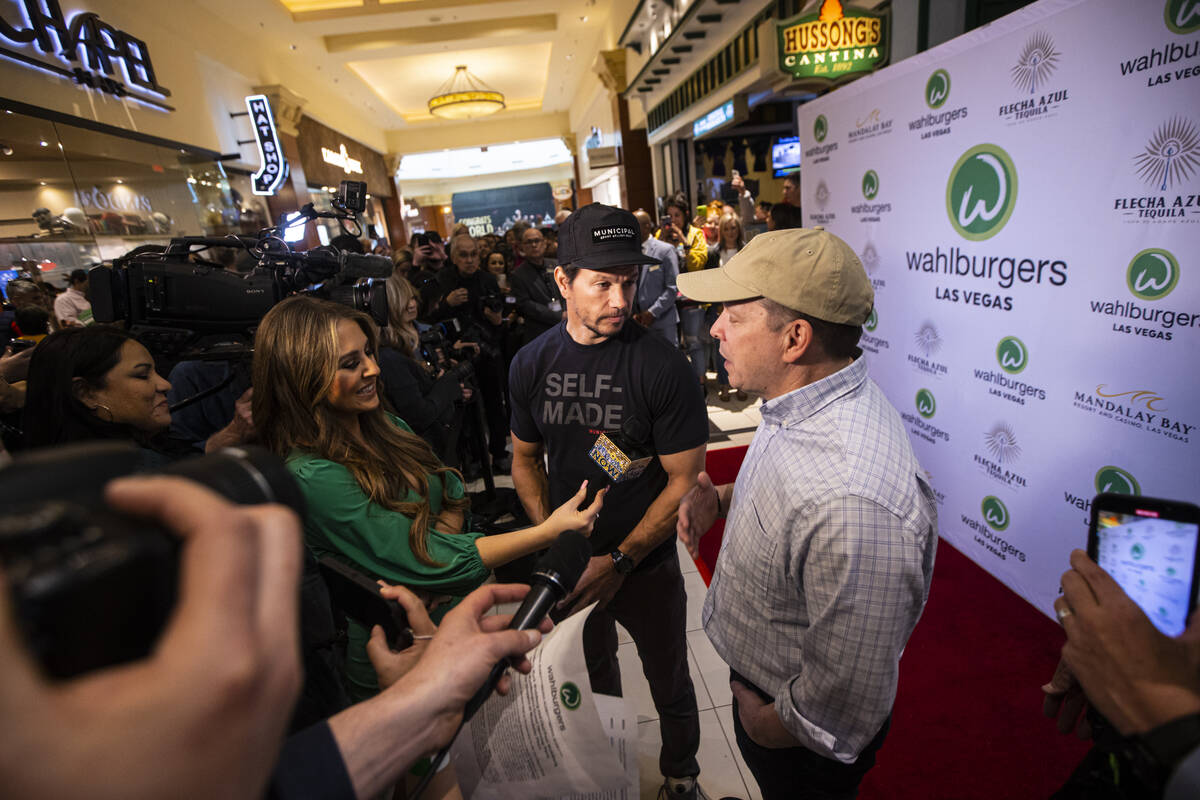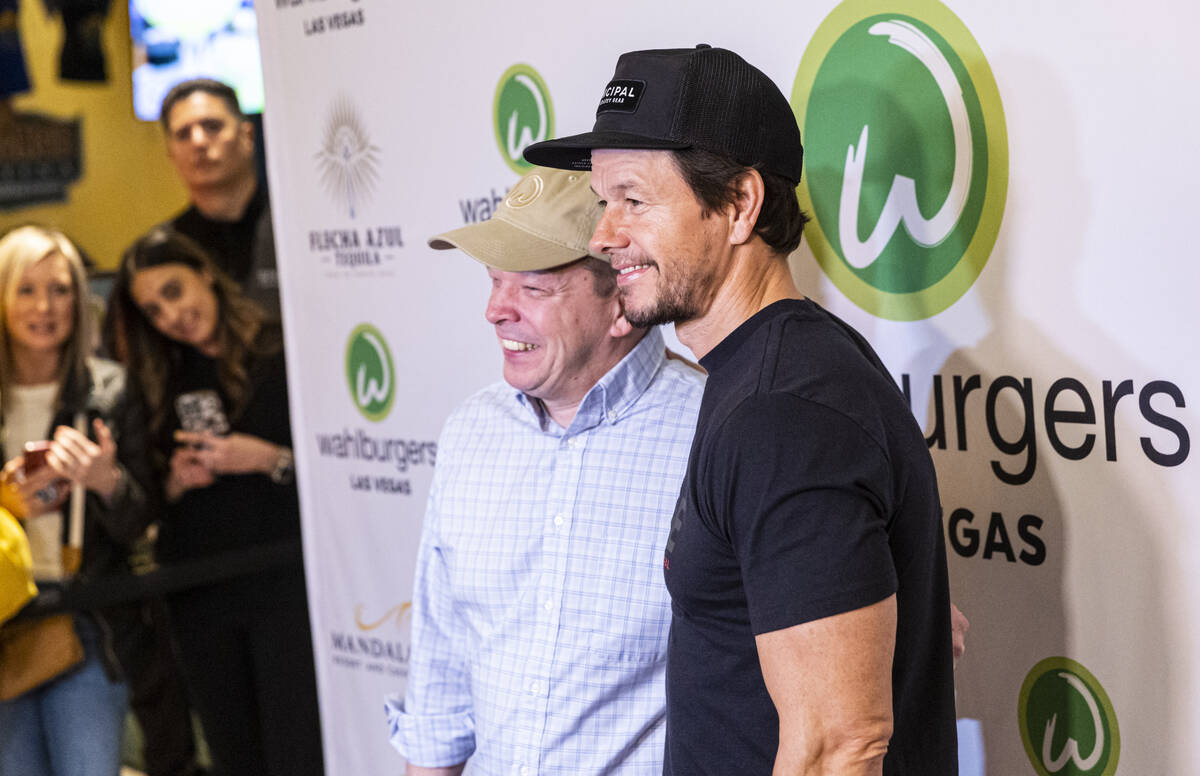 During an afternoon phone chat, Mark Wahlberg occasionally pauses.
To yawn.
He can be forgiven. Fulfilling an A-lister's interview demand alone can turn tedious. But it's more than that. Wahlberg pushes himself to his physical limits in his Las Vegas lifestyle. Check his Instagram Reels feed, from his F45 Training workout center's "4 a.m. club."
The acclaimed thespian lifts 70-pound kettle bells before you lift a cup of coffee. His idea of enjoying a six-pack is to lift his Municipal-branded workout shirt and display his midriff.
This is the routine of a movie star, recent Las Vegas local and avid entrepreneur. Wahlberg's latest venture is the second Strip outpost for Wahlburgers burger restaurant, at the Shoppes at Mandalay Place.
Wahlberg and his brother and chef Paul Wahlberg celebrated the business's grand opening late Monday afternoon and into the evening. The brothers were to receive a key to the Las Vegas Strip, but the movie actor in the family has already unlocked doors to that industry.
Wahlberg filmed scenes from his upcoming action-comedy "The Family Plan" at Aria, Bellagio, Caesars Palace, Hoover Dam, The Strat, Luxor and Plaza.
"We're thinking that it's going to be out this Christmas," Wahlberg says. "That's the plan, as of right now. It's not 110 percent, but that's kind of what we're gunning for, a Christmas release. I would love to do a big premiere here in Nevada, our new home."
The film centers on an assassin living anonymously as a suburban father, who takes his unaware family on the run when his past catches up to him. Simon Cellan Jones (who collaborated with Wahlberg on "Arthur the King" directs and co-stars, along with Michelle Monaghan, Maggie Q, Zoe Colletti, Van Crosby and Ciaran Hinds.
Las Vegas is featured prominently in the film. The city has become Wahlberg's chosen staging ground, and the center of his studio operations. This is the latest advancement of Wahlberg's "Hollywood 2.0" plan for Las Vegas, and even the entire state.
"I want to build a studio here, along with Sony, We plan on moving all of our film and television production here, for the most part," says Wahlberg, who plans to take his case for tax incentives for studios to produce movies and TV projects in the state. "I don't think Sony shoots on any of their stages in Los Angeles. Those are all rented out. So They committed to moving all their film and television productions here."
And don't forget the footwear.
"We want to build a shoe factory here," says Wahlberg, an investor in the P448 shoe brand in the StreetTrend apparel company. "But, if we just build the studio, the way we see its projections, in five years we could add 10,000 jobs in the state, on the studio lot alone."
That doesn't count Wahlberg's five F45 Training centers around the valley, including one in the Arts District. "I was just there over the weekend," he says. He's a partner in the Flecha Azul Tequila, which he sometimes sips on the links.
Wahlberg actually moved to his mansion at The Summit Club last August. Wahlberg and his wife, model Rhea Durham, and kids Ella, Michael, Brendan and Grace are all made the trek from L.A. Ella is now going to college out of state. Michael attends Bishop Gorman High with Brendan following next year and Grace two years after that.
"Gorman is incredible," Wahlberg says. "I went to the opening football game. So cool. Incredible … All the kids are just ecstatic about living here."
Wahlberg golfs regularly at The Summit, another highight of his Instagram feed. He's honing his game to while playing with his son Michael, who is trying out for the Gaels' golf team next year.
"The last time I had a handicap, I was as low as 5 but I've been as high as 13.9," Wahlberg says. "I went out this morning, to play golf, and it was freezing. That's the only thing I haven't been able to get a handle on, is the weather this year and how cold it has been. Everyone tells me that's not the norm. I'm ready for it to be nice."
Wahlberg has become immersed in the city's array of unique hospitality, recreation and entertainment amenities.
"I've found so many cool spots, restaurants, golf, shows, concerts," Wahlberg says. "I mean, I don't I don't gamble and I'm not a nightlife guy. But I've been to Adele, Bruno Mars, 'Michael Jackson One.' So many cool shows, so many cool restaurants up in Summerlin. I hate to just mention one because I have so many friends, and they all have their places, and they're all been big supporters."
Wahlberg is still picking up some nuances, as a recent Las Vegas local. He occasionally slips in the pronunciation of "Nevada," saying the "a" as in "palm" rather than as in "apple." This happens to many new residents. Visiting broadcasters have often practiced saying "Nevada" over and over before going on-air.
"Hopefully, this is the last reminder that I need," Wahlberg says. "Am I a Nevad-ian?"
"Nevadan."
"Nevadan. You should help me with my Boston accent," Wahlberg says with a laugh. Moments later he says, "I didn't expect to be to be welcomed such love and support and appreciation, whether it's at church or at the supermarket. I mean, people here have just been very, very kind and very thoughtful. It's a great sense of community."
Cool Hang Alert
Going with "The Fourmers," on Wednesday and Thursday night at Italian American Club Showroom. This is the recently "fourmed" "fourmer "Jersey Boys" foursome of Jeff Leibow, Deven May, Doug Crawford and Buck Hujabre.
Sal Cucco and Brett Raymer Entertainment (late of the "Tanked" series) co-produce. Expect Four Seasons hits along with the collective stories about performing in Vegas. This is a show only, dinner not included, doors at 7 p.m., performance at 8 p.m.
John Katsilometes' column runs daily in the A section. His "PodKats!" podcast can be found at reviewjournal.com/podcasts. Contact him at jkatsilometes@reviewjournal.com. Follow @johnnykats on Twitter, @JohnnyKats1 on Instagram.