Martin and Lewis and a Labor Day reunion remembered
September 2, 2016 - 8:30 pm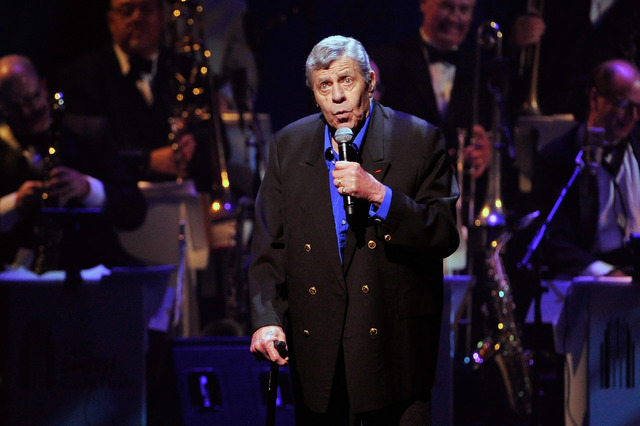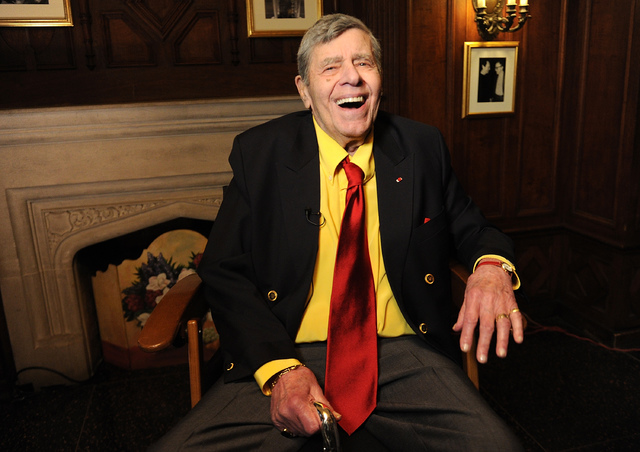 Jerry Lewis vividly recalls that long walk.
"It was the longest 50 steps I have seen in my life," Lewis says of one of the more memorable moments of his life, and also TV history, 40 years ago this weekend. "I didn't know what to do or what to say."
Approaching Lewis, wearing a tux and moving in a measured swagger, was his longtime partner, Dean Martin. The stage was at Sahara. The protagonist was none other than Frank Sinatra, and the televised event was the 1976 "MDA Labor Day Telethon."
"I couldn't believe it. I was stunned," says Lewis, who has watched the famous clip dozens of times and still uses it as part of his multimedia stage show. "Frank had set it up, and everyone knew about it except me. When Dean finally got to me, onstage, I was able to say, 'So, are you working?' That broke him up, it broke the ice and got our friendship back on track."
The two spoke regularly for 20 years after that legendary reunion, up until Martin's death in 1995. Lewis, at age 90, has since ceased his involvement in the Muscular Dystrophy Association after he and the organization acrimoniously cut their formal partnership after the 2010 broadcast.
Lewis did record a video for the organization this February, helping to promote its new logo and tagline, but says his charity involvement is finished. "I couldn't do another telethon, no. No more. I can't give it any more than I gave it."
This weekend, the new Lewis film, "Max Rose," opens in New York. The Las Vegas premiere event for the film is set for Sept. 24 at Regal Village Square. Lewis is also set to return to the stage at South Point Showroom Sept. 30-Oct. 2. He has also noted the development of a stage play based on the Martin & Lewis team he hopes to bring to Broadway by the end of 2017.
"We are in contractual discussions; it's all very fresh and new right now," Lewis says. "But what we want to do is sell a Broadway show about two people who were very famous." And, thanks to the miracle of videotape, still are.
ACTIVITY GROUNDED
There is reason for concern about the return of Rock in Rio USA to MGM Resorts Festival Grounds next May. To be honest, there has been reason for concern for months, as RiR officials have yet to formally commit to a return to the 50-acre parcel on the southwest corner of Las Vegas Boulevard and Sahara Avenue. MGM Resorts officials are expecting some official word on the event by the end of this month.
The unsteady future of Rock in Rio USA, which lost somewhere in the neighborhood of $24 million to $28 million in its Vegas debut last May, is paired with the uncertainty surrounding the return of the ACM Party for a Cause event.
That festival, staged as part of the "Academy of Country Music Awards" telecast from MGM Grand Garden, was held at the Festival Grounds for the first time in April. The attendance of more than 54,000 for three concerts headlined by superstars Carrie Underwood, Dierks Bentleyand Kenny Chesney matched pre-attendance estimates. But the show's future turned murky when Bob Romeo, the head of the Academy of Country Music and the chief proponent of staging the show at that site, left the organization in April. The new regime has yet to lock in a return to the MGM Resorts Festival Grounds, where at the moment no event of any type is scheduled.
S&R MOURN BONNIE BRYAN
Siegfried & Roy passed along a message following the death of Bonnie Bryan, wife of former Nevada Gov. and U.S. Sen. Richard Bryan, who died on Tuesday at age 77 after a battle with leukemia.
"Siegfried and Roy were devastated to hear about the passing of Dear Bonnie," said S&R's friend and confidant Lynette Chappell, who played the Evil Queen in the the duo's stage show. "Richard was actually their first attorney when they came to Las Vegas in the late-1960s (as a side act in "Lido de Paris" at the Stardust). Bonnie will always be our first lady."
THE FINAL VALLI
The closing of "Jersey Boys" at Paris Las Vegas this month had raised the question of which performer who portrays Frankie Valli in the musical would actually sing the send-off. That falls to Travis Cloer,who will assume the role in the final performance on Sept. 18. It is fitting, as Cloer has been a part of the show since just a few weeks after it opened at Palazzo in 2008. Graham Fenton, who has alternated the Valli role with Cloer since arriving in Vegas in October 2011, makes his final appearance on Sept. 17.
John Katsilometes' column runs Saturday, Sunday, Tuesday and Thursday in the A section. He also hosts "Kats! On The Radio" Wednesdays at 8 p.m. on KUNV 91.5-FM and appears Wednesdays at 11 a.m. with Dayna Roselli on KTNV Channel 13. Contact him at jkatsilometes@reviewjournal.com. Follow @johnnykats on Twitter, @JohnnyKats1 on Instagram.