Marty's party marks No. 95, and he's not finished
Updated March 25, 2017 - 10:24 am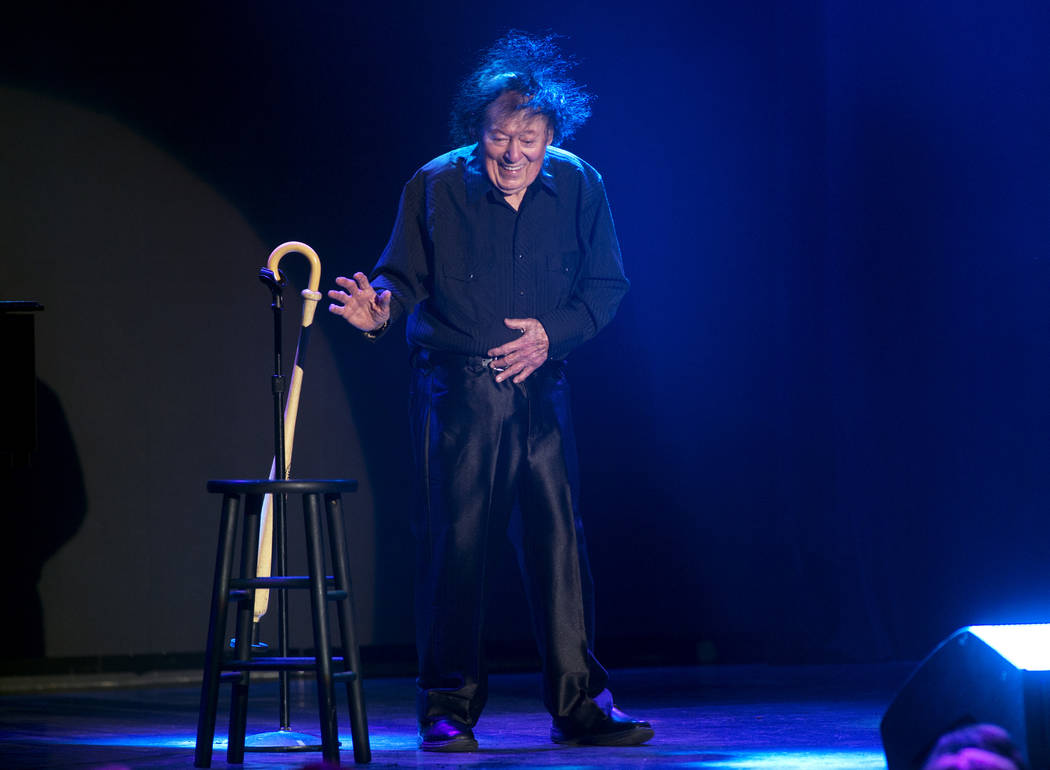 In an episode of "Hollywood Palace" that aired in April 1966, Marty Allen allowed fellow comic Martha Raye to dump milk, eggs and cake mix onto his famous mop of hair. The resulting glop was then baked by a giant hair dryer, creating a cake atop his head.
This bold skit played out across the country on live TV.
But it wasn't Allen's bravest act. Saving a fighter plane from being devoured by a fire from a fueling truck in World War II easily tops the list.
The great comedian, WWII veteran and, yes, dancer celebrated his 95th birthday at South Point Showroom Wednesday night. He recalled the day he was stationed in Italy with the 15th Air Force, when sparks from a fuel truck touched off a fire in a plane. Allen prevented an explosion by driving the fuel truck away, returning to the bomb bay of the fighter and rolling across the flames to extinguish the fire.
For his heroic actions, Allen received the Soldier's Medal.
Then he returned to comedy.
He was back Thursday with his wife, Karon Kate Blackwell, serving as emcee, musical host and ringleader. The event filled the showroom with 400 friends and fans. He told a few jokes, vintage in nature, including: "I told my wife I wanted an antique for my birthday. So she framed my birth certificate."
And this exchange as puppet, Buddy, operated by Blackwell, as ventriloquist: "I had a hundred fights." "How many did you lose?" "One-hundred fights." "How do you explain that?" "You can't win them all."
Clips from Allen's career were stitched with Blackwell's many musical numbers, including "God Bless The USA," which makes Marty cry, every time. Clips of Allen dancing it up during a performance on "The Dean Martin Show" and photos of him with Steve Rossi during The Beatles' first appearance "The Ed Sullivan Show" were shown. John Lennon, wearing sunglasses showing Allen's reflection, is shown laughing at the comic's line, "People often mistake me for you."
"I'm so grateful to have so many friends here!" Allen said afterward while posing for photos. "So many people remember me." He is not finished at age 95, appearing at Rampart Casino at 7:30 p.m. April 21, and also at the Mill Valley (Calif.) Throckmorton Theatre, joining 90-year-old Mort Sahl, on May 4.
At the end of the show, Allen placed his familiar Louisville Slugger walking cane on a hook at the piano and performed a little jig as his wife sang, ""Boogie and Beethoven" at the piano. There was a regal quality to Allen's dance, as he froze in the middle and waited again for all that applause.
THE BOLD MOVE
You see it all the time in VegasVille: The soap-opera-star-turned-country-artist headlining in a Strip comedy club.
Maybe not. But Jacob Young is such an artist, bringing his country showcase to the Laugh Factory at 5 p.m. Sunday and 7 p.m. Monday. Young is the first purely musical headliner at the Laugh Factory club. He's big in the daytime-drama world, known for playing JR Chandler on ABC's "All My Children" and Rick Forrester on "The Bold and the Beautiful." But he has long written and performed as a country artist, though his career was derailed in September 2001. His first album, "Life is Good," was actually issued on 9/11, which explains its lack of discernible consumer response.
"I finally decided to kick myself in the butt and finish an album," Young says. "I've never stopped playing or writing. This is my passion."
Young booked the room through Mark Rozzano, business manager of Jerry Lewis. Club operator Harry Basil (headlining in the Laugh Factory comedy lineup this weekend) is a serious Lewis fan, as is Young himself.
The actor-musician even owns a pair of Lewis' famed slip-on shoes, with theatrical comedy and tragedy masks. The two met in 2006, in New York, when Young was about to join the cast of "Beauty & The Beast" on Broadway. A star-struck Young said something to the effect of, "Nice shoes," to Lewis, who summarily pulled them off his feet and handed them to Young for good luck. They are a half-size too large for Young's feet, but the luck is one-size-fits-all.
'ZERO IMPACT' ON WYNN PLAZA
The decision by Wynn Resorts to cut its retail project at Wynn Boston Harbor will have no impact on Wynn Plaza at Wynn Las Vegas, set to open this fall. The retail promenade, which faces the Strip, will cover more than 75,000 square feet. The original plan for the casino in Everett, Mass., was for 53,000 square feet of retail shops, now reduced to 9,000.
It turns out the region is not eager for more Chanel, Armani, Gucci and Louis Vuitton stores. But scaling back such high-end retail boutiques is not a company-wide strategy, says Wynn spokesman Michael Weaver.
"The Wynn Boston Harbor decision was very specific to Boston. We determined we needed more meeting space and dining options, and consequently we reduced the amount of retail," Weaver said in an e-mail message. "Boston is under-resourced in convention and meeting space and given the size of the resort, we needed more restaurants. The reduction of retail was a by-product of that decision. It has zero impact on Wynn Plaza."
WHO WAS WHERE
On Thursday, rapper and music producer Lil Jon at Drai's Nightclub at The Cromwell during "The Coolest Party with DJ Esco." Also in the club: Arizona Cardinals tight end Jermaine Gresham and Denver Broncos wide receiver Cody Latimer … Thursday at Topgolf at MGM Grand, comic Nick Swardson, headlining this weekend at Terry Fator Theater at the Mirage.
John Katsilometes' column runs daily in the A section, and Fridays in Neon. He also hosts "Kats! On The Radio" Wednesdays at 8 p.m. on KUNV 91.5-FM and appears Wednesdays at 11 a.m. with Dayna Roselli on KTNV Channel 13. Contact him at jkatsilometes@reviewjournal.com. Follow @johnnykats on Twitter, @JohnnyKats1 on Instagram.