Matt Goss savoring his final shows at Caesars Palace
September 15, 2016 - 11:58 am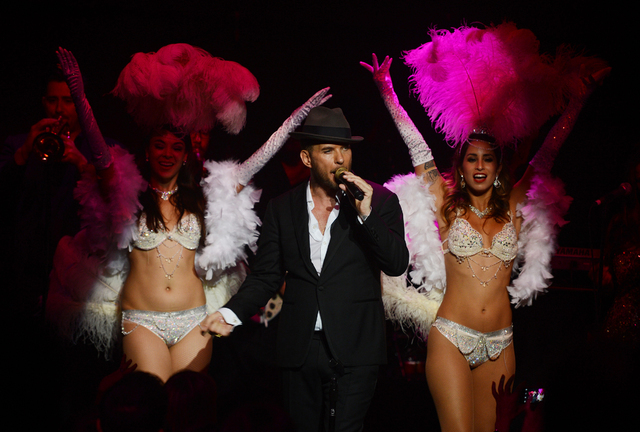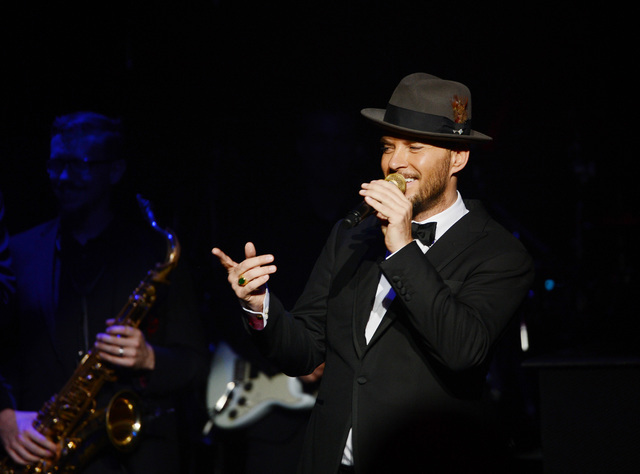 To fans of live entertainment on the Strip, the Gossy Room is a rollicking music club.
To Matt Goss, it's more like his living room.
It may bear his name, but the Gossy Room holds much more meaning for velvet-voiced, British-born Matt Goss, who's spent the past six years singing swinging tunes on stage at the Caesars Palace venue.
"The Gossy Room has my DNA," Matt Goss said recently during a quiet moment at his Las Vegas home. "It is where my mum saw me perform for the last time in America. My blood — from my fingers, playing the guitar — sweat and tears are in the carpet at the Gossy Room."
And it is where Goss, whose expressive vocals and original songs left audiences swooning, regularly shared his feelings with the crowd. Less than a week after the death of his mother, Carol, in 2014 from breast cancer, Goss wept his way through a show.
"I have a tattoo that says, 'Never Waste Good Agony,' and I believe that," the 47-year-old Goss says, showing that ink on his left arm. "If you think songs come from a joyous place, that's very, very untrue. Absolutely not true."
His heart is heavy these days after the announcement that his show will close Sept. 24.
While he is expected to be an investor in the venue's next iteration, he says he will not perform again in that space.
It's no secret around the Vegas entertainment scene that Goss has been in talks with The Venetian about a new partnership, but nobody will confirm those talks on the record. In the meantime, Goss is savoring his last performances and focusing on recording a new album.
On Sept. 25, less than 12 hours after his final bows and goodbyes at the Gossy Room, he plans to fly to London to prepare for an Oct. 1 show at SSE Arena in Wembley.
Goss creates a stir whenever he returns to his home country, where nostalgic fans remember him from his hit-making period with the pop act Bros, starring Matt and twin brother Luke. (They sold more than 16 million records and filled Wembley Stadium in their final performance in 1989.)
"For me, emotionally, I think it's the way to tip my hat at the right moment," Goss said. "I have made many friends, and when I say the people at Caesars are like my family, I mean it. These are not just people with name tags."
Over the years Goss became accustomed to playing for audiences in which a large swath of the room "had no clue" about his former boy band success.
But it was his international name recognition that landed Goss his first Vegas gig performing at the Palms. Employing a jet-plane motif designed by his then-producer Robin Antin of "Pussycat Dolls" fame, Goss was a hot ticket for six months.
Then Caesars Palace President Gary Selesner and his team invited him to dine at Beijing Noodle No. 9 at Caesars, Goss recalled. After a short conversation and a handshake, Goss became a headliner at a world-famous hotel on the Strip.
Backed by a ripping seven-piece band, two backing singers and the ever-present Dirty Virgins dance troupe, Goss drew an impressive array of newsmakers and celebs.
Over the years, Steve and Andrea Wynn, Wayne Newton, Dick Clark, Floyd Mayweather Jr. and Jason Statham all took in the Gossy experience. Jerry Lewis has been in the audience, and hung around afterward for an hour telling Goss old stories about Caesars. Goss was invited to join Newton and Donny &Marie Osmond as the featured entertainers at the hotel's 50th-anniversary celebration in August.
Those who wondered what a top-notch show in Vegas felt like when Frank and the boys ruled the Strip found and felt that vibe in the Gossy Room. Always well-appointed in his impeccably tailored tuxes, he added even more debonair flair by donning one of his dozens of fedoras.
Goss' hypnotically appealing scent, too, has became something of a personal signature. He won't reveal the source of what could be described as a heady blend of Paco Rabanne Invictus, Old Spice and Diet Cherry Coke. Goss calls the essence "Unicorn Sweat," jokingly explaining that he rides a unicorn for at least 12 hours to acquire a single drop.
Hey, whatever works. The ladies seem to like it.
Fragrance aside, Goss admits he has had a magical ride at Caesars Palace.
"Vegas taught me composure, it taught me not to be freaked out by people who have no clue who you are, and knowing that your music is good enough to reel them in, and trusting what you do," Goss said. "This period has allowed me, in many ways, to grow. I can't imagine what it's going to be like, driving out of Caesars as a civilian."
But he does know this: "In that last show, I'll have a few drinks, and I'll have a cry."
John Katsilometes' column runs Saturday, Sunday, Tuesday and Thursday in the A section and Friday in Neon. He also hosts "Kats! On The Radio" at 8 p.m. Wednesday on KUNV-FM, 91.5, and appears at 11 a.m. Wednesday with Dayna Roselli on KTNV, Channel 13. Contact him at jkatsilometes@reviewjournal.com. Follow @johnnykats on Twitter and @JohnnyKats1 on Instagram.