Mona Lisa helps inspire new Santana music trilogy
Updated November 3, 2018 - 9:05 pm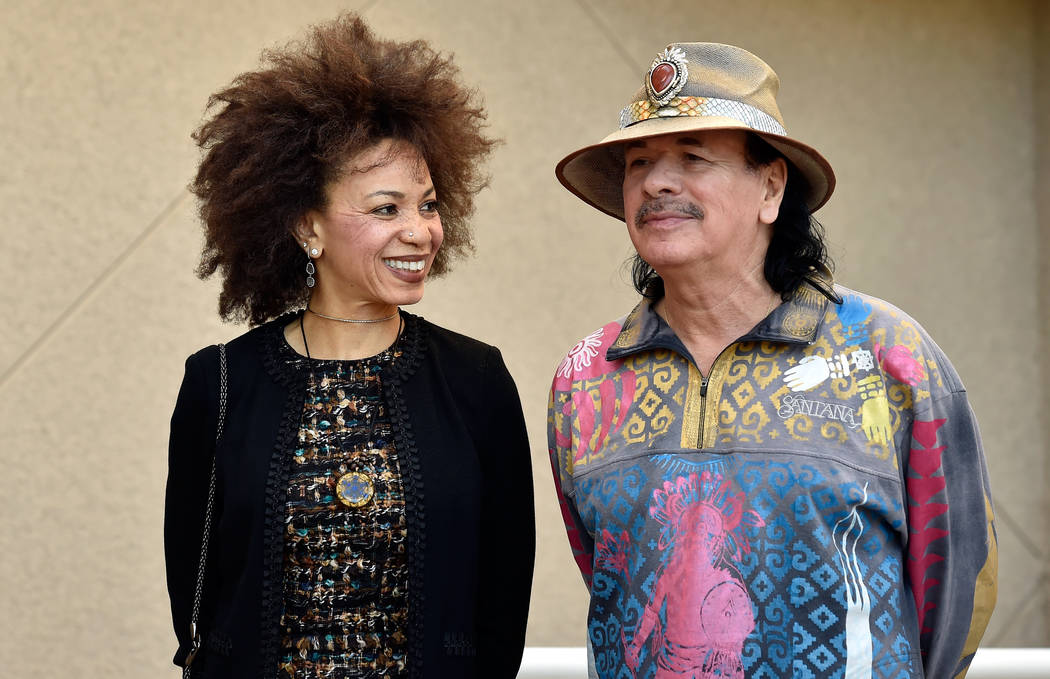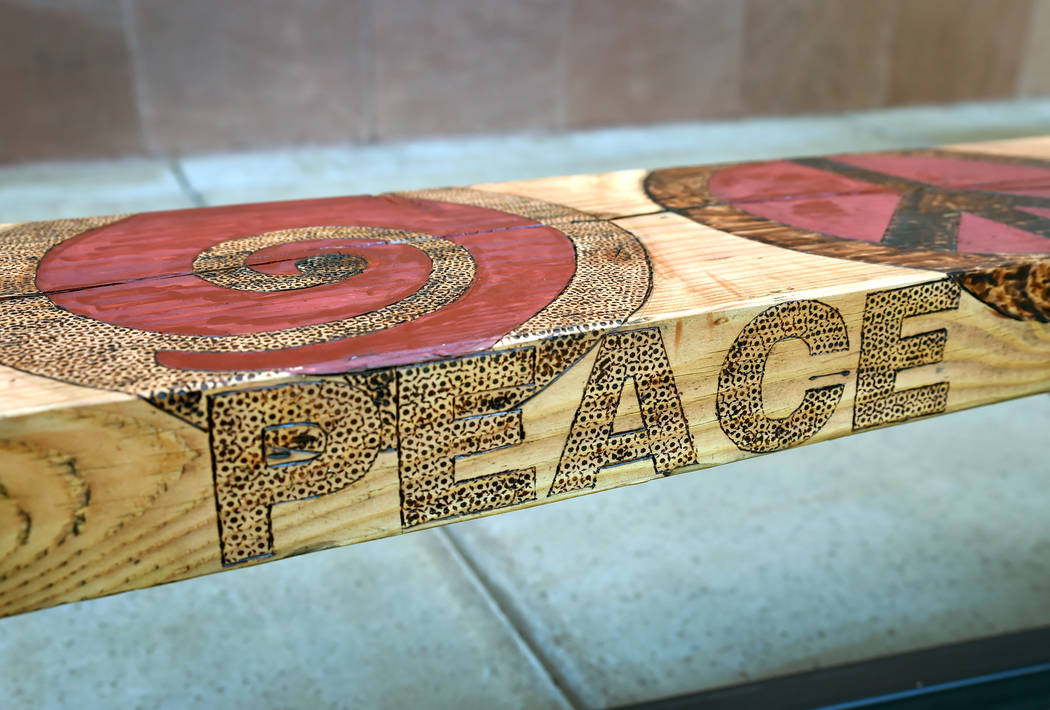 Carlos Santana disclosed a past romance the other day. His was a brazen description of a long-lost love, even as his wife, Cindy Blackman Santana, sat at his side.
The object of his affection was a woman named Mona Lisa. The woman in Leonardo da Vinci's world-famous portrait would become the muse for a Santana music trilogy.
In the guitar great's retelling of how this came to be, he and Cindy were on a 2016 trip to Paris. She suggested a visit to the Louvre to see the great painting.
"I've never seen Mona Lisa, and I've been visiting Paris since 1970," Santana said in a chat at Henderson City Hall prior to the public dedication of the third art piece and bench in his ongoing partnership with Habitat for Humanity. "So we got in this line, and I'm telling you this line was bigger than the line to see most acts today. It was gi-mungous!"
Santana, an unquestioned rock legend whose residency at House of Blues at Mandalay Bay continues on Wednesday, Friday, Saturday and Nov. 11, waited in that line.
"Once we got to her, through all these corridors — it took forever — we see that she has her own air-conditioned room," he said. "There was like a sea of Japanese tourists, just taking pictures. Once I finally moved close, and got next to her, I'm looking at Mona Lisa and I'm like, 'Woooow!' "
Santana says Mona Lisa spoke to him. For real.
"And she says — I swear to you — she says, 'Hiii!' And I say, 'Hiii!' And she says, 'Do you remember when we were lovers?' " Santana, now grinning, recalled. "Now, I'm not stupid, I'm not going to say, 'No.' So I said, 'Yeah!'"
I offer, "This would be long before Cindy was around, right?"
"Oh, it was a long time ago," she said, laughing. "It was more than a couple of years ago. Actually, it was centuries ago."
Inspired by this moment, Santana has written a piece titled, "In Search of Mona Lisa." Cindy is on drums and one of Santana's music heroes, Ron Carter, is on bass.
"It's so beautiful," Cindy said, as Santana added, "It's a musical trilogy and I can't wait for everyone to hear it."
As for the business at hand, Santana's bench-art partnership has resulted in three pieces developed by Las Vegas woodworker Kerm Sablan and artist Justin Lepper. The first two pieces read LOVE and MUSIC, and are on display at House of Blues. The third says PEACE AND LOVE, and all of the benches will be moved to Henderson's historic Pittman neighborhood next year.
I asked Santana if the project, which is to produce a total of five benches, could be expanded to maybe dozens of pieces spreading love and joy all over the city. "You never know, we have had the Cow Parade, all those cows as art, before," he said. "I wouldn't mind seeing a lot of these benches around." Somehow, I feel his former flame would agree.
A Clay doc
Master of reinvention and Las Vegas resident Andrew Dice Clay is the focus of an upcoming documentary being directed by John Singleton, who directed "Boyz n the Hood" and "2 Fast 2 Furious." The yet-untitled movie, with a yet-unannounced released date, will be produced by Gene Kirkwood, the executive producer behind "Rocky" and "The Defiant Ones."
On Oct. 12, as news of the project broke, Clay told the New York Post's Page Six, "This isn't going to be some documentary where we show the rise and fall and rise again. When people are done watching this, they're going to really see who Andrew Dice Clay/Andrew Silverstein really is."
In text Saturday, Clay declined comment. Riding high as a cast member in the Lady Gaga-Bradley Cooper hit "A Star is Born," Clay is back at Laugh Factory at Tropicana Nov. 30-Dec. 2.
Ruvo doc on PBS
"Power of Love," a documentary centering on the Ruvo family and the Cleveland Clinic Lou Ruvo Center for Brain Health, airs at 10 p.m. Monday on PBS in Las Vegas. The doc will repeat throughout the month (check local listings, as we say), as November is national Alzheimer's Awareness Month. A screening of a segment from the documentary was held Thursday night at the Cleveland Clinic's Keep Memory Alive Event Center.
Largely a project of KMA board member Michael Severino of Southern Glazer's Wine and Spirits, the project focuses on the relationship between Larry Ruvo and his father, Lou, who succumbed to Alzheimer's in 1994 and was the inspiration for the center named for him in Symphony Park.
"I'm overwhelmed by the exposure by the KMA will receive because of PBS," Ruvo said in a phone chat Saturday. "Because of this documentary, what happens in Vegas won't stay in Vegas. It will go across the country."
Cool Hang Alert
Le Cabaret at Paris Las Vegas is Groove Central every night of the week. The lineup rotates between veteran Vegas lounge act Jamm, Pop Rebels, Status and These Guys Worldwide. The grooving is so strong that every night is a viral video, waiting to happen. Hours are 9 p.m.-1 a.m. weekdays, 9 p.m.-2 a.m. weekends. The cover is "none," and bring yer dancin' shoes.
John Katsilometes' column runs daily in the A section. Contact him at jkatsilometes@reviewjournal.com. Follow @johnnykats on Twitter, @JohnnyKats1 on Instagram.