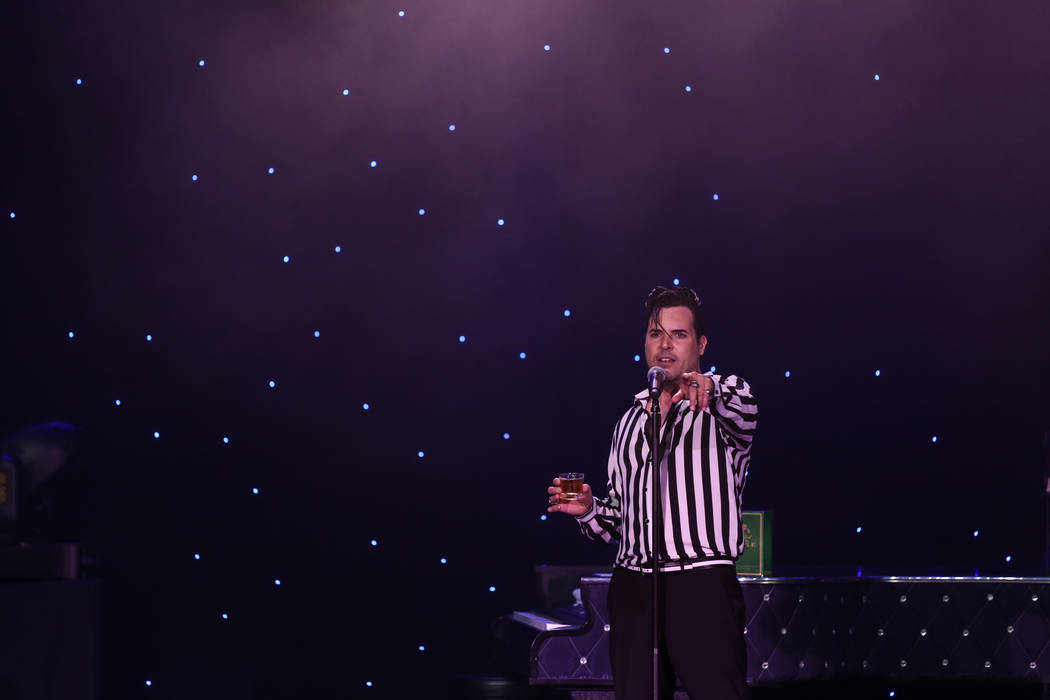 Frankie Moreno peered at the crowd at Suncoast Showroom last Saturday, turned to his band and said, "Imagine if all the people in this front section were behind us, playing music. That's what it's going to feel like next weekend."
Moreno was speaking specifically of his headlining appearances Friday and Saturday at John F. Kennedy Center for the Performing Arts in Washington D.C. In a show titled "Blue Suede Tunes," Moreno and his core band will be backed by the 96-piece National Symphony Orchestra.
The production also features the famed dancers Lacey Schwimmer (late of "Dancing With the Stars") and her brother, Benji Schwimmer (late of "So You Think You Can Dance"), performing in four numbers.
"This is a big thing, a really big thing, for all of us," Moreno said Wednesday morning. "What's great is we get to mix originals in with a few covers, and having that orchestra behind us is going to feel incredible."
Moreno's set list is to feature such rock 'n' roll classics already in his Vegas shows, including "Great Balls of Fire" and "Wild One" by Jerry Lee Lewis, The Beatles' "Eleanor Rigby," Simon & Garfunkel's "Bridge Over Troubled Water" and a show-opening "Roll Over Beethoven." The "Blue Suede Tunes" title was to imply a show filled with rock standards, but Moreno is also playing songs familiar to his Vegas fans over the past several years, among them "Some Kind of Love," "Diva" and "Moonlight Matinee."
Moreno has played performing arts centers previously, including spirited 2015 appearances at Carnegie Hall and Kennedy Center, when he joined Tony DeSare, Storm Large and Ryan Silverman in a Frank Sinatra tribute performance. But Moreno has not been booked as a solo performer in a such a prestigious concert hall as Kennedy Center until now.
"This doesn't happen overnight. The roots for this show were planted a long time ago, years ago," Moreno says. "We'd wanted to do a variation of this show even before Carnegie Hall."
Violin virtuoso Joshua Bell, a friend and frequent collaborator of Moreno's, ignited the concept after the two recorded "Eleanor Rigby" in 2009. Bell introduced Moreno to his manager, David Lai, a noted musician, conductor and music executive at Sony Records who also books performers at Carnegie Hall and at Kennedy Center. He also introduced Moreno to New York Pops conductor StevenReineke, who directed the Sinatra show in 2015 and is back with the NSO this weekend.
Moreno will also perform in Indianapolis Oct. 19-22. Upcoming dates to be formally announced are in Baltimore in December; Toronto, Canada and Miami, Fla., in early 2018; and Carnegie Hall in the fall of 2018
For Moreno, rapidly shiftingvenues is customary. In 2015, he performed at Rocks Lounge at Red Rock Resort just hours after returning from his Carnegie Hall appearance.
"What can I say?" Moreno said, laughing. "I do it all."
J&R to the Tower
As previously reported in this very column space, Jarrett & Raja will bring their "Magic vs. Music" show to the Stratosphere Showroom, taking over the 4 p.m. slot Wednesdays through Sundays. The date, Oct. 18, is later than they'd originally planned, but the show is a go. The terrific musician and arranger Jeff Neiman is back as the show's music director.
The stage and room are considerably larger than J&R's former venue at Hooters, but the show is largely unchanged. Jarrett, who studied under Harry Blackstone Jr., is a magician; Raja, a graduate of The Julliard School, is an expert pianist. The two became well-known after appearing on ABC's "Shark Tank" and NBC's "America's Got Talent."
'X Rocks' packs up
In a long-anticipated change of scenery, the adult revue "X Rocks" is moving to The Back Room at Bally's beginning Nov. 3. The show is set for 10 p.m. Thursdays, Fridays, Saturdays and Sundays. The schedule for the original tenant in The Back Room, the "Miss Behave Game Show," is unchanged (the show runs 8 p.m. nightly, dark Mondays and Tuesdays). Just look for some quick-turnover action for these two productions in the 170-seat space.
"X Rocks," from Stabile Productions, opened at the Rio on Labor Day 2013. The show's choreographers, Anthony Cardella and Meeka Onstead, also conceived a new dance number for Kendra Wilkinson in "Sex Tips From a Gay Man for a Straight Woman" at Paris Las Vegas."
Blair's lair
Multitalented Vegas entertainer Dennis Blair is headlining the Laugh Factory at the Tropicana lineup through the weekend, as the club has recently added midnight shows on Fridays and Saturdays.
Blair is a masterful comic/singer/songwriter/musician — a three-slash artist, if you will. Blair opened for George Carlin for more than two decades, and is a frequent performer at The Composers Showcase of Las Vegas.
Blair is also appearing in some skit pieces with Kelly Clinton-Holmes at 8 p.m. Friday at Freedom Hall, and 8 p.m. Saturday at Starbright Theater in Sun City Summerlin. Plenty of chances to see Blair, a gifted performer who does a wicked Jackie Mason, and similarly wicked Rodney Dangerfield.
Penn the Dragon
Penn Jillette showed up Tuesday night as an unbilled, but properly attired, guest of Piff the Magic Dragon at Flamingo Las Vegas Piff has formally announced that he will perform at Bugsy's Cabaret through 2018.
To mark the occasion, Jillette wore a replica of Piff's satin dragon suit and played the role of Pop, Piff's father. The two performed a couple of bits in what, we can only hope, will be a recurring role.
John Katsilometes' column runs daily in the A section. Contact him at jkatsilometes@reviewjournal.com. Follow @johnnykats on Twitter, @JohnnyKats1 on Instagram.