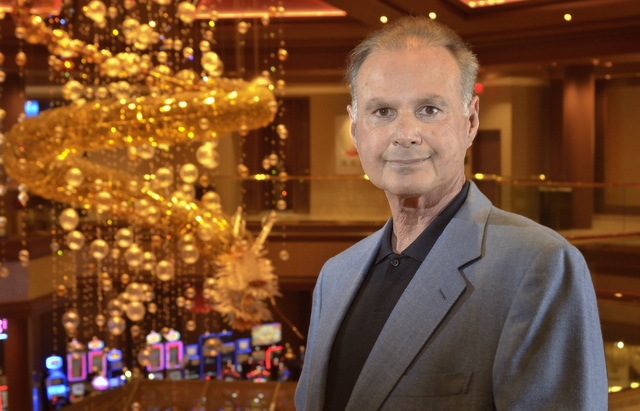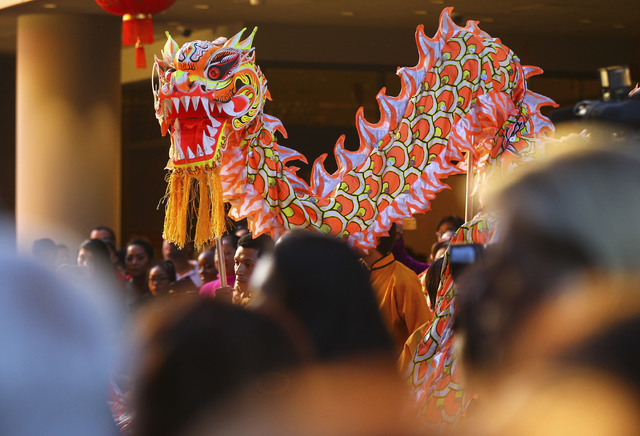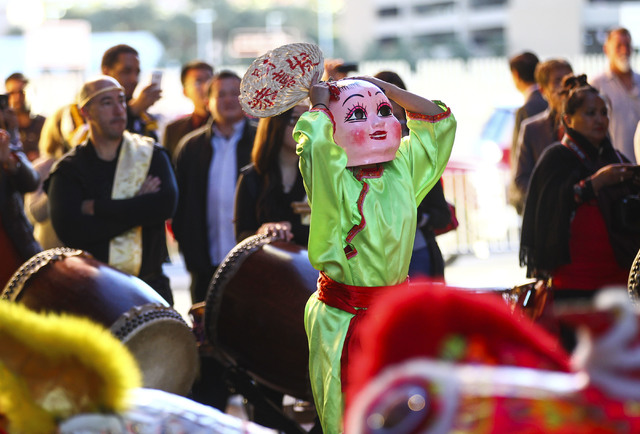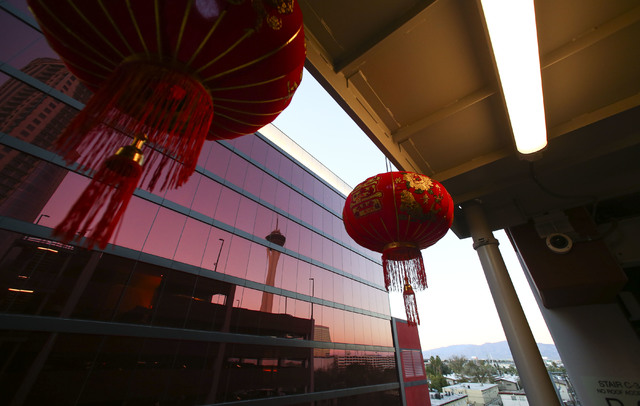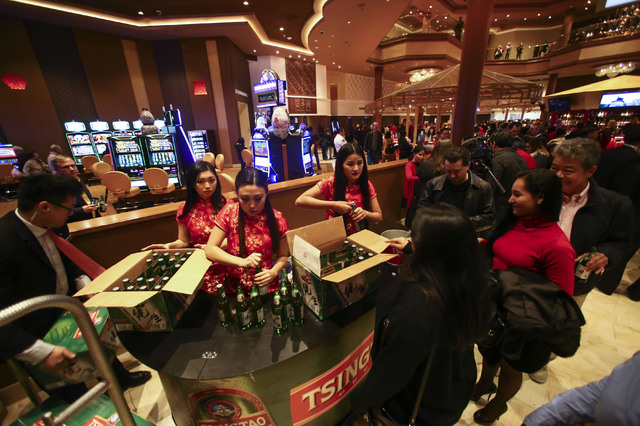 Lucky Dragon hotel-casino opened two weeks ago, but Saturday afternoon was the official, formal event honoring the occasion, complete with ear-ringing pyrotechnics and percussion, and sinewy dancers dressed as lucky dragons.
The first "Who Was Where" sighting (which is what I'll be calling such reports) at Pearl of the Ocean restaurant was veteran Las Vegas casino host Steve Cyr and his girlfriend, Natali Tangherlini, late of "53X" at Chateau at Paris Las Vegas. A few tables away were hotel president Andrew Fonfa and his wife, Jodi, dining on squid-ink dumplings, Peking duck and steamed rice.
The hotel president already is talking about expanding the casino, parking garage and hotel tower. Maybe planning for that process will be tabled at least until Month 2.
As it is, Lucky Dragon is the first ground-up resort to open in Las Vegas since Cosmopolitan was launched in December 2010. However, it is actually the second hotel to open in the past week: On Thursday, W Las Vegas opened in the existing Lux Tower of SLS.
The W brand will help quicken the pulse of business on the north end of the Strip.
"We are excited about the W, which is a name that everybody recognizes," Fonfa said. "That will help make us more successful, absolutely."
Fonfa says Lucky Dragon's local customer base should be around 60 percent of its clientele, with another 20 percent coming from California and the balance arriving from China. New direct routes from Beijing to Las Vegas on Hainan Airlines will help deliver eager Asian gamblers to the hotel.
"In most cultures, gambling is seen as not good or evil," Fonfa said. "But for the Chinese it's entertainment, and every day could be your lucky day." He already has noticed that Asian players are "very good – almost too good. We want them to win, but not every day."
With its five Asian-themed restaurants, upscale spa, 203 guest rooms and small-scale (27,500 square feet), octagon-shaped casino, Lucky Dragon is hard-focused on dining and playing. There is no live entertainment to speak of (the performance artists Saturday were hired just for the opening), no sports book, no bingo parlor, and no poker room.
Simply and obviously, the target is the Asian market, or those who appreciate that culture. That the front-of-house staff speaks Cantonese and Mandarin along with English, and the duality of the directional signage in Chinese and English, are already well-known facets of Lucky Dragon.
"Everybody is all over the new concept that the Chinese are coming, the Asians are coming to Las Vegas, and we need to be prepared for that language in signage and we have addressed that from the start," Fonfa said as he poured tea from a ceramic pot. "The other hotels, McCarran Airport, everyone needs to catch up and accommodate this huge Asian population." And the man who is in charge is ready to expand to meet that demand.
WHAT'S WITH THIS TEA?
One of the teas offered at Lucky Dragon's Cha Garden is called, "Duck (Poop) Aroma." That's like naming a sandwich "The Turd Club," but there is a history here.
The hotel's Golden Phoenix tea flavors arrive from Phoenix Mountain in the Guangdong Province of China. Tea flavors are extracted from a single, secret grove. The story is the farmer who named the flavor "Duck (Poop)" was trying to throw copycats off the scent (as it were), so gave the tea a yucky name that would deter anyone trying to rip off the flavor. It's a throw-away title, in other words, and reportedly the tea does not taste like duck poop. I hope never to have to verify that fact.
THE GREAT SANTA RUN
In talking with a longtime Las Vegas resident about the Vegas Golden Knights, we agreed that dropping "Las" from the name was a curious move. But it can be explained: "This is the city where we cut our 'Las'-es.' " Get the T-shirts ready!
SCREEN PASS
My astute investigative skills have uncovered a new theater in Las Vegas – which sits just a couple hundred feet below my condo in downtown Las Vegas.
Eclipse Theaters is open for business on the corner of Gass Avenue and 3rd Street. Now playing at Eclipse: "Bad Santa 2," "Doctor Strange," "Rules Don't Apply" and "The Accountant."
John Katsilometes' column runs daily in the A section and Fridays in Neon. He also hosts "Kats! On The Radio" Wednesdays at 8 p.m. on KUNV 91.5-FM and appears Wednesdays at 11 a.m. with Dayna Roselli on KTNV Channel 13. Contact him at jkatsilometes@reviewjournal.com. Follow @johnnykats on Twitter, @JohnnyKats1 on Instagram.
RELATED
In like a lion: Dancers, pomp celebrate Lucky Dragon grand opening in Las Vegas