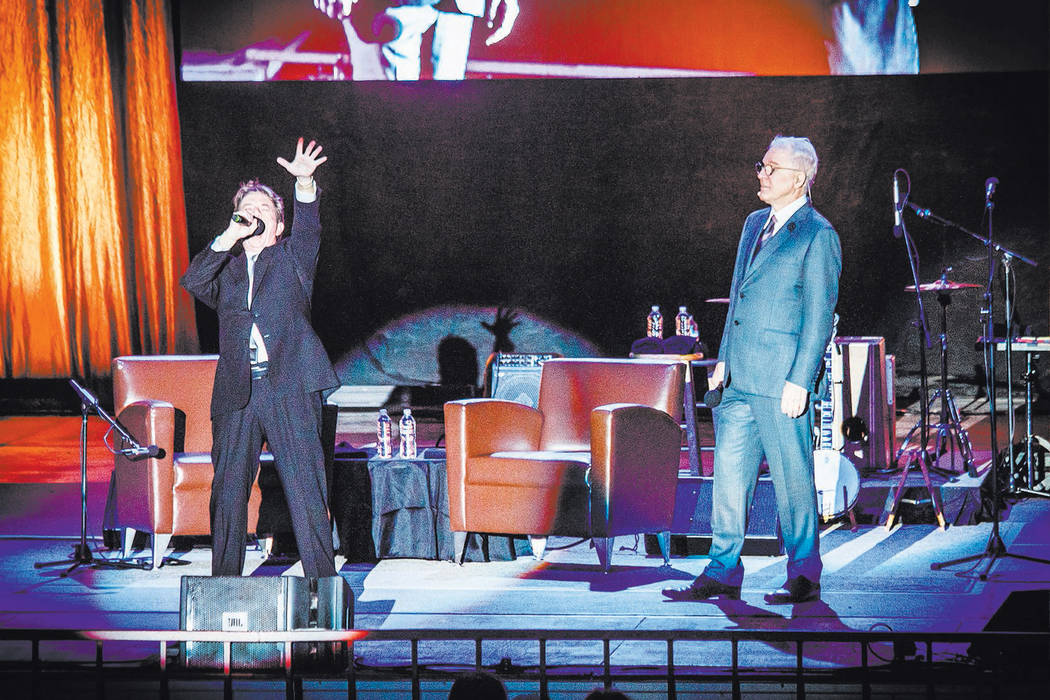 Steve Martin and Martin Short put on an act, but their friendship is real. At least this is what they told the full house at the Colosseum at Caesars Palace on Sunday night.
Then, they verbally flayed each other.
"You know, Steve, I am such a fan," Short said as the two stood side-by-side. "I see your work, and I'm 'whelmed.' "
"We all have slumps in our careers, if you've been famous long enough," Martin said. "What happened to you between 1973 and 2012?"
"You are so pale," Short called back, "you look like a coloring book that hasn't been colored yet."
"I've been asked, 'What would you be doing if you were not rich and famous?' " Martin answered. "Probably what Marty is doing."
"Touring with Steve is a lot like the movie 'Deliverance,'" Short responded. "It's all fun and games till the banjos come out."
Martin also recalled his lone meeting with Elvis, in 1970 at the International Hotel (later the Las Vegas Hilton and today Westgate Las Vegas). Martin was opening for Ann-Margret, with Elvis in the audience. "Afterward, he came up to me and said, 'Son, you've got an oblique sense o' humor,' " Martin said. "Then he came up to my room, which was great, and Elvis had a guy who would come in and get him out of conversations. He would come up and say, 'Elvis, we have to go,' but Elvis said, 'It's OK.' And I felt great about that."
Elvis then showed Martin a few guns he was carrying. "Elvis had three guns, collectors' guns, like a Derringer that was engraved and a couple other pistols. He was very safety conscious, he took out the bullets and handed me the guns … I thought, 'Woooow, I'm holding three guns and he's got 14 bullets. Where's Elvis's guy when you need him?' "
Martin would later perform as a ventriloquist, with Short as his puppet in his Jiminy Glick role. Commenting on a photo of Bernie Sanders, he said, "Bernie actually had a chance to be president! He's so old, the only time he doesn't have to pee is when he is peeing."
The duo are set to return July 23, Aug. 25 and Oct. 29. As Martin said, "If you take one thing away from tonight's show … I will have you arrested."
Next step for faux-Trump
Las Vegas comic actor John DiDomenico, still riding the crest with his devastating Donald Trump act, is among nine finalists in the Laugh Factory's global search for the best Trump impressionist. DiDomenico competes on Trump Impersonation Day at April 26 at the Laugh Factory's Hollywood club. He had earned the spot by winning a semifinal round during an airing of ABC's "The View" in February.
"Saturday Night Live" alum Darrell Hammond, a guest judge during "The View" competition, hosts the show in L.A. Laugh Factory founder Jamie Masada, who also owns the club at Tropicana, says, "President Trump is not getting the credit he deserves for how much he has truly helped the comedy community since he has taken office." DiDomenico, for one, is in high demand. Of the Laugh Factory competition, he says, "It's an incredibly positive experience. I can't believe how these amazing things just keep happening."
Swank update
Las Vegas lounge legend Sonny Charles of the Checkmates and former Encore Las Vegas Eastside Lounge headliner Michael Monge are co-hosting a night at Italian American Club at 8 p.m. Wednesday. "Rhythm Changes" is the title for these performers of complementary talents. Cost is $25, and it's always a good, old-Vegas time at IAC.
Where the wind comes sweeping …
Super Summer Theater has announced its 2017 season opener at Spring Mountain State Park, a full running of "Oklahoma!" This is the musical that inspired the Las Vegas production of "Idaho!" That production debuted in July at the Smith Center.
"Oklahoma!" opens the season May 19-20. Las Vegas director Troy Heard of Majestic Repertory Theatre helms the production, where for the first time a full cast of non-professional performers fill out the cast. It's to be a concert-style show. SST is entering its 43rd year, and all proceeds are going to the theater's educational programs.
John Katsilometes' column runs daily in the A section, and Fridays in Neon. Contact him at jkatsilometes@reviewjournal.com. Follow @johnnykats on Twitter, @JohnnyKats1 on Instagram.