Off-Strip resort plans 're-coming out' F1 party
Updated November 10, 2023 - 7:13 pm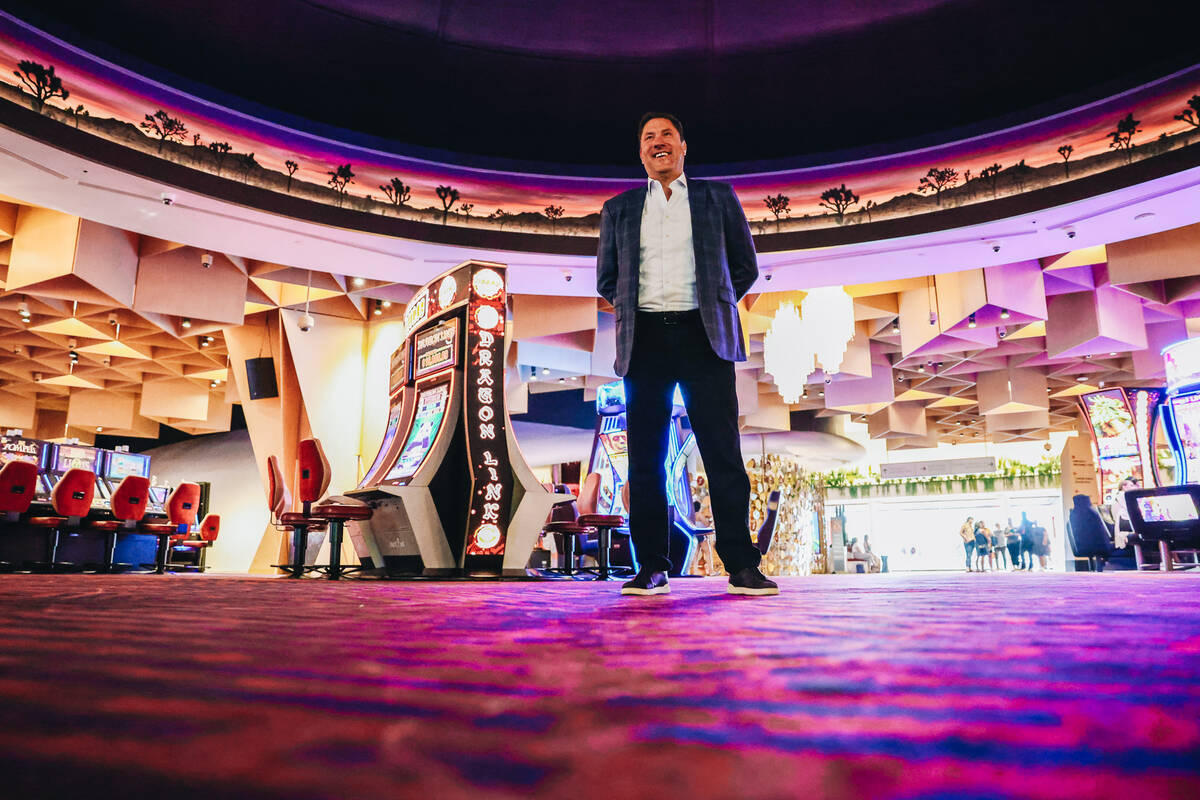 Three months ago, as he took over as president of Virgin Hotel, Cliff Atkinson said the Las Vegas Grand Prix would be the hotel's "re-coming out party into the market and into the world."
Atkinson has validated that claim. The hotel's party schedule runs throughout the day and night during race week. Virgin is the F1 sponsor of the East Harmon Zone, just east of the starting grid and pit building on the corner of Paradise Road and Harmon Avenue.
The hotel is off the Strip, close to the track but still accessible. Virgin is F1's home ride-share drop point. The hotel is also offering event parking in its Paradise Garage from Tuesday through Nov. 19. Guests can make parking reservations in advance at Parking.com, with advanced rates starting at $20 and on arrival rates starting at $30.
Hotel guests park for free at the Ruby Garage off Harmon Avenue, and all resort employees will be able to park on-property.
Virgin is also the F1's home ride-share drop point. Atkinson says the logistic layout puts the hotel at an advantage for guests to revisit the property.
"We have a reason for visitors and locals alike to come to our property because of our location, our proximity to the race Formula 1, so it's a simple reason to rediscover us," Atkinson said in a phone chat Wednesday. "We've got a lot of programming and a lot of fun. It's going to be crazy all over town, so I'm saying, come early, stay late, and have a great Formula 1 experience with us whether you have tickets or not."
The Virgin team has even achieved the unlikely by reviving midnight show in Las Vegas over all three nights of the Grand Prix. These are limited-engagement performances at The Shag Room, starring yacht-rock tribute band Yachty By Nature on Nov. 16, '80s retro-rockers the Spazmatics on Nov. 17-18. The entertainment kicks off as the night's racing ends.
Beginning Wednesday, Virgin is running no-cover shows featuring Vegas stalwarts Mojo Juju, Zowie Bowie, the Moonshiners, Lily Arce and Pop 40 and the Windbreakers in The Shag Room.
The Theater at Virgin Hotel presents rap star Future's official birthday party at midnight Saturday. That show is hosted by producer/DJ Metro Boomin.
The resort's promising new burlesque revue, "Lady Like," plays 24 Oxford. DJs appear on the casino floor beginning at 10 a.m., and into the evening at Kassi Beach Club.
These are not superstar headliners, granted. But the attention to live entertainment will give Virgin some personality. And it is the type of programming Atkinson envisions for Virgin year-round.
"This is the blueprint of what's going to go forward from our hotel into the future," Atkinson said. "Not to this level every day. But this type of fun and activation is what our property was known for in the past." (On that topic, the new Center Bar is still planned for 2024.)
The hotel is tying its entertainment — especially "Lady Like" — to its strong restaurant roster, pairing ant pitching a dinner-show (or, show-dinner) as a night out, off the Strip.
Atkinson allows he is learning about working with F1, and how to operate a resort in a large-scaled, first-time event. He agrees the first F1 event is akin to a large production show running its preview period.
"This is new to Las Vegas, even for seasoned operators like all of us are. And this is new for Formula 1 to be here, dealing with our city, our market," said the veteran exec, who has spent time at Mandarin Oriental (today's Waldorf Astoria), Luxor and briefly Fontainebleau. "We're figuring it out together. We know there's been an impact to to the market. But it's a once-in-a-lifetime experience to run the first race, and I hope we have it for another nine years.
"That what makes it really special, and really important to us."
John Katsilometes' column runs daily in the A section. His "PodKats!" podcast can be found at reviewjournal.com/podcasts. Contact him at jkatsilometes@reviewjournal.com. Follow @johnnykats on X, @JohnnyKats1 on Instagram.
VIRGIN ENTERTAINMENT SCHEDULE
November 15
10am – 4am: live DJ sets, casino floor
4pm – 8pm: Mojo Juju, The Shag Room
7:30pm – 9pm: DJ Lio, Kassi Beach House
8pm – 12am: Lily Arce, The Shag Room
9pm – 11pm: Kassi House Party, Kassi Beach House
November 16
10am – 4am: Live DJ sets, casino floor
4pm – 8pm: Zowie Bowie, The Shag Room
5pm – 1:30am: Stay on the Grid Experience by Hilton Honors & McLaren, Skybox
8pm – 9:30pm: Lady Like – A Retro Modern Burlesque Show, 24 Oxford
8pm – 12am: Spazmatics Live, The Shag Room
12am – 4am: Yachty by Nature Live, The Shag Room
November 17
10am – 4am: Live DJ sets, casino Floor
4pm – 8pm: Moonshiners Live, The Shag Room
5:30pm – 3:00am: Stay on the Grid Experience by Hilton Honors & McLaren, Skybox
7:30pm – 12:30am: DJ Robstafari, Kassi Beach House
8pm – 9:30pm: Lady Like – A Retro Modern Burlesque Show, 24 Oxford
8pm – 12am: Zowie Bowie Live, The Shag Room
8pm – 10pm: Mariachi Band, Casa Calavera
12am – 4am: Spazmatics Live, The Shag Room
November 18
10am – 4am: Live DJ sets, casino Floor
11am – 4pm: DJ Moody, Kassi Beach House
4pm – 8pm: Zowie Bowie Live, The Shag Room
5:30pm – 4:00am: Stay on the Grid Experience by Hilton Honors & McLaren, Skybox
7:30pm – 12:30am: DJ Will & DJ Knowle, Kassi Beach House
8pm – 12am: The Windbreakers, The Shag Room
8pm – 9:30pm: Lady Like – A Retro Modern Burlesque Show, 24 Oxford
12am: Future – Official Birthday Celebration hosted by Metro Boomin, The Theater at Virgin
12am – 4am: Spazmatics Live, The Shag Room
12am – 4am: DJ Lisa Pittman, Casa Calavera