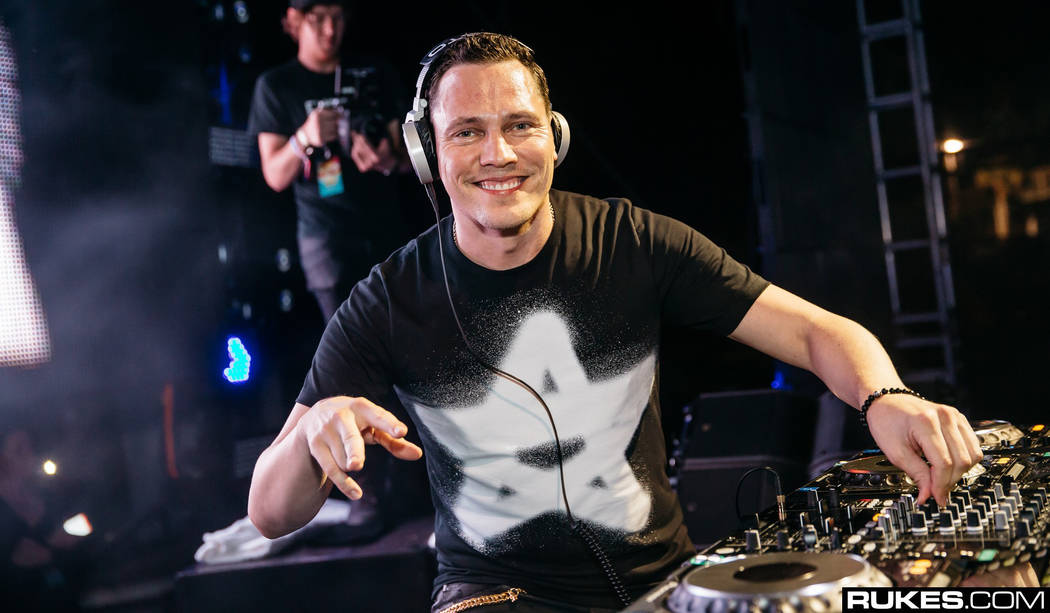 Superstar DJs are teaming up for a benefit concert that will make your head … spin, of course.
Tiesto, Zedd, Kaskade, Steve Aoki and Lil Jon and other giants in the electronic dance music world headline an Oct. 1 benefit show at 9:30 p.m. Tuesday at Omnia Nightclub inside Caesars Palace. General admission tickets for the event are a paltry $30 (which is about what two fizzy waters cost at Strip nightclubs), VIP tables $105 per pop, and the proceeds go to the Las Vegas Victims Fund via the Direct Impact Fund.
The event is presented by Hakkasan Group, which owns Omnia. The company has set up a gofundme account for anyone unable to attend the event to donate. Of course, even if you are able to attend, donate anyway.
Tiesto, a trailblazer among EDM stars who was the first DJ to have his music played at the Fountains of Bellagio, has already donated $200,000 to the cause. Tiesto defended his electronic art when his medley from "A Town Called Paradise" was slotted into the Bellagio Show in 2014.
"It is not true, to say this is not creating art or making music," he said at the time. "You have kids who start out at 5 to 10 years old, their instrument is different, but they are learning to make music. "It might not be playing Mozart on the piano, but it is creating a form of music, and it is now part of our culture, worldwide. People are understanding it better than they once did, and people are taking it seriously now."
Brown rocks it
The artist who caused a stir on the second level entrance at Venetian Theater on Sunday during "Vegas Cares" is well-known around VegasVille. Rockie Brown and her band, led by her beau and co-creator Jason Tanzer, played her new album "Rockie Brown Vol. 1" prior to the show. My favorite song, for personal reasons (I was in the video) is "Sexting." Give it a look-see, and a listen. She plans to produce her third video from the album, "Dangerous," in early December.
This host is Green
I caught Tom Green's first midnight show on Sunday night/Monday morning. As anticipated, it's a dark, funny, underground hang at The Back Room at Bally's.
Even as he's grown to a veritable graybeard, the 46-year-old Green's material is appreciably unvarnished. He remains comically inspired by his bout with testicular cancer.
Green produced an MTV documentary about the procedure in 2012, and dedicates a stretch of his stage show to his odyssey. "I have one left — the left one," is typical fare.
Green also airs highlights of his "Tom Green Show" from MTV, including the classic bit where he undercuts pizza delivery men by following them on deliveries and offering to make a pizza at a lower cost. One bit ended with a hammer-wielding customer chasing Green off his property.
The comic invited the audience to the bar afterward for a few drinks and more jokes. The Strip can always use a quality late-night show in darkened hovel. Green aims to make this multimedia comedy show exactly that.
Grimm's got talent
Michael Grimm is in the weekly rotation at Tuscany Suites' Piazza Lounge, playing 7:30 p.m. Tuesdays. The soulful singer has bounced from Vegas lounges and clubs to the 2010 championship of "America's Got Talent," then back to the very venues he played when he auditioned for the shows.
Grimm, who moved to VegasVille to play in "Legends in Concert" when the show was at the old Imperial Palace (now Linq Hotel), and backed Bill Medley during Medley's shows on the Strip. Grimm remains a topnotch performer. He's type who can shine in a national competition but is still content to sing and play such inspired covers as "Try a Little Tenderness," "Georgia," and "Proud Mary" for a club crowd.
I should mention the shows at Piazza Lounge are no-cover. When Grimm starts playing, you'll wonder how that is possible. But it's best just to take in the show and order a beverage or two, as bar receipts are the lifeblood of lounge entertainment in this town — especially when an "AGT" champ is in the room.
Hot! Hot, I tell you!
Mundo Juillerat, the eminent Flyin' Hawaiian and a member of the "Le Reve" band at Wynn Las Vegas, reports that The Hot Club of Las Vegas hosts the release party for its new album, "Hamajang!" on Nov. 16 at The Space.
The Hot Club is the city's predominant, and I believe the only, gypsy jazz band.
"Hamajang" is Hawaiian slang for "mishmash," and the album is a happy amalgamation of the band members' cultural underpinnings. "We have Cuban, rock, funk, Broadway and mixed in with gypsy jazz," Juillerat says. "We worked on this album for two years, and the whole time we were trying to think of a title. I kept saying 'hamajang,' and that became the title. It fits us."
John Katsilometes' column runs daily in the A section. Contact him at jkatsilometes@reviewjournal.com. Follow @johnnykats on Twitter, @JohnnyKats1 on Instagram.