Only in VegasVille: A Ricky Martin-Composers Showcase doubleheader
Updated April 7, 2017 - 6:28 pm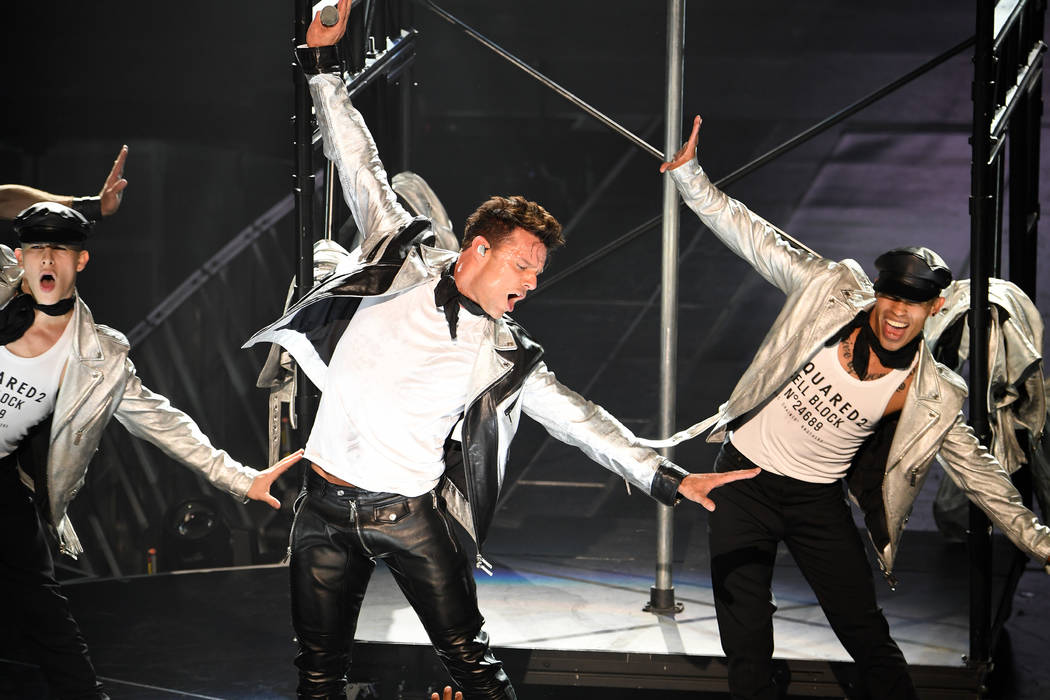 We surfed another only in Las Vegas twin-bill on Wednesday night, rambling through Ricky Martin's show at The Park Theater and the Keith Thompson-helmed Composers Showcase of Las Vegas.
One is a veteran, master showman, loaded with talent and theatrical instincts that make him the match for any production.
The other is Ricky Martin.
But seriously …
Martin's confidence in his "All In" show at Park Theater is evident at the start: To open, he tosses off "Livin' La Vida Loca," arguably (let's argue!) his most famous song. No encore treatment for that mega-hit.
Not open to argument is Martin has all the tools to lead this show. He's a great dancer, he seems to really sing live (even if a bit lower than on recordings) and owns the inherent ability to cut through the stagecraft to connect with the audience.
It's a rare trait, difficult to teach, certainly. The greats have that quality. The guy Martin most reminds me of — and this was unexpected — was Donny Osmond. The comparison has nothing to do with genre, or what is produced onstage, exactly. But similar to Osmond, you can sense when watching Martin he has logged a lifetime of performances.
Osmond began entertaining crowds at county fairs at with his brothers at age 5 and by his teens grew into an international teen idol. In the same fashion, Martin joined Menudo as a kid and gained fame around the world before branching out to a successful solo career. Both can sing a capella, move with great grace (Osmond is forever reminding us of his "Dancing With the Stars" championship) and hold a crowd with a full-scale production number.
Each has Broadway experience, Osmond with "Joseph and the Amazing Technicolor Dreamcoat"; Martin with "Evita."
Martin evokes familiar Vegas images with new technology, the LED screens lit up with dice and the Welcome to Fabulous Las Vegas sign. Grooving through "Shake Your Bon Bon, "Cup of Life," "She Bangs" (which is not always true), Martin summons some Elvis-inspired moves and stages a segment that reminds of "Jailhouse Rock."
And in a display of grown-up swank, Martin crooned through "Luck be a Lady" and "The Lady is a Tramp," donning the tux, Sinatra style.
Even Martin's horn section hearkens to Vegas' yesteryear, nimbly moving around the stage in the same way The Witnesses, who backed Louis Prima, Keely Smith and Sam Butera, waded into Casbar Lounge. Justin Timberlake and Bruno Mars have since plucked from Prima's performances; at one point I tweeted "#BrunoMartin" to affix a name to that trend.
Martin's opener did spark a couple of questions: What is the point of the two large, square openings at the front of the stage? They were unoccupied, save for a couple of roving camera crews. A spokeswoman for concert promoter Live Nation tells me those pits — which ought to be used as party enclaves, similar to how Axis theater reserves open areas for would-be groovers — will be used for general admission sales during Martin's run.
Also, the venue's balcony was draped, for the first time in any of The Park Theater's residencies. I'm informed, again through Live Nation reps, the seats will be open as ticket sales warrant.
Conversely, the only draping at The Composer's Showcase was the scrim of the Strip behind the Cabaret Jazz stage.
Once more, Thompson shepherded some of the city's best composers and performers to the monthly event. Too many to name-check, as always. Memorable was the introduction of Dennis Blair, with Thompson stopping short of saying, "He opened for Shecky Greene," as he usually does. "We all heard the story of Shecky's fall, and we hope he is OK," Thompson said.
Composers Showcase frequenter Clint Holmes sang warmly of his departed father. Holmes also noted that his new single, "Say Something," is No. 1 on Billboard's New and Active Smooth Jazz charts, an impressive feat already for his recently released "Rendezvous" album (expect some news from Holmes, in a positive vein, next week). The reliably mirthful Phat Pack ("Phantom" vets Bruce Ewing, Randal Keith and Kevan Patriquin) returned to the stage, backed by Phil Fortenberry on piano.
And, a Composers Showcase first: Drummer Steve Weiss played a full instrumental with a cajon (or, drum box)
The night closed with a flourish, led by Hammond B-3 organ master Ronnie Foster, with an old song he's recently retooled, "Somebody Say." Backing Foster were a pair of the city's most acclaimed guitarists, Jerry Lopez (Santa Fe & The Fat City Horns) and John Wedemeyer (Righteous Brothers band); keyboardist Jamie Hosmer (also with Santa Fe); bassist David Inamine (a masterful jazz player) and Foster's son, Chris, on drums. Foster's daughter, Kaylie, was joined by Noybel Gorgoy (late of Holmes' show at Palazzo Theater) on backing vocals.
The night ended with a standing ovation, well past midnight. Funny, we weren't even tired. either.
John Katsilometes' column runs daily in the A section, and Fridays in Neon. He also hosts "Kats! On The Radio" Wednesdays at 8 p.m. on KUNV 91.5-FM and appears Wednesdays at 11 a.m. with Dayna Roselli on KTNV Channel 13. Contact him at jkatsilometes@reviewjournal.com. Follow @johnnykats on Twitter, @JohnnyKats1 on Instagram.