Opportunity Village's Magical Forest celebrates 25 enchanting years
November 20, 2016 - 6:31 pm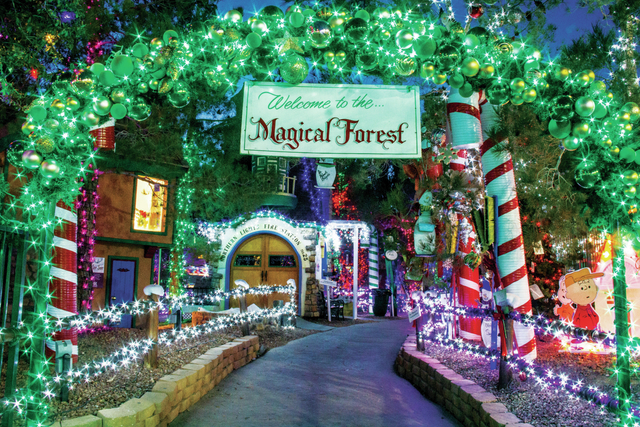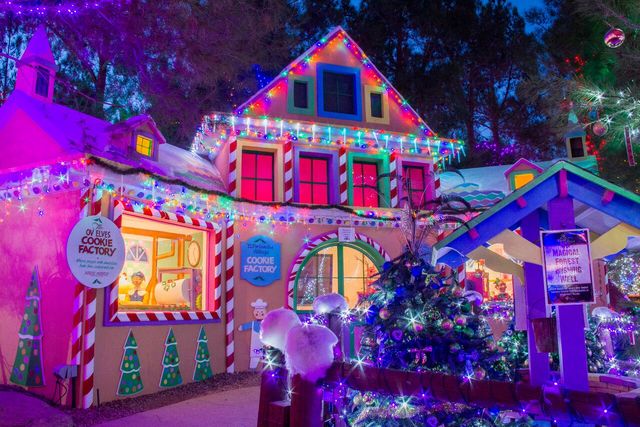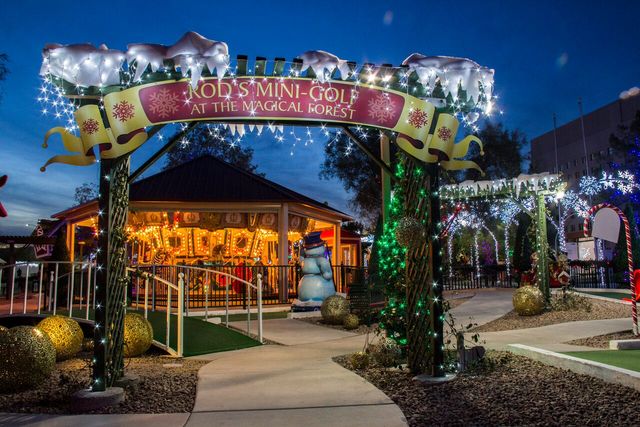 How time flies, among the railroad ties.
The Opportunity Village Magical Forest turns 25 this year. The wondrous holiday attraction features the Holiday Express party train and hundreds of decorated trees and rides (including the Enchanted Carousel, which is actually, verifiably enchanted). Also on the grounds is nightly entertainment, and a lotta eggnog, cider and frosted noshes.
Located on the O.V.'s West Oakey Campus at 6300 West Oakey Blvd., the Magical Forest again opened for the holidays Friday night. The park is in operation nightly at 5:3o (closed Thanksgiving and Christmas). The cost is $11.99 for adults 13 and older; kids 12 and under are $9.99 (ride tickets sold separately). Adults who want the whole shebang, general admission with rides included, pay $21.99; kids pay $18.99 (for information, hit the Magical Forest website).
To remind, or maybe initiate, Opportunity Village is a grassroots Las Vegas nonprofit organization that serves adults and children who have intellectual disabilities. O.V. provides vocational training and community employment for those with disabilities. Such holiday traditions as the Magical Forest and accompanying Great Santa Run, set for Dec. 3 in Downtown Las Vegas, raise funding and awareness for the organization.
Given that the Magical Forest is marking No. 25 and I happen know 25 cool things about the park (with some assistance from my friends at Preferred Public Relations), we'll deal a list of 25 Cool Things about The Magical Forest on its 25th birthday:
25: The first sidewalks at the Magical Forest were installed in 1999, seven years after the attraction opened.
24: The first Magical Forest was decorated by students from Bonanza High School.
23: Santa is flown to the tree-lighting ceremony in a helicopter furnished by Papillion helicopters.
22: Celine Dion, and Andre Agassi and Stefani Graf, are among the Las Vegas luminaries who tour the Forest with their families each year.
21: The Goodmans – Mayor Carolyn and ex-mayor Oscar – host the official tree-lighting ceremony on Friday.
20: More than 400 engineers have navigated the Forest Express choo-choo since the Forest opened.
19: Visitors have consumed nearly 40,000 funnel cakes over the years.
18: Between 75-100 volunteers are needed to staff the Magical Forest during the holiday season.
17: In 2015, more than 7,000 volunteers turned out to run the Forest during its hours of operation.
16: Snow – real snow – has dusted the Magical Forest four times since 1992, most recently in 2013.
15: Ninety-five percent of the decorations donated to the Forest have been made by Las Vegas-area businesses and residents.
14: The attraction has been featured on Discovery channel and NTV Japan, and has been named one of the top holiday destinations in the U.S. by HGTV.
13: Celebrity visitors and supporters over the years: George W. Bush, Wayne Newton, Penn & Teller, Agassi, Graf, Dion, Clint Holmes, Chippendales, Blue Man Group, David Copperfield, Mac Davis, Louie Anderson, members of "Jersey Boys," and Human Nature.
12: Daryl Borges, director of the Opportunity Village music program and its O.V. Elvi and The OVertones music performance teams, is also a member of the Bee Gees Gold tribute show.
11: Borges is a huge Prince fan and performs a great impression of the artist.
10: Carlos Santana said his first visit to Opportunity Village's Englestad Campus in September 2015, during which the The OVertones played a medley of his hits, was "better than Woodstock, better than the Grammys."
9: In May 2014, Opportunity Village marked its 60th anniversary in Las Vegas.
8: In October 2011, Newton was honored with a statue in the entrance of the O.V. Englestad Campus, a gray-metal piece made by Iowa artist Gail Chavenelle.
7: Opportunity Village's 1954 launch pre-dates the since-closed Riviera (1955) and since-razed Stardust (1958).
6: More than 3 million lights are used in the Forest.
5: The workers at Opportunity Village – known as Opportunity Village Important People (OVIPs) – bake about 5,000 cookies a day, which are sold to Las Vegas hotels and businesses for their employee dining rooms and buffets.
4: More than 120,000 visitors descend on the Magical Forest each holiday season.
3: Penn Jillette raised a hair less than $1 million for O.V. in his two spins through "Celebrity Apprentice." His haul in his second appearance, in 2013 when he finished second to country music star Trace Adkins, brought in $698,655.
2: Outgoing O.V. Executive Director Linda Smith, who retired in September, led a fundraising effort that brought in $450 million in her 36 years with the organization.
1: The Scarves of Elvis, which he tossed to his rabid fans at the International and Las Vegas Hilton from 1969-'76, were made at Opportunity Village by its cast of OVIPs. And, in time for the holidays, silk scarves and ties (and shirts and artwork) are still onsale. Hit this link to be fashionably charitable.
John Katsilometes' column runs Saturday, Sunday, Tuesday and Thursday in the A section, and Fridays in Neon. He also hosts "Kats! On The Radio" Wednesdays at 8 p.m. on KUNV 91.5-FM and appears Wednesdays at 11 a.m. with Dayna Roselli on KTNV Channel 13. Contact him at jkatsilometes@reviewjournal.com. Follow @johnnykats on Twitter, @JohnnyKats1 on Instagram.