Oscar Goodman's O.J. 'dream' was never realized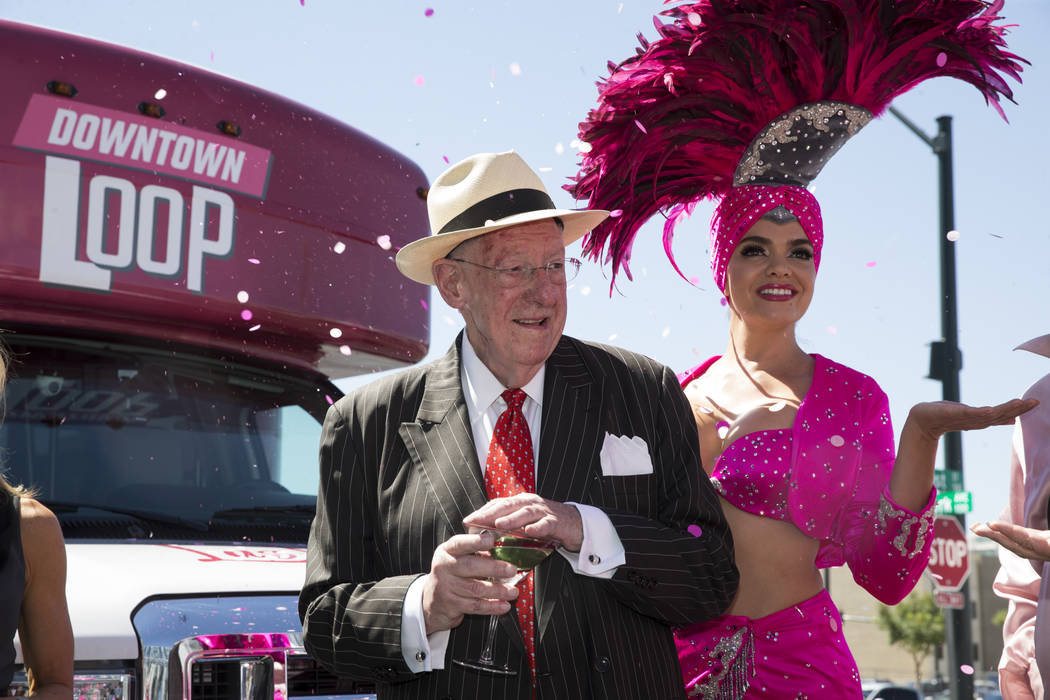 The ever-mobile Kats! Bureau has run from L.A. and back this week, and as always it's been a wild ride. Hop in:
No 'Dream' for Oscar
Add this yarn to the Lore of Oscar Goodman: The ex-mayor of Las Vegas and city's famed "Mob Lawyer" was nearly a member of the so-called O.J. Simpson "Dream Team" of defense attorneys in his 1995 double-murder trial. The overture to join that lineup, sweetened by an offer of $25,000, was made while Goodman was watching TV with his wife, current Las Vegas Mayor Carolyn Goodman, during a trip to Philadelphia.
"I'm looking at the TV with the sound off, and there's what looks like a white Suburban driving down a freeway with a bunch of police cars behind it," Goodman said Thursday afternoon, a couple of hours after Simpson was granted parole for his role in a 2007 break-in at Palace Station to retrieve what he believed was personal property stolen from him. "I turn up the sound, and they're talking about O.J. Simpson being chased in the Los Angeles area."
As this famous odyssey unfolded, Goodman took a call from a man identifying himself as a representative of Simpson, telling Goodman he would send a retainer of $25,000 immediately if Goodman would head to Los Angeles to join Simpson's defense team.
"I couldn't do it, for a number of reasons, mostly because I already had a full case load. But I had a number of good friends involved in the case," Goodman said. "The next call went to Robert Shapiro, who brought in F. Lee Bailey and Johnnie Cochran. But if I'd taken that offer, who knows? I might have been involved in a second Trial of the Century."
The first "Trial of the Century" in Goodman's career was his successful defense of infamous drug trafficker Jimmy Chagra, in the case centering on the 1979 assassination of U.S. District Judge John H. Wood Jr. in San Antonio, Texas.
Goodman says he followed Simpson's case in Las Vegas "fairly closely." The ex-mayor asserts that Simpson was given an uncommonly severe sentence in this type of break-in case.
"It should have been a misdemeanor, or gross misdemeanor, and would have been for any other human being," Goodman said. "But when it went to trial, there was an effort to punish him for the previous sentence in the murder trial, for what was seen as an injustice in L.A. The acquittal in the first trial led to the sentence in the second trial."
Goodman adds that he was not surprised that Simpson was granted parole. "He was a model inmate, and the parole hearing examiners followed the law. There is a point system established in Nevada for inmates to meet to be granted parole, and he did very well, and the parole board had no alternative but to follow the law."
Angel's star
I've long said that no performer works harder at his craft than Criss Angel, who received a star on the Hollywood Walk of Fame in Los Angeles on Thursday. Wrapped around Thursday's ceremony honoring Angel were two shows at Luxor on Wednesday night, and two more shows on Thursday night.
In its ongoing support of Angel's honor, and of Angel generally, Cirque du Soleil hired a private jet to cart Angel from Vegas to L.A. and back so he would be able to his keep pace with his adventurous schedule.
In the Walk of Fame lineup, the creator, director and and star of "Mindfreak Live" has joined such famed Las Vegas magician headliners as David Copperfield (honored in 1995), Siegfried & Roy (1999) and Penn & Teller (2013) to receive stars on the sidewalks of Hollywood.
Angel was presented by Las Vegas magic legend Lance Burton, the actor Gary Oldman and ex-UFC champ Randy Couture. Also in attendance: Tony Orlando; Flavor Flav; and The Amazing Johnathan and his wife and stage partner, Anastasia Synn.
Burton said of Angel's "Mindfreak Live:" "This is one amazing show, a unique synthesis of theater, personality, comedy, and of course, great magic."
Angel is honored in the Walk of Fame's 2017 class in the Live Theatre/Live Performance category, joined in that class by comic ventriloquist Jeff Dunham (a recurring headliner at the Colosseum at Caesars Palace), and Venezuelan conductor and Los Angeles Philharmonic Music Director Gustavo Dudamel. Selections for stars are made by a Hollywood Chamber of Commerce committee. Any entertainment figure can be nominated for a star on the Walk of Fame, and honorees or a sponsor must pay $40,000 for each star granted.
John Katsilometes' column runs daily in the A section. Contact him at jkatsilometes@reviewjournal.com. Follow @johnnykats on Twitter, @JohnnyKats1 on Instagram.