Palms and Playboy provided the club, and Hef brought the spark
September 28, 2017 - 1:55 am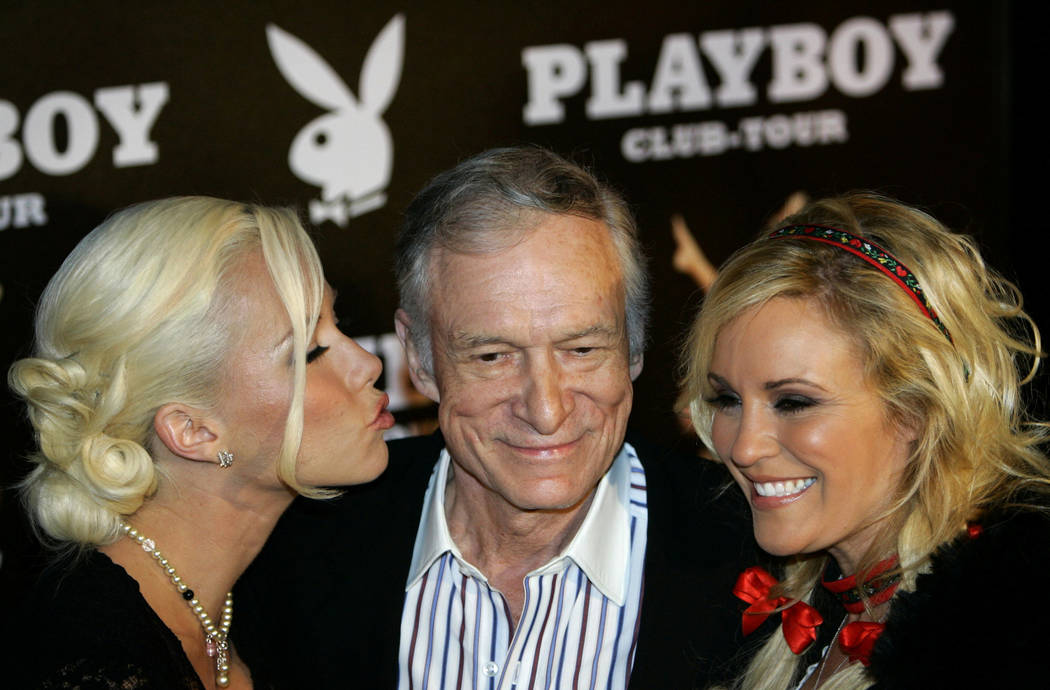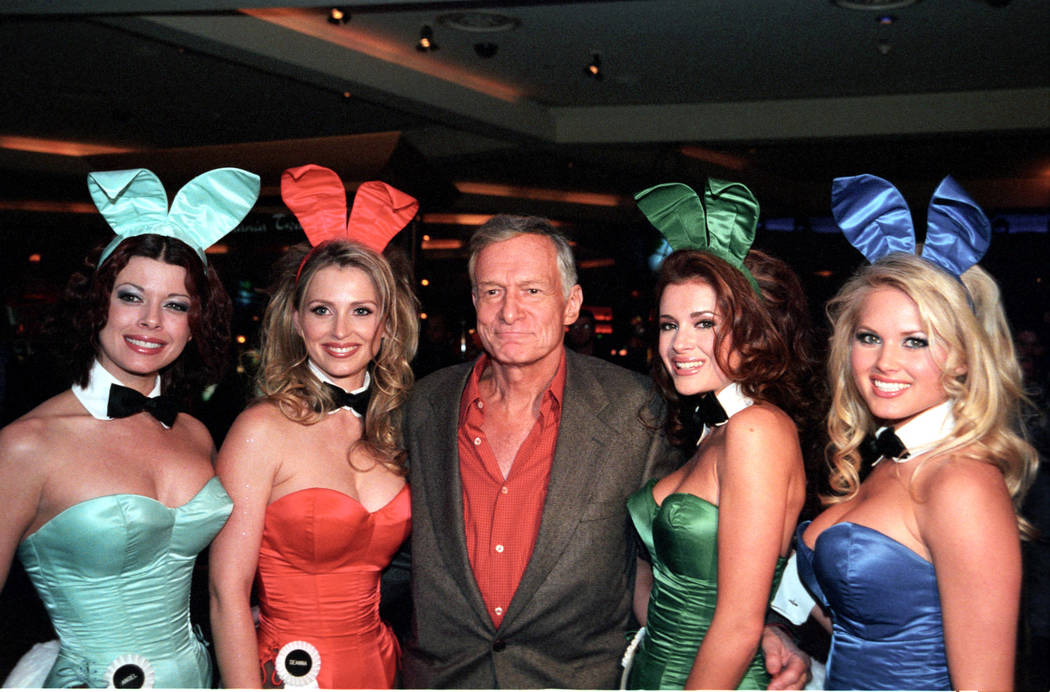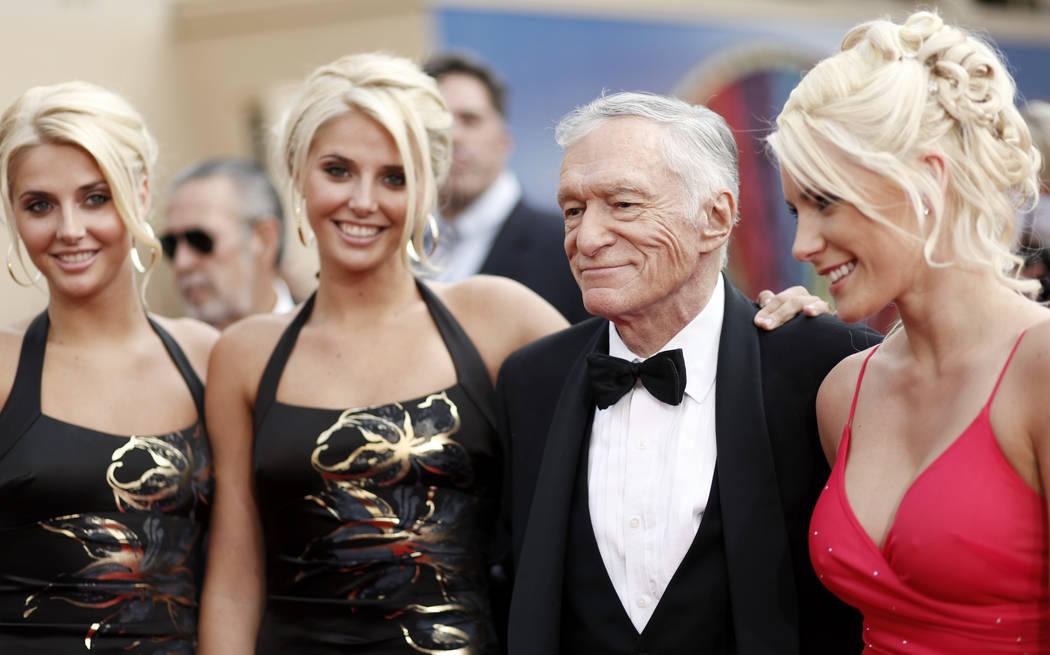 The night Hugh Hefner celebrated his 85th birthday at Playboy Club at the Palms, we talked about his mom, his boys, values and mortality.
"If you keep yourself in good shape, age is just a number," Hefner said that night as he was flanked by his then-21-year-old son Marston and then-fiance Crystal Harris, 60 years younger than he.
Hefner remarked that his mother, Grace, lived to be 101.
"I have good genes," he said, laughing. "It helps if you pick your parents with care."
Asked if she ever shared advice for how to live an uncommonly long and prosperous life, Hefner said, "I don't think we ever talked in terms of how long I would live. But she was a very special lady. She was from Nebraska and had good, strong values, but I think feeling young has to do mostly with an attitude toward life. If you surround yourself with young people, that doesn't hurt."
Hefner never made it to 101 but lived to 91. He died Wednesday night at the Playboy Mansion in L.A., his famous home. But he also said Las Vegas was, for a time, his "second home," through his partnership with N9NE Group and the Palms from 2006-2012.
Hefner was happy to take time to chat during his visits. He once talked wistfully of his favorite decade.
"I liked the '70s," he said. "We put on a movie at the Mansion the other night, 'Hot Tub Time Machine,' a silly, raunchy comedy about the '80s. I was watching it, thinking, 'These aren't the '80s I remember.' I don't remember them being that fun. That movie made the '80s look like the '70s."
The night of April 9, 2011, #HughHefner's 85th birthday @Palms . #tomdonoghue photo. pic.twitter.com/g8FagJSlYw

— John Katsilometes (@johnnykats) September 28, 2017
He also talked of his first visit to the city, when he was in his 30s, during a Playboy promotional tour winding from Chicago to San Francisco to L.A. and finally Las Vegas. He found comic Lenny Bruce in San Francisco's Ann's 440 Club, later booking him to perform at the Playboy Club in Chicago. He partied with Jayne Mansfield and her husband, Mickey Hargitay (father of "Law & Order: Special Victims Unit" star Mariska Hargitay), in Hollywood. Hefner's date were two Playboy bunnies.
"I don't remember much about the Las Vegas end of that trip, because it was the last place we visited," Hefner said, straining his memory. "I was pretty hung over by then."
Hefner always enjoyed the party in Vegas, clearly buoyed by the fireworks (often in the form of genuine sparklers) he set off when hanging at the Palms. On the night of his 85th birthday, 31 Playboy bunnies led him through the Playboy Club to a private enclave, where he whimsically entertained guests, wearing a white sailor's cap, charcoal blazer, red shirt and blue jeans.
Hef kept the family close, with sons Marston and Cooper, who were being touted to run the Playboy business. "I see a lot of myself in my two boys," Hefner said. "They are smart and creative." He smiled at a headline describing Marston as Playboy's "Next of Skin."
The party erupting around him prompted Hefner to recall when in 1985 at the age of 59 he suffered a mild stroke. He blamed the episode on unhealthy activities at the Mansion.
"I think it did have to do with my lifestyle," he said. "That's why I escaped into my second marriage (to Kimberly Conrad), because I was starting to feel my years. When that marriage didn't work, I came out of it reborn, I think."
By the time he reached 85, Hefner had settled on his relationship with Harris. The model and part-time DJ was the object of scorn from Holly Madison, a popular Vegas personality and one of Hefner's girlfriends on "The Girls Next Door" reality series on E!
Madison suggested Hefner acted in haste in choosing Harris as the two publicly sniped at each other. The publishing legend just shrugged off the discord.
"They have more in common than either one of them know," Hefner said. "Such as, me! Hah-hah!"
You had to laugh, too. What a card. Hef's run as visiting ambassador of the Palms was all too short. When Playboy and the hotel divorced, there was talk of renaming Hugh Hefner Drive leading into the Palms and taking down that sign. But the name still stands, fittingly, as Hugh Hefner really was a Vegas kinda guy.