Panic! At the Disco is golden in return to Las Vegas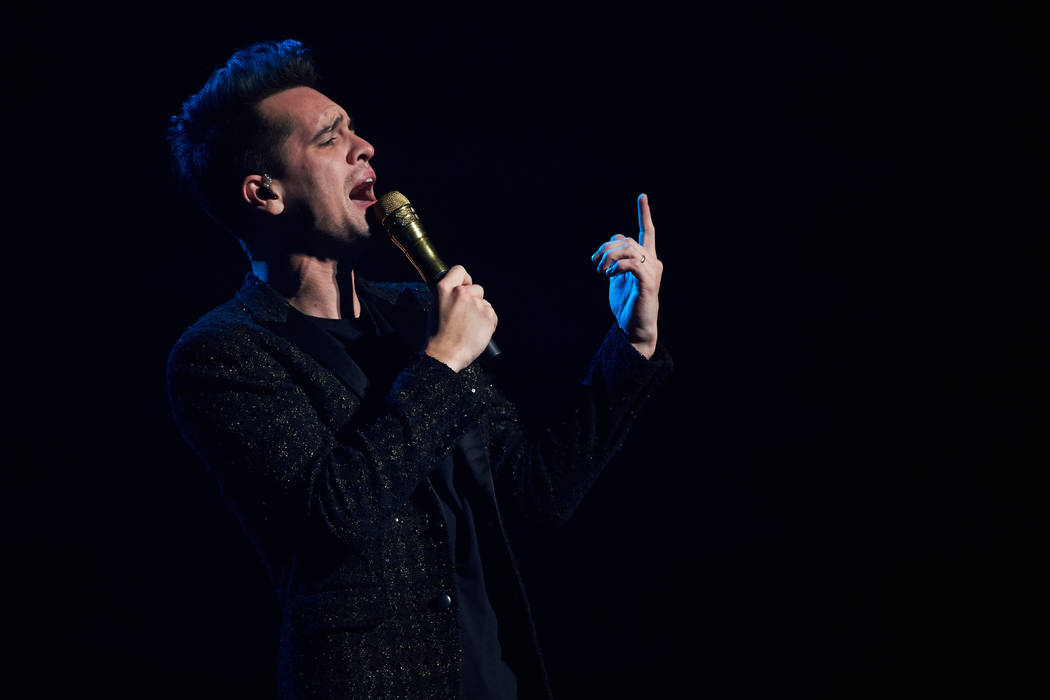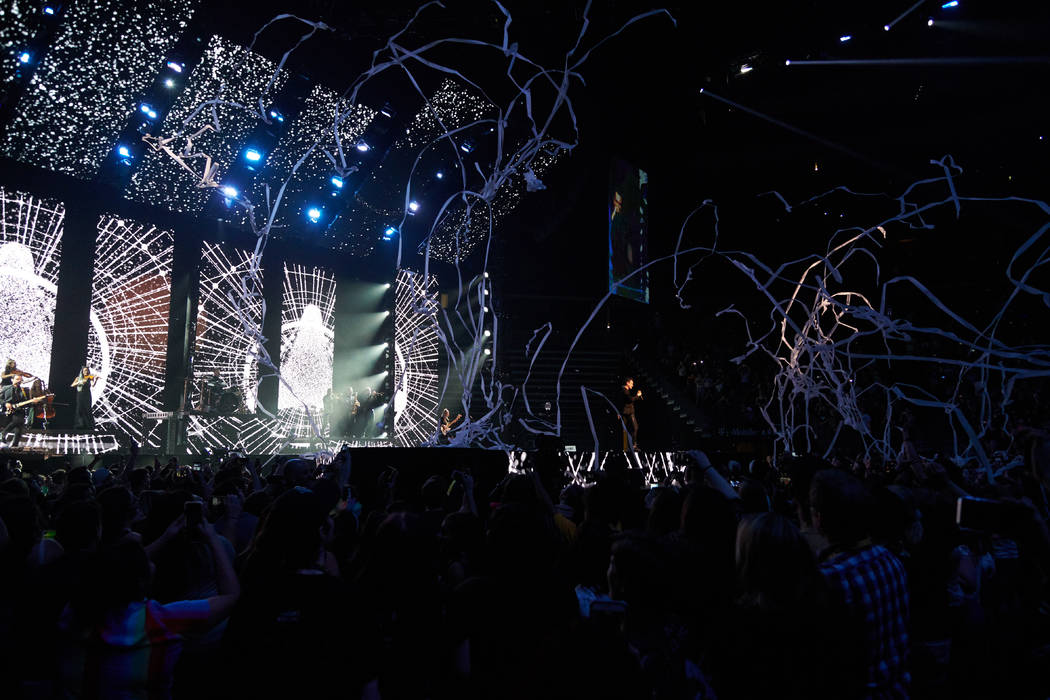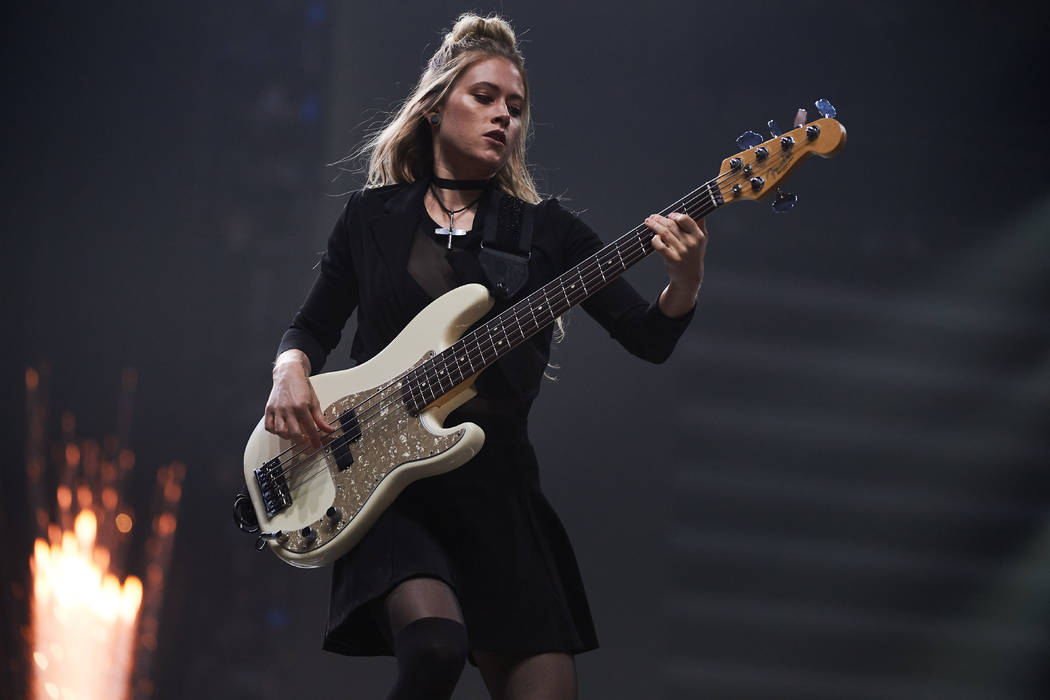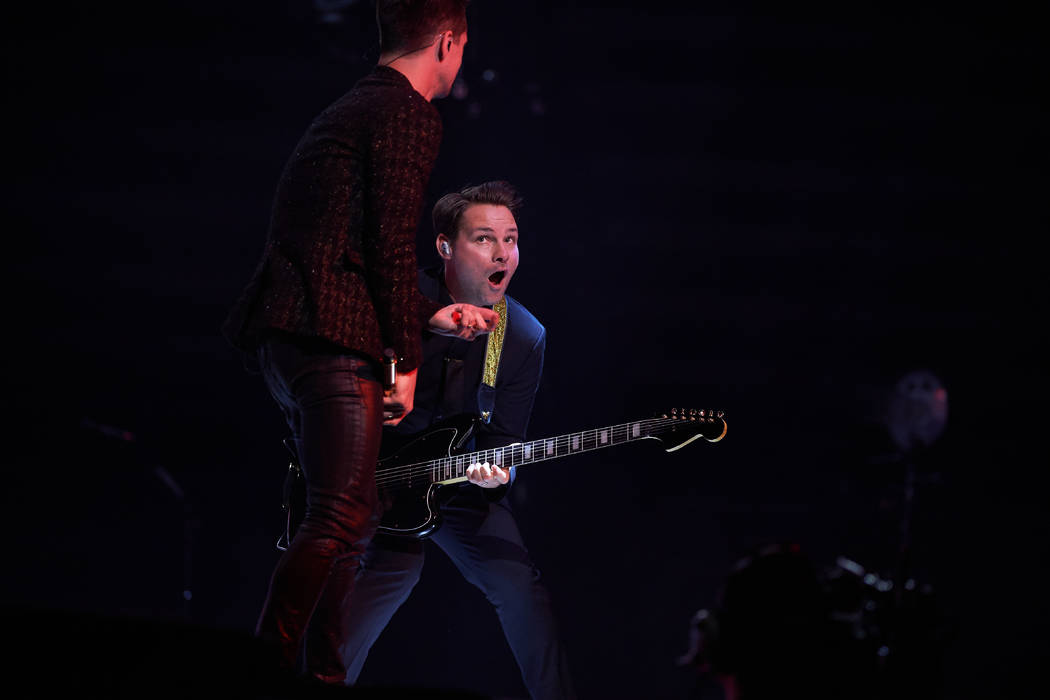 Brendon Urie could have used a regular, black microphone at T-Mobile Arena on Saturday night.
But he did not. He flashed a golden mic instead. This is because he is from Las Vegas.
The frontman for Panic! At the Disco mixed Vegas flair with rock-star flourishes in the band's exceptional performance for about 13,000 howling devotees. Whether the show was a formal sellout is not the point; the place was about filled with full-throated fans, most in their 20s and 30s and thrilled to be along for the ride.
I concede I'm late to the Panic! At the Disco dance. I admitted this to Urie a couple of weeks ago when I (finally) corralled him for an interview. I said that, aside from PATD's water-splashed performance at Bellagio Fountains, I'd never seen the band perform. He laughed and said, "Well, whose fault is that?"
There were moments in the PATD show when I was totally captured by songs I had never heard. Urie owns the stage. It's his band. He shows off dance moves you cannot choreograph and a stage manner you can't teach. He's a mix of Jagger and Sinatra, with a pinch of Cirque du S0leil panache and an unmistakable gratitude for his lot in life.
"I've been doing this for 14 years, I'm 31 years old" he told the crowd. "I am up here because of you." He repeatedly reminded the idolatry throng, "We're all so lucky just to have been born!"
Musically, PATD is known for its blend of power and melody, and bolstered by a blazing horn section and — so rare for a commercially successful rock band — a three-piece string ensemble. Urie took to the middle of the room to play a shiny piano, rising high above the crowd in a scene reminiscent of a former Vegas showman named Liberace.
Urie talked of his time growing up in Las Vegas, reminding the uninitiated of the band's roots. He talked of his time at Palo Verde High, where was not exactly an attentive student.
"I had a great teacher who just let me (screw) off all day," he said, as the crowd shrieked. "I worked at the Tropical Smoothie over by the Port-A-Subs on Charleston. You should check it out. I worked there, full-time, on a part-time permit. That's why Vegas is great! Break-a-the law!" Then he laughed.
The band plucked a couple of crowd-pleasing covers. Cheekily, Urie grooved through "Girls Just Want to Have Fun," by Cyndi Lauper, a nod to Urie's time in "Kinky Boots" on Broadway; Lauper wrote the lyrics and music in that show, which opened its U.S. tour at the Smith Center in September 2014.
Late in the set, after Urie had ditched his shirt, the band took on "Bohemian Rhapsody," a brazen choice but the crowd erupted as if they'd never before heard that Queen classic.
Maybe they hadn't.
Urie played the piano in the first section of that song, and has a distinctive way of dismounting his bench. Most pianists simply stand and bow, but the PATD's showman stands atop that bench and performs a full back flip. He sticks the landing, too. A real Cirque move from a Las Vegas original.