Panic! at the Disco survives a shower on the Strip
Updated June 7, 2018 - 11:03 pm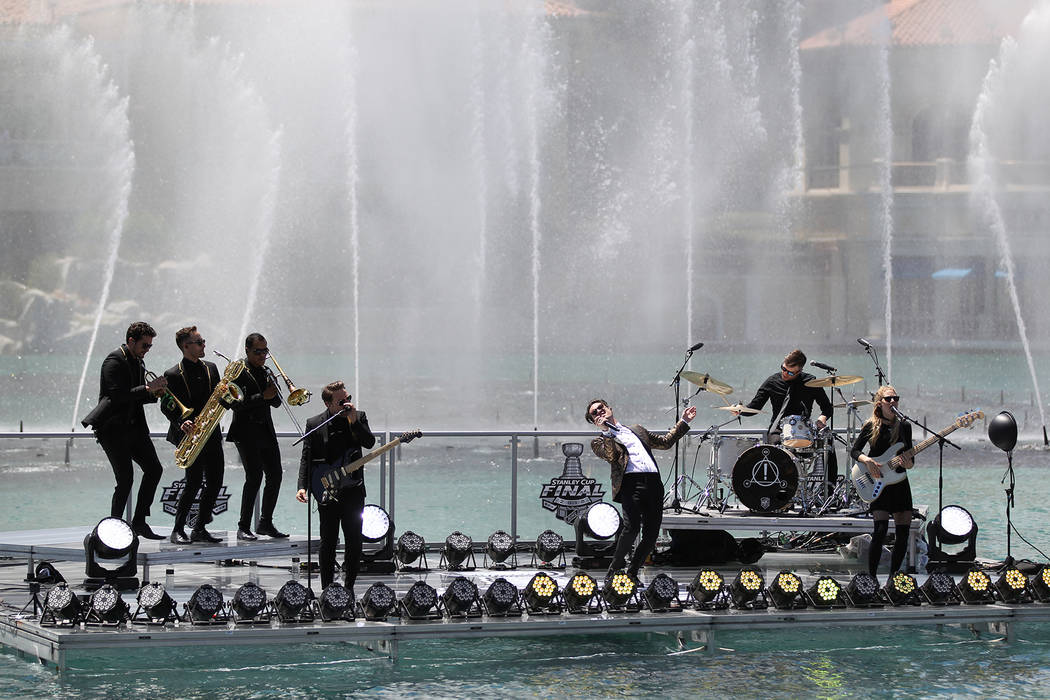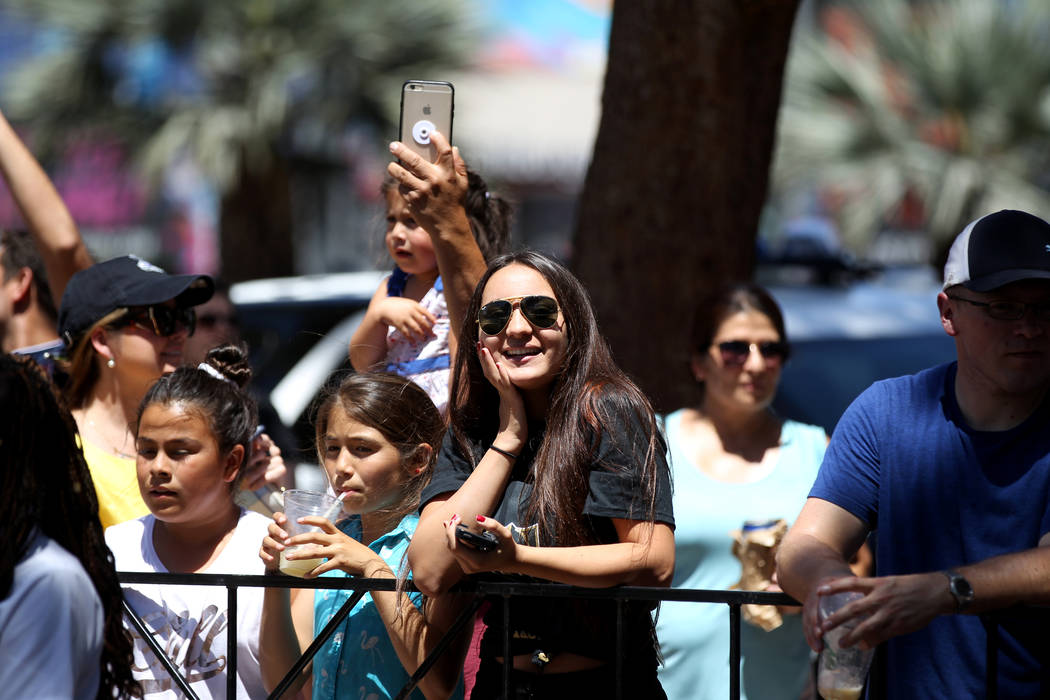 Timing is everything. This is true in life, and also when staging a musical performance in the middle of a bunch of fountains on a windy day on the Strip.
Panic! At The Disco experience a bit of ill-timed panic, and also a bit of disco with frontman Brendon Urie's sparkly gold jacket, today at Fountains of Bellagio. The band performed a taped performance of "High Hopes," which is used by the NHL in its promotional campaign.
The clip is to air as part of today's Stanley Cup Final pregame show on NBC. Game 5 between the Golden Knights and Washington Capitals airs at 5 p.m. from T-Mobile Arena.
But the performance was not without challenges on the famous aquatic attraction. The band dove into the number as the fountains erupted, water shooting to the sky. Within seconds, a gust of wind blew water across the stage, the band, their instruments, microphones, everything. The music cut and Urie called out, "Ha, ha ha! Is everybody wet? I'm wet!" A crew on a watercraft was summoned and dried the stage with a stack of white towels.
Dig it .. @PanicAtTheDisco @Bellagio #StanleyCup #VegasBorn pic.twitter.com/wLQsounewf

— John Katsilometes (@johnnykats) June 7, 2018
During the break, which was about 10 minutes, Urie led fans who were milling along the sidewalk on the Strip on a high-pitched singalong. He also asked, "Do you have your afternoon drunk on? Oh, wait, most of you are 16!" a reference to the band's young fans.
The appearance was hastily assembled, with PATD a late fill-in for planned act, The Killers, who could not make the afternoon appearance for unspecified reasons. NHL Vice President and Executive Producer of Programming and Creative Development Steve Mayer said he heard "in the middle of Game 4" on Monday that he would need a shift change, and PATD had enough time in its schedule to make it work.
More like it … @PanicAtTheDisco @Bellagio #StanleyCup #VegasBorn pic.twitter.com/Vu1wX8OSDw

— John Katsilometes (@johnnykats) June 7, 2018
The band has a show tonight at the McEnery Center in San Jose, which needed to be dealt with. Original plans were for the band's to perform at the Bellagio Fountains at 3 p.m., and take the stage in San Jose at 8 p.m.
"So, we moved our show up by 90 minutes, and they moved their show in San Jose back 90 minutes," said Mayer, managing a conversation between incoming calls on his mobile phone. "It wasn't easy, but we got it done."
The public was given scant official notice about this performance, which was actually a single song performed three times primarily for the TV segment. The NHL announced the 1:30 p.m. appearance just 45 minutes earlier, to avoid the inevitably horde of fans who would descend on the Strip to see the band. As it was, hundreds turned out, many young fans shouting, "We love you, Brendon!"
Let's try WITH video … Uh-oh! @PanicAtTheDisco @Bellagio … #water #interruption #stanelycup #vegasborn⁠ ⁠ pic.twitter.com/8CffJ3vt37

— John Katsilometes (@johnnykats) June 7, 2018
As the band was about to be hauled off stage in a watercraft, guitarist Kenneth Harris flung his pick toward fans on the sidewalk. It landed just short of the shore. It'll be scooped up sometime, a memento from a uniquely Vegas event.
Note: This version of the column corrects the spelling of Brendon Urie's first name.
John Katsilometes' column runs daily in the A section. Contact him at jkatsilometes@reviewjournal.com. Follow @johnnykats on Twitter, @JohnnyKats1 on Instagram.